'Shadow teachers' step into the spotlight
By Li Lei | CHINA DAILY | Updated: 2021-07-20 10:37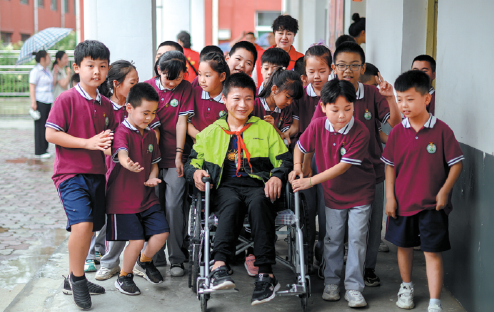 The drive for greater inclusiveness in China's schools is providing many lessons. Li Lei reports.
In 2018, stay-at-home father Qi Yonggang braced himself for what he imagined would be a tough battle. He wanted to get his daughter, Guoguo, who has autism, into a primary school in Beijing. To Qi's relief, the school accepted Guoguo with little fuss.
However, despite the improved inclusiveness of China's ultracompetitive mainstream schools, Qi found himself in a new dilemma.
He had hired a special educator, a so-called shadow teacher, to help Guoguo adapt to the fast-paced, nonprotective campus life, but the school administrators disliked the idea of accommodating an outsider. Frustratingly for Qi, they also failed to propose any alternatives.
In some more developed nations, shadow teachers have become a mainstay in schools as part of efforts to promote integrated education.
Each teacher works directly with an individual child with special needs, ranging from autism to hyperactivity to communication difficulties. With minimal interference, they facilitate the child's social interaction, explain school rules, assist with schoolwork and help navigate other challenges in regular classes.
The administrators at Guoguo's school regarded shadow teachers with caution because there were few precedents for the imported idea.
They also feared that the development would disrupt the established rules and compromise teaching efficiency, possibly causing discontent among other students and parents.
Qi, who runs a WeChat support group for more than 900 parents of autistic children, was fully aware of the benefits the shadow teacher would provide for Guoguo, and the downside if such assistance were not available.
"Without proper support, attending regular classes just becomes 'sitting in' on regular classes," he said.
He noted that a lack of interaction chips away at the value of the assistance the children receive in promoting their development and integration with the "real world".