Robotaxis already safer than chauffeured vehicles, say executives
chinadaily.com.cn | Updated: 2021-07-20 15:49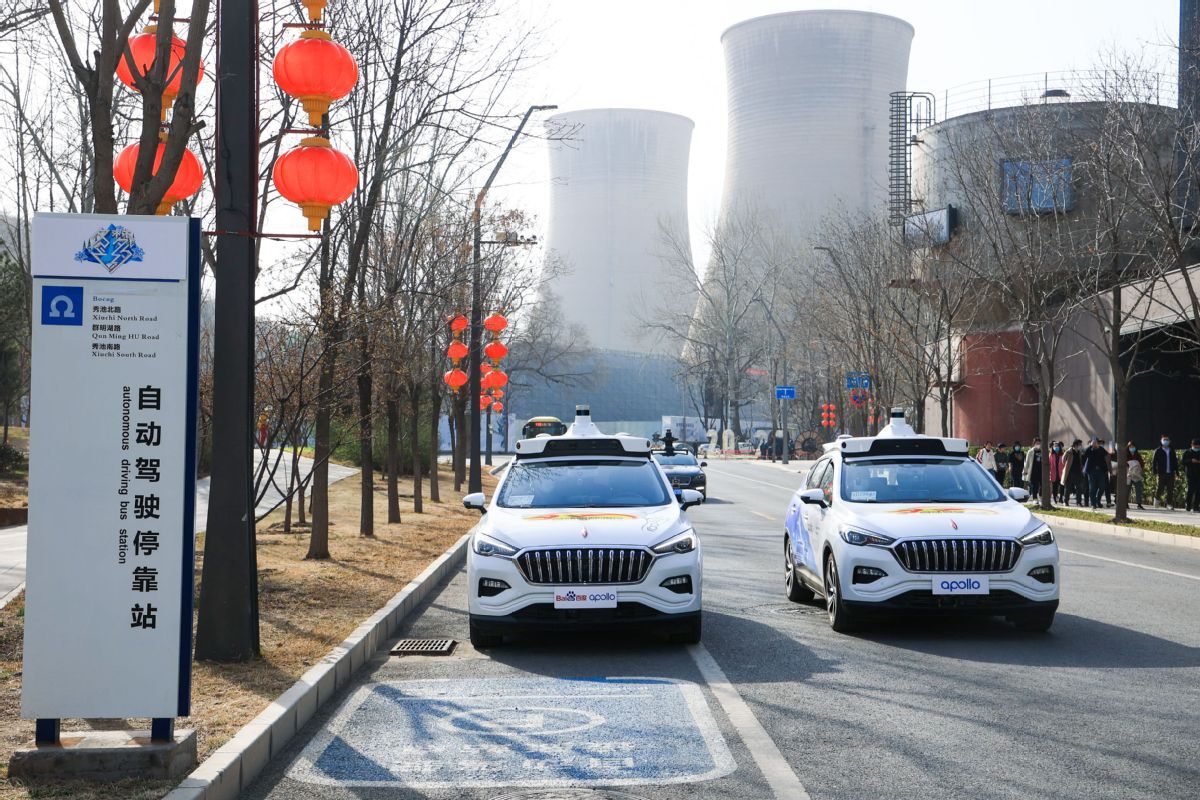 Baidu's robotaxis can maneuver themselves better than ordinary taxi drivers on busy urban streets, said a company executive.
Xu Baoqiang, an executive in charge of Baidu's autonomous driving operations, said they have "a success rate of 99.99 percent" in dealing with different scenarios in downtown traffic, which is higher than human drivers.
He made the remarks last Friday when Baidu released its latest developments in autonomous driving.
"It is tiring to drive and costly to hail a taxi. So it is the turn of robotaxis," said Xu.
Baidu's robotaxi service, called Apollo Go, is now available in designated areas of four major Chinese cities, including Beijing and Guangzhou in Guangdong province.
It became the first company to charge passengers for the service in May, when its driverless vehicles started to offer rides in Beijing's Shougang Park.
Baidu aims to build a robotaxi fleet of 3,000 vehicles in two years, with total users expected to reach 3 million in 30 cities by 2023.
The company unveiled its autonomous driving project, called Apollo, in 2017. It has since obtained 244 test permits and finished tests of 12 million kilometers.
Other companies are rolling out their solutions as well. Two days after Baidu introduced its fleet into Guangzhou, DeepRoute.ai launched its robotaxi service in neighboring Shenzhen, also in Guangdong province.
A total of 20 vehicles from the Shenzhen-based startup are offering rides along 200 kilometers of road sections in the city.
"We have tested our self-driving vehicles in Shenzhen for more than two years now," said Xuan Liu, vice-president of DeepRoute.ai.
"We are excited to launch this program and look forward to gradually increasing the number of vehicles available and operation zones covered."
Toyota-backed startup Pony.ai announced earlier this month that a fleet of Lexus RX models equipped with its autonomous driving solutions are hitting the streets in Shanghai's Jiading district.
It has been offering robotaxi services in cities including Guangzhou in Guangdong province and Beijing as well as California in the United States.
Zhang Ning, vice-president of Pony.ai, said passengers of its robotaxi fleet feel like they are being chauffeured by experienced drivers.
"To be frank, our autonomous vehicles can maneuver themselves better than most Didi drivers," Zhang said.
Zhang said the latest-generation vehicles, which will feature laser-based radar solutions developed in collaboration with Luminar, will begin volume production in 2023.