Keying into summer
By Chen Nan | China Daily | Updated: 2021-07-21 08:00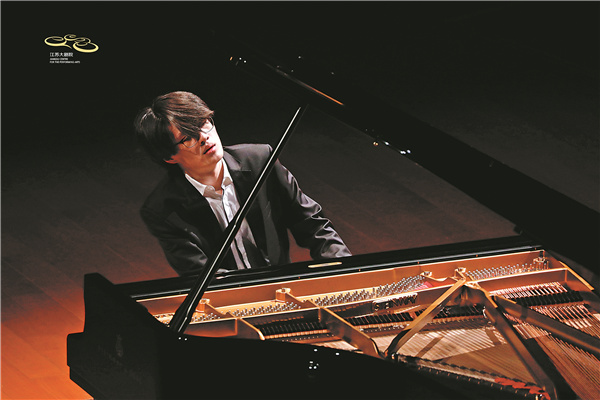 When Ju Xiaofu was 4 years old, his parents bought him a piano as a birthday gift. It was a choice Ju made himself because, as he recalls, "a piano is very big, beautiful and produces different sounds by tapping the keys".
"For me, it was a fun toy," says Ju.
Now, the 21-year-old is one of the most promising pianists in China. This summer, he has a hectic schedule performing in cities across the country.
One of the concerts is for young audiences, which will be held at the Forbidden City Concert Hall in Beijing on Aug 6. It will include Debussy's Preludes Book 2, L 123, and Schumann's Scenes from Childhood Op 15 and Piano Sonata No 3 in F Minor, Op 14.
"Debussy and Schumann are two of my favorite composers. Their music pieces are romantic, abstract and full of imagination, and draw influences from the Eastern world," says Ju.
When Ju gave a recital in Beijing in 2019, he performed Debussy's Preludes Book 1. It's a goal for him to finish playing all of Debussy's preludes-24 pieces for solo piano divided into two books of 12 preludes each-before Ju turns 22.
It's a task set by Ju's teacher, Austrian pianist and composer Joerg Demus, who died at the age of 90 in 2019.
"Right before I began my study at the Juilliard School in New York, I met Demus when we performed together in Chengdu, Sichuan province. We didn't speak much until we started to play," recalls Ju.
"He taught me lots of things, which was inspiring for me. One thing he told me was that I should play with my heart rather than my brain."
Ju is also collaborating with Chinese jazz pianist A Bu, who adapted three poems written by Ju into music pieces. Under the title of Three Sketches Op 5, the three music pieces are Anonymous Tears, La Fausse Etude and Memoir of Florestan, which will be performed during the concert in Beijing.
According to Ju, it will be a premiere of Three Sketches Op 5 and the original poems will be shown to the audience, printed on paper or recited by Ju during the concert.
"For me, giving a solo recital is very challenging because I have to fully focus on the music. I usually spend some time alone before my solo recitals. The solitude prepares me well," says Ju.
"When I play onstage, music is the best way to serve as a bridge between me and the audience in the concert hall."
Before his Beijing recital, the pianist will perform in Shanghai, collaborating with New Classic Ensemble under the baton of Jin Yukuang.
As part of the annual Music in the Summer Air Festival, the concert will see Ju play US composer Philip Glass' Piano Concerto No 3, which will be the piece's China premiere.
On July 30, the pianist will perform with the Jiangsu Symphony Orchestra in a concert in Nanjing, Jiangsu province, which will not only see Ju play two of Bach's concertos but also see Ju serve as the conductor.