Start of a new 'song dynasty'
By He Qi | China Daily Global | Updated: 2021-07-21 07:45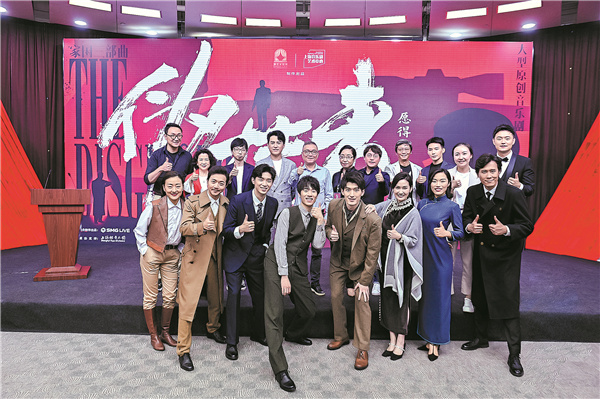 "Although we have entered into the third stage of musical development-from the introduction of the original foreign musicals to China, their Chinese adaptations and then to the creation of original domestic musicals-we're just getting started," he adds.
According to Jin, since the theater genre is imported, it is a bit paradoxical performing it in Chinese, with national characters and the implication of our culture.
But compared with other forms of stage art, the musical is the only one that can make people feel excited in the shortest time.
"After my accumulated experience and knowledge of the past 20 years, I believe The Disguiser will be a great play," Jin says.
Behind the successful incubation of The Disguiser is actually a growing domestic musical market.
Ma gave the example of The Phantom of the Opera, which has been played in China for nearly two decades.
It used to be performed in no more than two cities in China, for a four-week run in each. However, the upcoming Chinese tour of the production plans to run for two years with performances in more than 20 cities, Ma says.
"It is obvious to see that musicals are a growing market in China," he adds.
As one of the first venues producing local musicals, Shanghai Musical Art Center has introduced many classic Western musicals to the local market in Chinese, including The Phantom of the Opera and Mamma Mia. But Ma says only excellent, original musicals can promote the local industry.
"The production of the Chinese version only helps copyright owners to develop the Chinese market. To really be accepted by the Chinese audience on the local stage, it is still necessary to tell our stories and to perform Chinese musicals," Ma says.
To further promote the market, Ma says the center will continue to cultivate talent and produce more original musicals, alongside its adapted Western productions.
According to Ma, content related to traditional culture, historical stories, the Party and espionage are more likely to be accepted by local audiences, because these are the stories that can touch contemporary audiences.
"China has a large market, and our artists are creative. With more original works produced in China, and more experience accumulated by our team, the future of Chinese musicals will be bright," he says.