Grandma masters English to stay sharp
By CHEN MEILING in Beijing and FENG ZHIWEI in Changsha | CHINA DAILY | Updated: 2021-07-21 10:00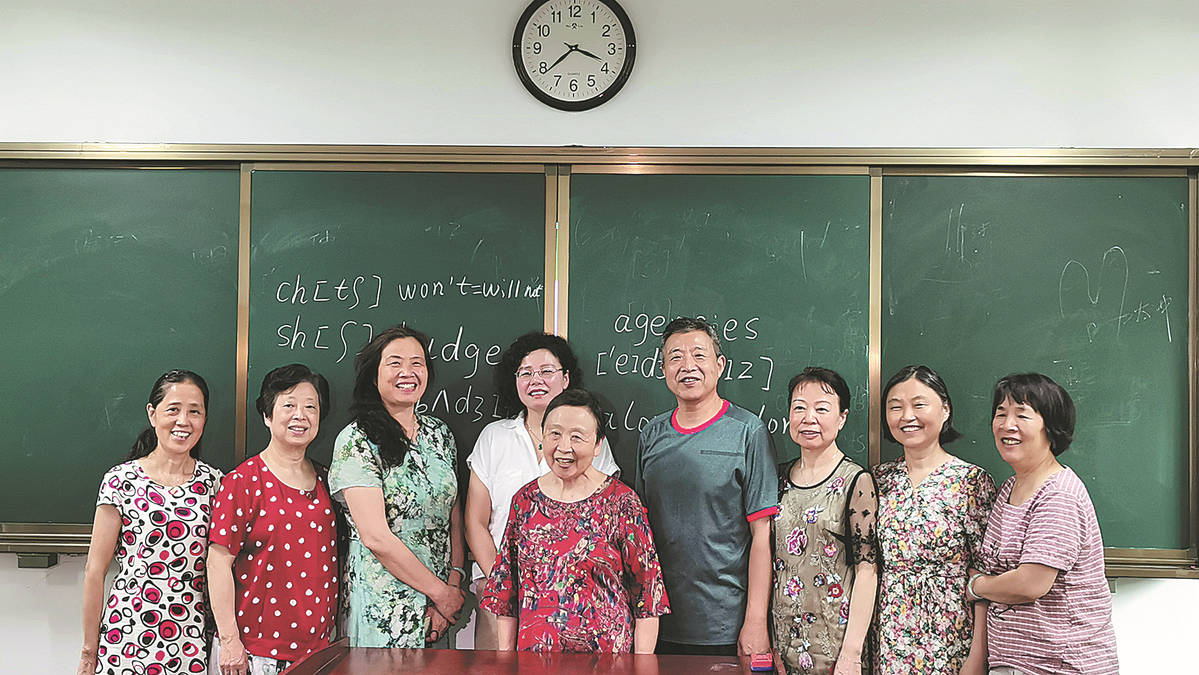 An elderly student introduces herself to her class in fluent English. "My name is Peng Shengwu. I am 80 years old. I like singing, playing piano and learning English. Welcome to Changsha and to my university."
After years of study in Changsha, in Hunan province, Peng has mastered conversational English. She can even understand some English news broadcasts. "Learning makes me happy. And besides," she said with a mischievous grin, "I don't want to get senile dementia."
A passionate learner, the patient, optimistic grandmother also helped her hearing-impaired grandson become a men's singles badminton world champion at the 23rd Summer Deaflympics in Turkey in 2017.
Peng was a math teacher at a middle school in Yueyang, Hunan, before retirement. She knew little about English. She began to learn for her grandson, Tang Kaifeng, who is now 26. His hearing had been badly damaged by a fever at the age of 3, and she worked to memorize sentences for him.
Thanks to her help in learning Mandarin, Tang was able to pass the language test for hearing-impaired children and was admitted to a primary school in Shanghai at age 6. When he was 5, the family enrolled him in a spoken English course, and Peng accompanied him to classes.
"I read in psychology books that there is a golden period for children with hearing impairments to learn to speak well. I wanted to help my grandson acquire language before it was too late," she said.
At first, Tang was too shy to speak. To encourage him, his grandmother would make simple English conversation at home, asking questions like "Where is Tang Kaifeng?" and getting him to answer "I'm here". Gradually, the boy built up his confidence and skill. He would ask politely, "May I come in?" at the door to his grandmother's room.
"We frequently greeted each other in English," she said.
Peng assisted Tang in his studies at primary and middle school. "I feel so proud of him," she said. Although her grandson no longer needed her assistance, she did not stop learning English. In 2015, she joined a local university for seniors and attends classes there once a week.
The English classes focus on listening and speaking by asking students to guess the meaning of an audio recording, and then encouraging them to have dialogues with each other. There are about 30 students ranging in ages from 60 to 80.
Chen Yan, one of the teachers, said Peng is passionate about English. "She does her homework seriously and often raises questions after class. She seldom asks for a break," Chen said. "Some students are shy about practicing English, and Peng often offers to help."
Once, Peng and her partner were presenting a dialogue, when suddenly they both forgot their lines and unable to understand each other. They had to communicate with gestures, which made the class laugh.
"We have no test at the end of the semester. There's an oral presentation, instead. The seniors come to learn, but enjoying studying together is more important," Chen said.
In 2019, Peng received a course-completion certificate but decided to continue with a more difficult textbook just for the challenge.
She feels it's hard to memorize English words at her age, but she likes to listen to English while cooking. She has stuck cards with English words and sentences on the wall and carries them in her pocket when going out. That way, she can memorize them while walking or on a bus. When she sees English signs, like "restroom" or "post office", she practices the words quietly to herself.
Her goal is to be able to communicate fluently in different scenarios like shopping, dining, seeing doctors, asking for directions, talking about her hobbies, taking a train or a plane.
"Learning English is healthy exercise for the brain, more effective than healthcare products," she said.
One of her classmates, Fang Fang, who is 60, said Peng has a positive attitude toward life despite its ups and downs and has developed a stronger mind and better taste thanks to her colorful learning experience of English, singing and playing piano.
Zhu Youfang in Changsha contributed to this story.