Blocktastic! Building Chinese sites out of Lego
By ZHENG CAIXIONG and ZHENG ERQI in Guangzhou | CHINA DAILY | Updated: 2021-07-21 10:22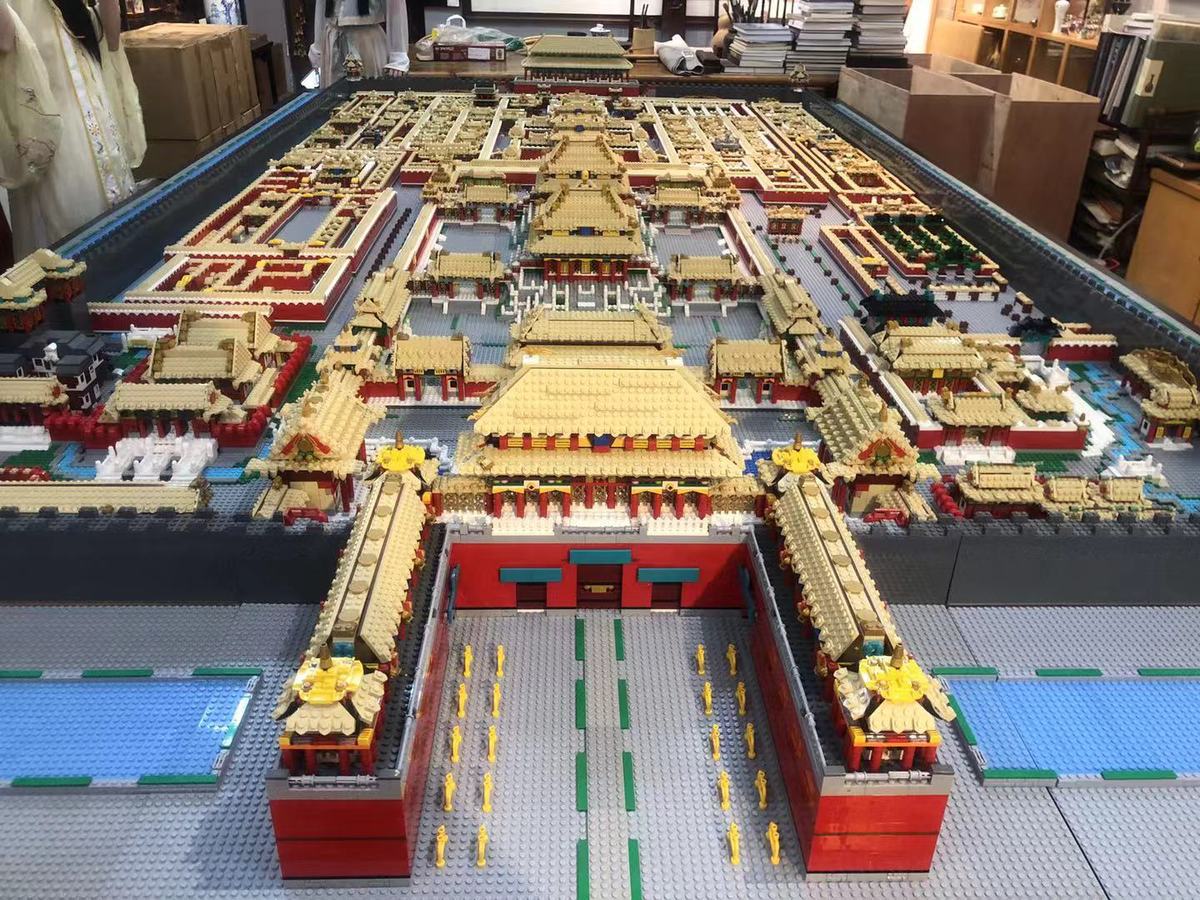 For Li Zhining, Lego is not just a toy. It is a form of art.
A native of Panyu district in Guangzhou, capital of Guangdong province, he has recently completed construction of a functioning model of Beijing's Forbidden City out of thousands of Lego blocks.
The miniature, on display at his studio, surprises and attracts many friends and visitors, especially Lego fans.
Starting at the Meridian Gate, the model recreates 70 palaces and the 9,000 rooms of the Forbidden City. It also includes its city walls, moat, four city gates and all of its turrets.
The 39-year-old said it took him more than eight months to complete the model, which is 4 meters long and 2.4 meters wide. He used more than 700,000 bricks and accessories to build it, all of which were existing pieces and not specially customized.
The most difficult part of Lego is creativity, he said. Li spent months studying the history of the Forbidden City and ancient Chinese architecture before starting to build his miniature.
"That was to ensure a realistic model and create an accurate representation of the Forbidden City," Li said.
He named his model I am Chinese, and said that he hoped it would demonstrate to the world the spirit and wisdom of the Chinese people, Chinese traditional arts and the power of Chinese originality.
Li said that there are a variety of ways to use Lego blocks. You can build by following instructions, build by making improvements to the instructions or-and this is the most difficult way-you can build something completely from scratch.
"MOC (my own creation) means that a model is not made by following Lego's official instructions, and that the maker has imagined and designed it on their own," he said.
In addition to pursuing perfection, Li stressed that "models should have a soul". Before building something, he reads up on the subject.
For example, when making models of Guangzhou's qilou (arcade buildings), he spent time studying local culture as well as the structure of the arcades, learning to distinguish the different characteristics of each kind, right down to the differences of the statues of lions. Li began to fall in love with Lego in 2008. He now has around 11 metric tons and more than 100 million pieces of Lego blocks valued at about 4 million yuan ($615,385). Local residents and friends call him a "Lego maniac".
In the past, he has made other models out of Lego, including Notre Dame in Paris, the Palace of Westminster, Guangzhou's Liede Bridge and Canton Tower, and dragon boats and buildings from online multiplayer game World of Warcraft. In fact, Li made his Lego dragon boat two years before Lego officially launched its own limited edition dragon boat kits.
He became well-known to Lego makers and fans when the first Lego exhibition was held in nearby Foshan city in 2016.
After seeing his large-scale creations displayed online, the event's organizers persuaded Li to lend them some for the exhibition, paying him 18,000 yuan for the privilege.
After that, he began to receive a growing number of requests to loan out his models and was frequently invited to give lectures on how to make creative Lego models. Some businesses have even invested in his creations and purchased his models afterward.
Not all of them are for sale, though. Li once refused an offer of more than 230,000 yuan for one of his large-scale models. "I like all the models I've made, and I'm reluctant to sell them," he said.
In his 300-square-meter studio, he has all kinds of models and collections on display. A local Lego fan said Li's models are memorable and worth collecting.
In the coming months, the creator hopes to organize an exhibition of his models and the animations he has made and collected about Lego culture and his own work.
The Panyu native also plans to make models of local architectural landmarks and scenic spots and wants to hold a special Lego exhibition of Lingnan (South China) culture and architecture to introduce his hometown to the wider world.