Child-rearing costs targeted by authorities
By LI LEI | CHINA DAILY | Updated: 2021-07-22 09:28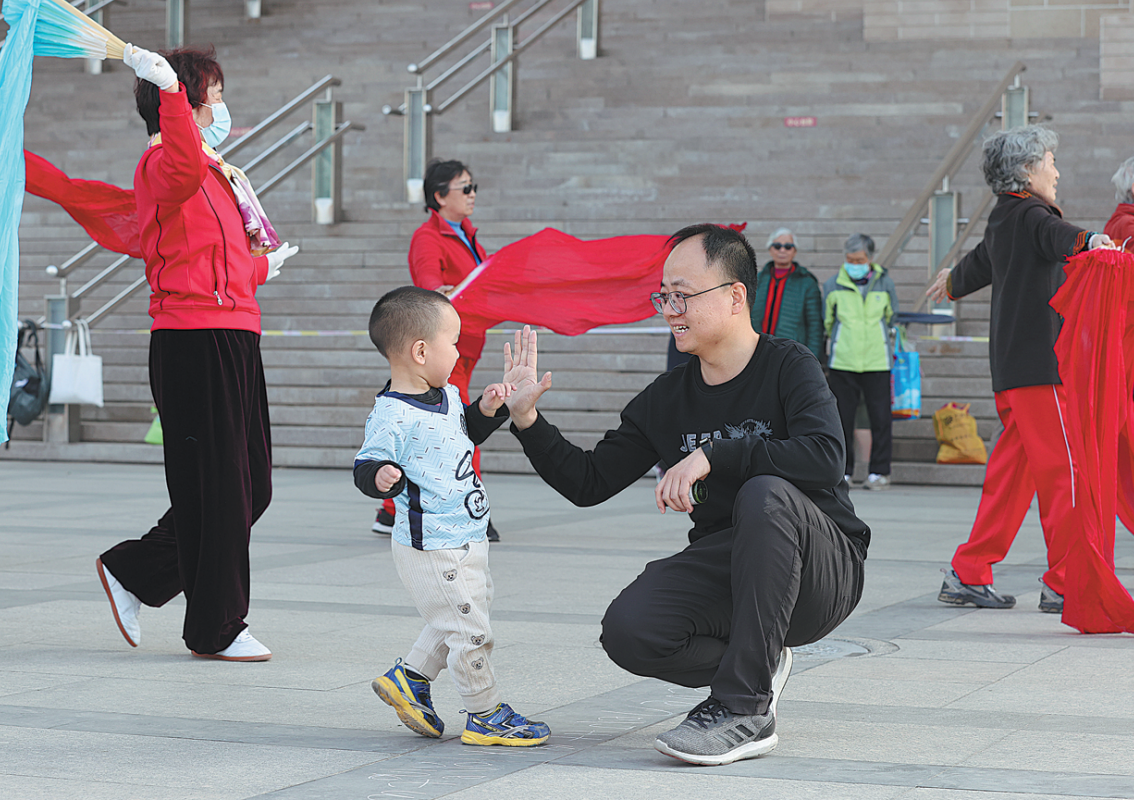 NDRC working on ways to make caring for children easier and more affordable
Authorities have promised cheaper child-rearing and education options as part of measures to facilitate the rollout of China's third-child policy.
China further relaxed its family planning policies on May 31 and decided to allow all couples to have a third child. On Tuesday, central authorities said a comprehensive support system will be established by 2025 to "significantly reduce "child-rearing costs.
Ou Xiaoli, director of the National Development and Reform Commission's social development department, told a news conference on Wednesday that the NDRC is working with other authorities to build a "fertility-friendly society".
He said priorities include making it easier and more affordable to care for young children.
"The rapidly rising cost of rearing children is the most pressing issue weighing down the fertility rate," Ou said.
Young couples have long relied on retired parents to care for young children till they are old enough to attend kindergarten, usually at age 3. But national census data released in May revealed that Chinese families had an average of 2.62 members last year, down from 3.1 in the previous census a decade earlier.
One aspect of the demographic change, young people living separately, is weakening the family's traditional function of caring for young children, said Yang Wenzhuang, director of the National Health Commission's population and family department.
He said China has around 42 million children below the age of 3. A third of their families have strong demand for day care, but less than 6 percent have had access to such services.
The shortfall in supply prompted the State Council, China's Cabinet, to release a landmark guideline in 2019 on the provision of care services for such children. The country has also included the task in its latest five-year plan.
Yang said more than 4,000 organizations had registered with education authorities for a slice of the market by end of last month, and 10,000 more are waiting in line.
Workplaces have been encouraged to share part of the burden by running in-house day care facilities, Yang said, adding that the commission will step up oversight to ensure safety.
Efforts are also underway to expand access to "affordable"-government-subsidized-kindergartens for the 48.18 million children age 3 to 5 attending preschool. Lyu Yugang, head of the Ministry of Education's basic education department, said the coverage rate of such kindergartens reached 84.7 percent by the end of last year, which he described as a "leap forward" given that parents had complained for years that kindergarten enrollment was difficult and expensive.
Lyu said the ministry had added 4.16 million slots at such kindergartens in recent years, taking the total to 40.82 million.
Since 2017, the ministry has also asked schools to offer "after-school services" to remedy the mismatch between parents' work schedules and schooling, which ends around 3 pm for primary schools.
Lyu said 102,000 primary and middle schools around the country had answered the call by the end of May, with 65 million students taking advantage of after-school services. The ministry is working to ensure all the country's nine-year compulsory education institutions offer such services from the start of the new school year in autumn.
Education reform is just part of a wider campaign to overhaul policies ranging from marriage registration to elder care with the aim of making child rearing more appealing.
Yu Xuejun, deputy head of the National Health Commission, said the resolution unveiled by the central authorities on Tuesday is about much more than raising the two-child limit to three.
"It was aimed at solving the concerns of people so as to release untapped fertility," he said.