Red in art
Share - WeChat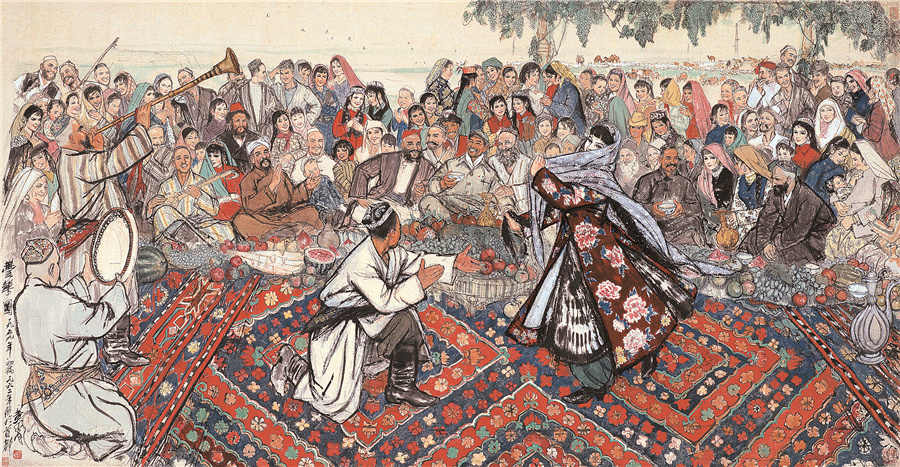 The centerpiece of the exhibition is Wan Shan Hong Bian (Ten-thousand Mountains Bathed in Red), a monumental work by the late master painter Li Keran. It is one of the seven landscape paintings-of different sizes but under the same title-which Li created between 1962 and 1964. The entire artwork was inspired by a poem written by Chairman Mao Zedong and depicts an autumn scene consisting of mountains, trees, waterfalls, streams and clusters of houses.
"Li applied a lot of red to deliver natural magnificence and solemnity in this painting, by which he addressed the revolutionary romanticism that marks Mao's poetry," says Wu Jiaojiao, the exhibition curator.
Wu says Li's painting sets a fine example of red being imbued with the implications of noble ideals, patriotism and loyalty in Chinese cultural traditions, and a similar example can be found in Passing by Lingdingyang, a poem by the 13th-century politician and poet Wen Tianxiang, in which he used danxin (literally meaning "red heart") to symbolize a patriotic zeal.
Another highlighted painting on show is Harvest by prominent artist Huang Zhou, displaying a scene of celebration and national unity. The vivid work shows a joyful outdoor gathering under grape vines, attended by different ethnic groups in the Xinjiang Uygur autonomous region. In his lifetime, Huang traveled extensively in Xinjiang.