Fujian doctors bring supplies, expertise to Botswanan hospital
By HU MEIDONG in Fuzhou and LI HONGYANG in Beijing | CHINA DAILY | Updated: 2021-07-22 09:33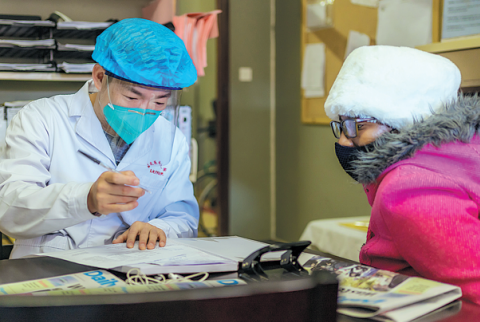 Zhou Rui, a doctor from Fujian province who is working in Africa, always thinks about self-improvement because he said that outside of China, he represents his country, not just himself.
The 37-year-old, who works at the Mengchao Hepatobiliary Hospital at Fujian Medical University in Fuzhou, capital of Fujian province, joined a medical aid team in September.
Together with 45 doctors from the province, he will serve for two years at the Princess Marina Hospital in Gaborone, capital of Botswana.
Before leaving, the team received 10 months of training in English and other necessary skills.
"The way Chinese doctors speak and behave is under a spotlight, and that will show our ability to communicate and professionalism," he said.
As for his own abilities, Zhou is humble.
"Although I have made some progress during the past 10 months in Botswana, I still have many shortcomings. For example, my English is not fluent enough, and my professional skills have room to improve. I've set goals to improve, and hope that I can come to better serve the people here," he said.
Zhou got his degree in clinical medicine from the Southern Medical University in Guangzhou, Guangdong province, and holds a license in internal infectious diseases.
In Botswana, he works in the general internal medicine department, handling patients with AIDS, tuberculosis, diabetes and high blood pressure.
Born with an inquiring mind, Zhou has impressed his African colleagues by uncovering cases of misdiagnosis.
In March, for example, a diabetic patient was initially diagnosed as having a severe infection due to a surging white blood cell count.
But when Zhou further examined the patient, he found no focus of infection or any other obvious symptoms. He looked into the matter and it turned out the patient was taking a medicine that was affecting their white blood cell count, and did not have an infection.
In another case, a patient was given a diagnosis of liver cirrhosis based on gastroscopy results.
As the patient had no previous history of chronic liver disease or any related symptoms, Zhou reviewed the results and proposed a diagnosis of esophageal cancer, instead.
"Botswanan doctors have a comprehensive understanding of medicine, but sometimes suffer from weakness when it comes to differential diagnoses," he said.
In addition to diagnosing patients, he also goes on rounds, writes handbooks on epidemic prevention in Chinese and English, and collects swabs for COVID-19 nucleic acid tests.
"Botswana had roughly 50,000 confirmed cases among a population of 2.3 million when we arrived. We would have been exposed to a high-risk environment if we had not been well-protected," he said.
Since September, he has treated about 750 patients and collected more than 100 swabs. Under the circumstances, members of the team have tended to avoid going out in their free time, except to buy necessities.
In May, Zhou was assigned to deal with inquiries at a vaccination site during a campaign to inoculate Chinese workers in Botswana, codenamed "Spring Sprout".
"I really felt the strength and warmth of China. Being able to get a vaccination from home, many Chinese in Botswana expressed their excitement and pride," Zhou said.
It took Zhou and his colleagues some time to adapt to life abroad.
"Botswana is beautiful, with blue skies and white clouds, but the dry climate is difficult. At the beginning, many of us had nosebleeds, cracked lips, sore throats and itchy skin. We were also not used to the food, which is heavy on bread and meat, with few vegetables."
Before applying for the program, Zhou had to convince his parents he would be safe during the epidemic.
He managed to allay their concerns and flew to Botswana with a suitcase stuffed with supplies to fight COVID-19, medical books and gifts, including Chinese knots and White Rabbit milk candy.
His team is the 16th Fujian has sent to Botswana, and includes members from Fuzhou, Xiamen, Quanzhou and Nanping. The provincial health commission said that since 1981, Fujian has sent 511 medical workers to the country, and treated over 2.8 million Botswanans.
Chen Denghua, head of the 16th medical team, elaborated on the mission at the departure ceremony in September.
"We aren't only sending medical supplies and expertise, we are also there to help Botswana develop its own medical system," he said.