Artist paints the stories contained in Yellow River's stones
By YE ZIZHEN in Beijing and YUAN HUI in Hohhot | China Daily | Updated: 2021-07-22 09:37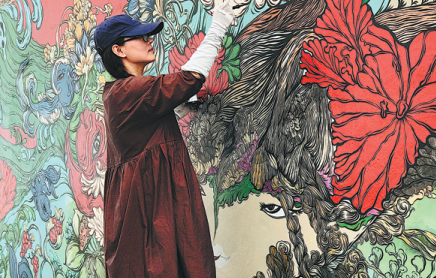 Walk into the yard at Lu Ting's studio, and you'll find dozens of stones, washed and placed neatly on the ground.
They range in size from less than 1 square meter, to as large as an adult human.
As an artist, Lu has a special way of expressing her deep love of her hometown-by creating colorful paintings on her beloved stones.
"I was born and raised near the Yellow River and used to visit it a lot as a child. I feel connected with the river," the 46-year-old said.
At age 2, Lu moved from Bayannuur to Wuhai city in the Inner Mongolia autonomous region and has been living there since.
"Wuhai is located in the delta between the Yinshan Mountain and the Yellow River. When I visited the mountain as a child, I saw many symbols and lines carved into the rocks, which left a deep impression on me," Lu said.
A graduate of the Inner Mongolia Normal University, Lu majored in woodblock painting, and now works for the Painting and Calligraphy Academy in Wuhai's Hainan district.
"When I was in school, a teacher called Mr Yan used to take groups of students to study the carvings on the rock. We would collect beautiful river stones on our way back and draw on them," Lu recalled.
For six years, Lu traveled along country roads with rocks on both sides.
"I guess since then I have liked looking at stones. I've always thought there are as many stones to be read on the ground, as there are inconstant clouds in the sky."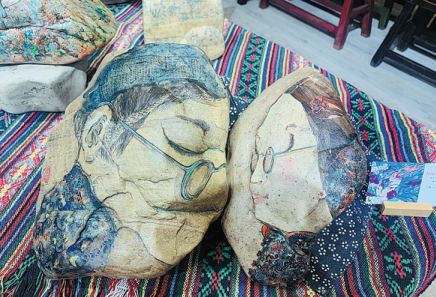 However, it was not until five years ago that Lu turned her idea into reality.
"In 2016, I found myself fascinated by the stones I saw as I walked beside the river where it flows through the city. I picked up eight stones, and kept looking at them after I got home, until I felt I could read the stories in them."
For Lu, the Yellow River is like a mother, and people like her who live beside it are like its children.
In 2016, she produced her first series of stone paintings titled The Story of Fuhe.
In English, fuhe translates as "river of fortune". In the series, she created seven characters, accompanied by five elves.
"I wanted to tell the story of a mother and her children, about how they keep each other company. The eyes of the characters were very important in telling the stories," she said.
The series was displayed at the China International Cultural Industries Fair in Shenzhen, Guangdong province, two years later in 2018. That same year, Lu opened her studio in Wuhai, which residents can visit for free.
"Slowly, people have begun to come here and look at the paintings, they also get to know more about our homeland, and to love it more deeply."
Residents help Lu to collect stones, sometimes with an excavator. Over five years, she has painted 50 different stones, using techniques she mastered at college, including splashed ink and fine Chinese brushwork in her creation.
When she started, she faced a number of headaches.
"I was not sure what color to use when I began to paint because the colors of the stones are all different. Another problem was how to preserve the paintings, and prevent the colors from fading in the sunshine or water."
After several failed experiments, Lu now uses a long-lasting mineral pigment on the stones.
Apart from the Fuhe series, two other series are underway.
In The Warm Wind from the South series, Lu seeks to express the emotion between a mother and a child, and in The Gentle Autumn Wind series, she aims to present Chinese women of different ages, regions and status.
"I used to be very busy as a teacher and was not able to spend much time with my daughter. These creations have made me rethink our relationship. Now, I'm more willing to accept who she really is, and not try to change her," she said.
For Lu, her relationship with her daughter is like that of the Yellow River with the nature.
"I feel I'm at a bottleneck in terms of creativity. So far, my themes have been about maternity and women, but I feel the stones are telling a story on a bigger scale, about relationships and the meaning of life. I think my drawings will advance when I figure that theme out," Lu said.