Criminal probe sought into deaths at former school in Canada
By RENA LI in Toronto | China Daily Global | Updated: 2021-07-22 13:06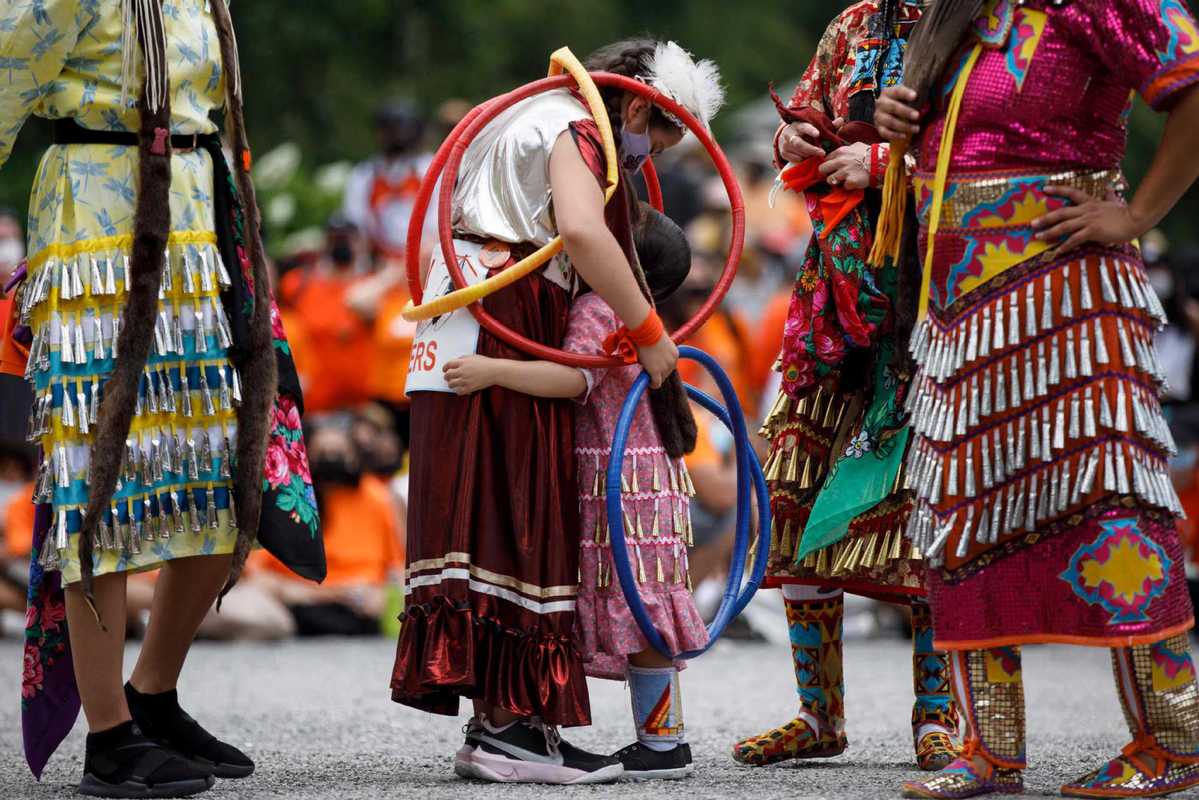 Survivors of the largest indigenous community in Canada have called for a criminal investigation into the death of dozens of children at the former Mohawk Institute Residential School in Brantford, Ontario.
Speaking on behalf of survivors, Mark B. Hill, elected chief of Six Nations of the Grand River, said the records show that 54 children died at the school during its 142 years of operation, but they don't know where those little bodies were buried.
"This is enough to trigger a criminal investigation, and our goal is to search for justice," Hill said at the former school on Wednesday.
The Mohawk Institute opened from 1828 as a day school for boys before it broadened to include girls and boarding students in 1834. It was relocated to Brantford in 1840 before being destroyed by fires. After the last rebuilding, the federal government operated the school from 1945 until its closure in 1970, making it one of the oldest and longest running residential schools in Canada.
With the former school spanning 500 acres, Hill urged that "every last acre needs to be searched".
"This is about recovering all of our children," Hill said.
The Office of the Chief Coroner and Ontario Forensic Pathology Service will be supporting the investigation along with the Brantford police and the Ontario Provincial Police.
Hill said the community hasn't seen any federal or provincial money to help with the search. The Six Nations announced support Tuesday for a newly created Survivor Secretariat with $1 million in interim funding to begin a community-led search. The money would be used until funding from the provincial and federal governments is obtained.
On Monday, both the federal and Ontario governments jointly committed $9.4 million for another phase in the restoration of the residential school building. Earlier this year, Ottawa set aside $27.1 million for communities to identify burial sites.
A series of unmarked graves have been discovered at former residential schools across Canada since late May.
In May, the remains of 215 children — some as young as 3 years old — were found buried on the site of a former Indian Residential School in Kamloops, which was once the largest in Canada's residential school system.
Weeks after, 751 unmarked graves were found near a former residential school in Saskatchewan. Later in June, 182 human remains were found in unmarked gravesites near a former residential school in British Columbia again.
On July 12, the Penelakut Tribe confirmed that more than 160 unmarked and undocumented graves were discovered at the site of a former residential school near Vancouver Island in British Columbia.
At least 150,000 children from the indigenous community were forced to attend the schools between the late 1800s and the 1990s across the country. The institutions known as "Canada's Alcatraz" were funded by the federal government and run by churches as part of the campaign to strip the youth of their cultural identity.