34 officials punished for Hubei June blast
chinadaily.com.cn | Updated: 2021-07-23 21:48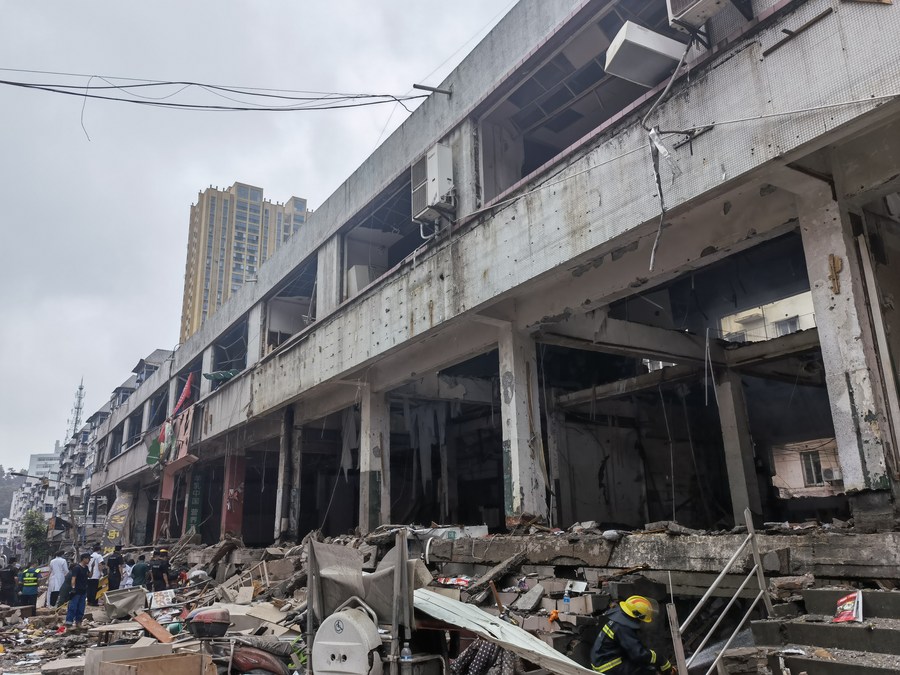 Investigation results released on Friday regarding the gas explosion in Shiyan city, Hubei province on June 13 revealed that 34 government officials responsible for the accident have since been removed from their posts or punished by the Party.
The information office of Shiyan said the Party chief and deputy Party chief of Zhangwan district — where the gas blast occurred — were both removed from office. The city's urban management bureau's head was also dismissed. Other officials from the gas and housing departments were dismissed or received Party censures.
The provincial commission for discipline inspection carried out the investigation and made the decisions.
Outside the governmental system, eight suspects — including a gas company manager in charge of a natural gas pipeline — were detained in June over the tragedy that claimed 26 lives and injured 138.
Another 32 people in charge of related gas companies and real estate property management firms have been called to account or punished according to laws and regulations.
The accident happened in a two-story marketplace within a residential community. The first floor of the building was over two decades old and had 19 shops, including drugstores and eateries, while the second floor was for other use. Across from the ill-fated building were another 46 stalls, the city's information office said.
An initial June inquiry revealed that a natural gas pipe was severely corroded and ruptured, thus causing the accident. The leaked natural gas became quickly concentrated in confined spaces amid the shops before exploding.
The accident exposed problems including hidden dangers caused by illegal construction, delayed property inspections, inefficient property management and improper emergency response protocols, the investigation revealed.
The results were announced by the provincial inspection team under the guidance of working groups dispatched by central authorities.
On July 16, the Ministry of Housing and Urban-Rural Development held a news conference with Shiyan's housing department and urban management bureau. The ministry urged more careful safety inspections and equipment maintenance and renovation. The meeting also emphasized putting safer production practices in place.
A central government conference in June called for more efforts to resolutely prevent serious accidents, carry out in-depth safety rectification in sectors including petrochemicals, mining, gas pipelines, industrial parks, transportation of hazardous chemicals and road traffic safety as well as comprehensively investigating and defusing major risks and hidden dangers of all kinds.
Li Hongyang in Beijing contributed to this story.