Malaysia, Indonesia under the hammer of Delta variant
By PRIME SARMIENTO in Hong Kong and LEONARDUS JEGHO in Jakarta | CHINA DAILY | Updated: 2021-07-26 08:01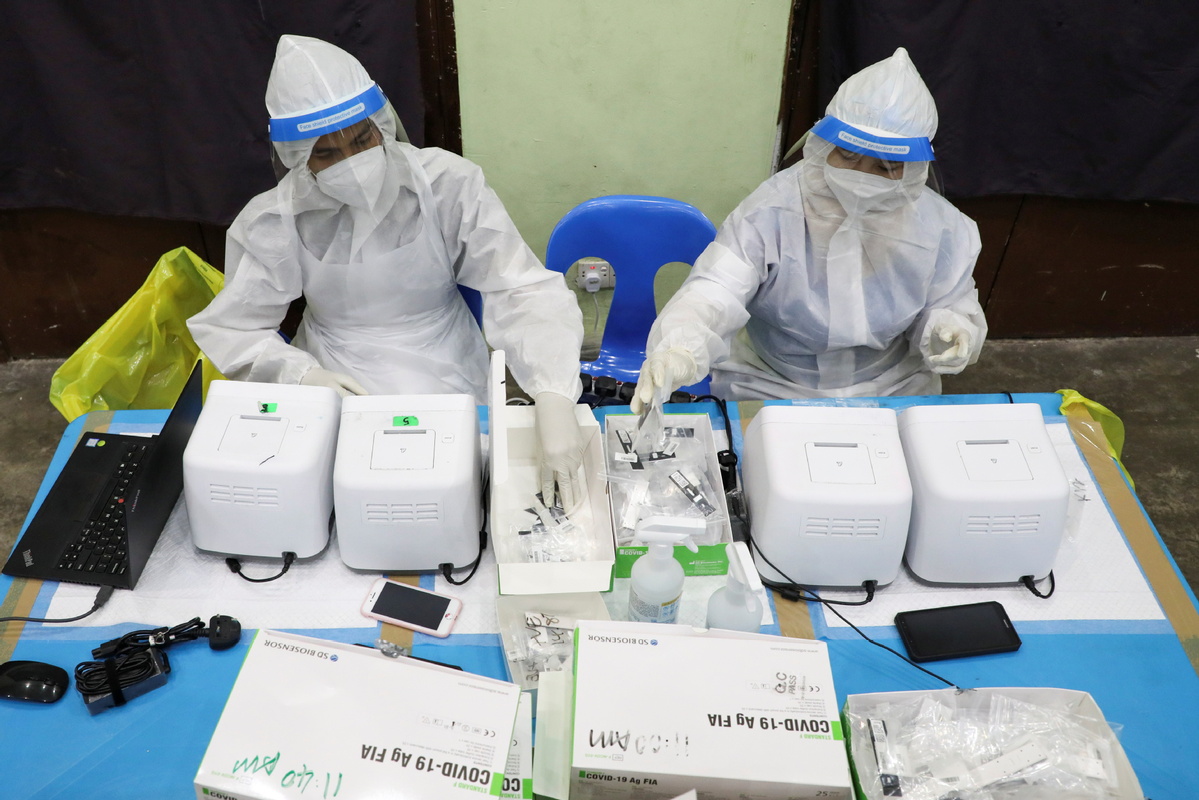 Experts call for quicker testing as health systems struggle under intense pressure
The Delta variant of COVID-19 has caused new rises in the number of infections in Malaysia and Indonesia recently that are stretching medical resources.
Health authorities need to step up testing and contact tracing, said Yanuar Nugroho, co-founder and adviser to the think tank Center for Innovation Policy and Governance in Jakarta.
"Testing must be amplified and antigen should be given for free," he said. "Anyone who has complaints can then go for consultation at the nearest clinical centers or hospitals."
Indonesia's Health Ministry reported 45,416 new cases within the previous 24 hours by Saturday to raise the total to about 3.13 million, with the death toll rising by 1,415 to 82,013.
Experts said the more transmissible Delta variant of SARS-CoV-2 has helped spread the virus to all the country's 34 provinces.
Malaysia reported 17,045 new infections in the highest daily rise since the outbreak on Sunday, bringing the national total to more than 1 million. Only six of the new cases were imported, Xinhua said, quoting the Health Ministry Director-General Noor Hisham Abdullah.
"The Delta variant has overwhelmed Indonesia's public health system," said Dicky Budiman, epidemiologist at Griffith University in Australia.
The Indonesian island of Bali, famous for its tourist beaches and temples, along with the main island of Java and 15 other regions are under tight coronavirus restrictions that were due to expire on Sunday.
Just hours before the expiration, Indonesia's President Joko Widodo announced the extension of these restrictions to Aug 2.
"We've had an oxygen shortage since July 14, and it's getting critical by the day because of a surge in new cases," Ketut Suarjaya, the head of Bali's health agency, was quoted by Antara state news agency as saying on Friday.
Health workers insist that the government must give people's health priority over the economy but industry groups have warned that restrictions will harm the economy and affect livelihoods.
In a report published on Tuesday, the Asian Development Bank cut its growth forecast for Indonesia for this year from 4.5 percent to 4.1 percent. The GDP forecast for Malaysia was revised to 5.5 percent from a previous 6 percent.
Malaysian Health Deputy Director-General Chong Chee Kheong, who heads the Greater Klang Valley special task force, said that steps are being taken to cope with the surge of fresh infections in the area.
Uninterrupted supplies
These include ensuring predictable and uninterrupted supply of oxygen, medication and other supplies, in addition to increasing crew numbers, logistics and other resources in the Klang Valley, which encompasses the capital city of Kuala Lumpur and part of the adjacent Selangor state.
Tjandra Yoga Aditama, a professor in the faculty of medicine at the University of Indonesia, called for better coordination among community health centers.
"For instance, there is a community health center near my house. But residents in this area who need to get tested for COVID-19 have to go to another health center which is far from here."
Budiman said the pace of vaccinations has to be accelerated to promote herd immunity.
The Indonesian government aims to vaccinate more than 70 percent of its 276 million people by the end of the year. By last Monday only 16.4 million had been fully vaccinated.
Budiman said that over the long term Indonesia needs to invest more on its public health system because the pandemic has exposed shortcomings in the country's medical facilities and a shortage of healthcare workers.
In Malaysia, Deputy Prime Minister Ismail Sabri Yaakob said the government is looking at relaxing restrictions on movement for people who are fully vaccinated.
The country is ramping up its vaccination program, with the goal of inoculating 80 percent of the country's 32 million people by September.
Chan Chee Khoon, epidemiologist and health policy analyst with the advocacy group Citizens' Health Initiative in Kuala Lumpur, said the Malaysian government's vaccination program should also include the thousands of undocumented migrants.
"One urgent corrective is to ease up on penalizing the undocumented migrants and their employers for the duration of the pandemic."
Chan said Malaysia also needs to build up its domestic manufacturing capacity for vaccines and other pandemic essentials by forming partnerships with organizations that have expertise in research and product development.