Tunisian president sacks prime minister, freezes parliament
Xinhua | Updated: 2021-07-26 09:16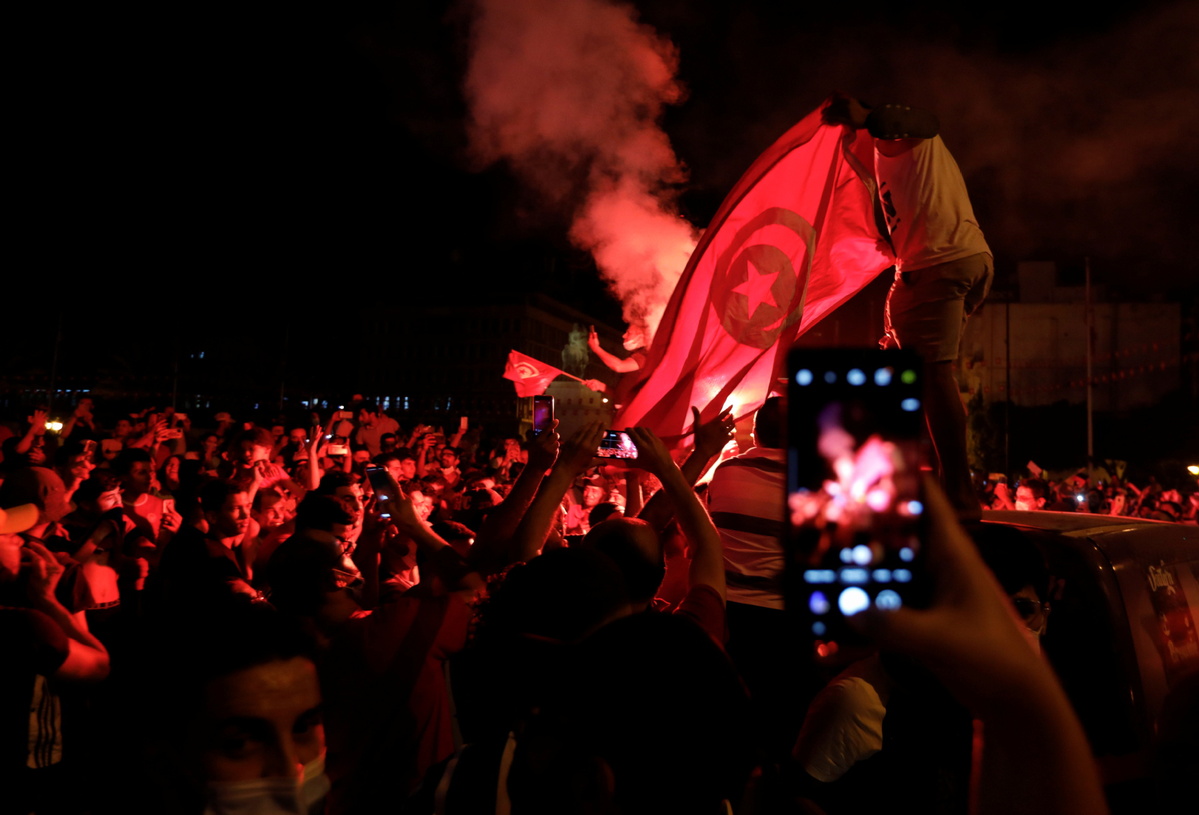 DISPUTES
Crowds numbering in the tens of thousands stayed on the streets of Tunis and other cities, with some people setting off fireworks, for hours after Saied's announcement as helicopters circled overhead.
"We have been relieved of them," said Lamia Meftahi, a woman celebrating in central Tunis after Saied's statement, speaking of the parliament and government.
"This is the happiest moment since the revolution," she added.
Saied said in his statement that his actions were in line with Article 80 of the constitution, and also cited the article to suspend the immunity of members of parliament.
"Many people were deceived by hypocrisy, treachery and robbery of the rights of the people," he said.
The president and the parliament were both elected in separate popular votes in 2019, while Prime Minister Hichem Mechichi took office last summer, replacing another short-lived government.
Saied, an independent without a party behind him, swore to overhaul a complex political system plagued by corruption. Meanwhile the parliamentary election delivered a fragmented chamber in which no party held more than a quarter of seats.
Disputes over Tunisia's constitution were intended to be settled by a constitutional court. However, seven years after the constitution was approved, the court has yet to be installed after disputes over the appointment of judges.
The president has been enmeshed in political disputes with Mechichi for over a year, as the country grapples with an economic crisis, a looming fiscal crunch and a flailing response to the pandemic.
Under the constitution, the president has direct responsibility only for foreign affairs and the military, but after a government debacle with walk-in vaccination centres last week, he told the army to take charge of the pandemic response.
Tunisia's soaring infection and death rates have added to public anger at the government as the country's political parties bickered.
Meanwhile, Mechichi was attempting to negotiate a new loan with the International Monetary Fund (IMF) that was seen as crucial to averting a looming fiscal crisis as Tunisia struggles to finance its budget deficit and coming debt repayments.
Disputes over the economic reforms, seen as needed to secure the loan but which could hurt ordinary Tunisians by ending subsidies or cutting public sector jobs, had already brought the government close to collapse.
Reuters