China and Pakistan to tackle terrorism
By Zhou Jin | CHINA DAILY | Updated: 2021-07-26 09:21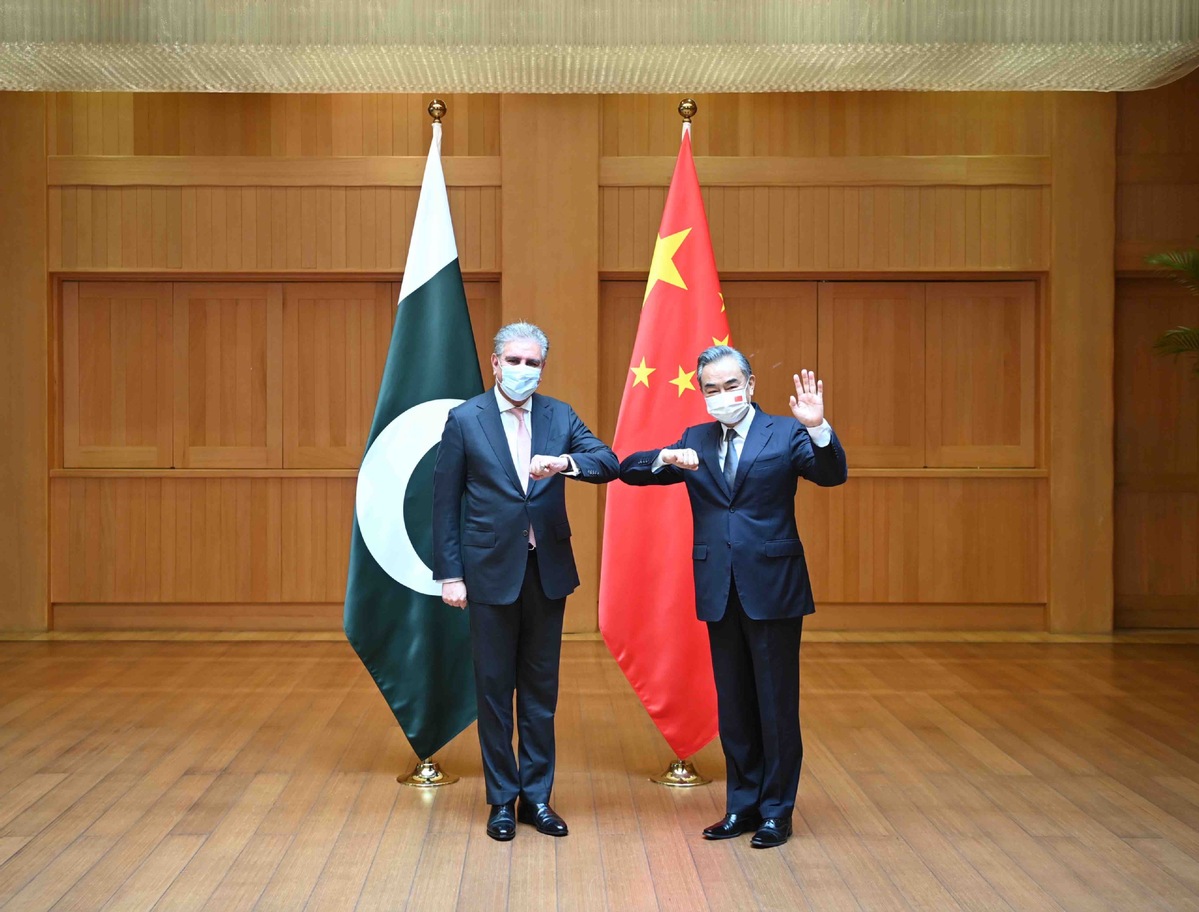 Foreign ministers also cover situation in Afghanistan during Chengdu talks
China and Pakistan have agreed to build an enhanced anti-terrorism cooperation mechanism to prevent the recurrence of incidents like the terrorist attack on a bus at the Dasu hydropower project that killed nine Chinese nationals.
The agreement was reached between State Councilor and Foreign Minister Wang Yi and his Pakistani counterpart Shah Mahmood Qureshi on Saturday during the third session of the bilateral foreign ministers' strategic dialogue in Chengdu, Sichuan province.
The two countries pledged to strengthen measures to ensure the safety and security of Chinese projects, nationals and institutions in Pakistan, according to a joint statement released after the meeting.
Noting that both China and Pakistan were victims of the terrorist attack, Wang said during the meeting that regardless of their motives, location or who they were being protected by, the culprits must be tracked down and seriously punished.
Qureshi said Pakistan will protect Chinese nationals in Pakistan in the same way it protects its own citizens, and the Pakistani government will investigate the incident and bring the perpetrators to justice.
Pakistan will thwart attempts to damage Pakistan-China cooperation, and will never allow any force to undermine the bilateral all-weather strategic and cooperative partnership, he said.
China and Pakistan, both neighbors of Afghanistan and directly affected by the situation there, also exchanged views on the issue.
The two countries have called for a complete cease-fire and a political settlement through negotiation among stakeholders in Afghanistan.
China and Pakistan will strive for peace with all their strength to avoid the spread of war as a top priority, Wang told reporters after their meeting.
They will actively advance intra-Afghan talks, work together to combat terrorism and push all major forces in Afghanistan away from terrorism, and promote coordination and cooperation among Afghanistan's neighbors, he said.
They also urge the United States to earnestly fulfill its responsibilities for the peace and reconstruction of Afghanistan, Wang said.
This year marks the 70th anniversary of the establishment of China-Pakistan diplomatic relations. China and Pakistan agreed to carry forward the high level of mutual trust, mutual assistance, common pursuit of peace and common development that drive bilateral ties, Wang said.
The two countries should deepen strategic cooperation in the face of the COVID-19 pandemic, he said, adding that China will continue to assist Pakistan in meeting its demand for vaccines, and will help the country enhance the building of a national health system to reduce the impact of the pandemic on economic and social development.
China and Pakistan jointly oppose vaccine nationalism and actions to politicize the origins of the coronavirus, he said.
The two countries also reaffirmed their commitment to continue to advance the construction of the China-Pakistan Economic Corridor to help boost regional connectivity and benefit people from more regional countries, Wang said.