Poll: 55 percent displeased with direction of US
By HENG WEILI in New York | China Daily Global | Updated: 2021-07-28 12:07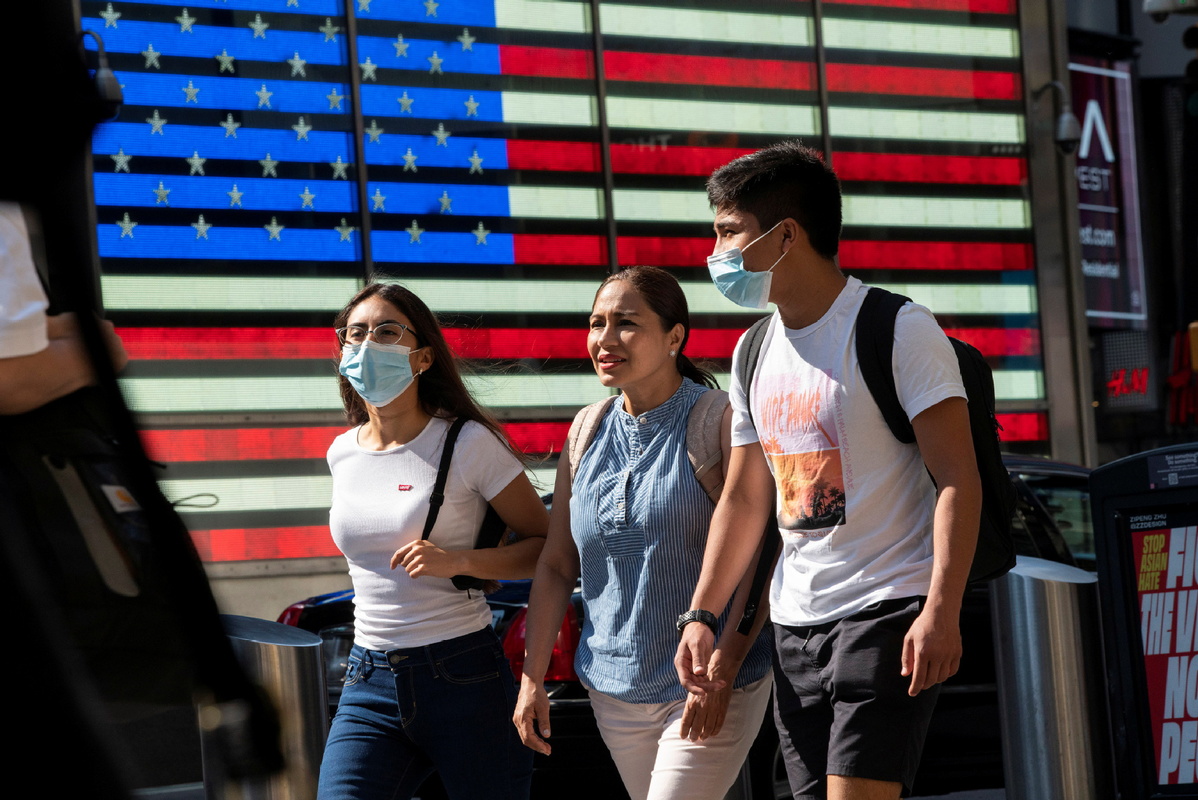 How are you doing, America?
According to a recent national poll, not that good, as 55 percent in the survey said they were pessimistic over where the country is headed.
The response is a nearly 20-point decline in optimism from late April, the last time the question was asked, when 64 percent reported feeling positive.
The rise in pessimism is occurring across all age groups, income and educational levels, and political party affiliation, according to the ABC News/Ipsos poll, whose findings were released on Sunday.
Americans also have mixed feelings about how President Joe Biden is handling major issues, the poll found.
They are positive about his response to the COVID-19 pandemic (63 percent); 55 percent approve of the president's handling of the troop withdrawal in Afghanistan; and 53 percent are upbeat on the economic recovery.
Biden, a Democrat, fares less well on immigration, gun violence and crime. On those issues, fewer than half of independents approve of the job he's doing, but his approval among Democrats also has slipped.
Biden's positive numbers on some issues were driven by strong support among Democrats (79 percent or more) and support among half or more of independents.
Still, the president's approval rating on handling the pandemic is now nine percentage points lower than at the end of March; his standing on the economic recovery is seven points lower over the same period.
On the pandemic, as of Friday, according to US Health and Human Services data obtained by ABC News, the daily coronavirus new-infection rate was 47 percent compared with the prior week, and on July 21, the nation recorded its highest daily number of new cases since April, with 61,939.
Slightly more than a third of Americans approve of the way the president is handling crime (39 percent), immigration and the situation at the US-Mexico border (37 percent), and gun violence (37 percent).
Unauthorized crossings are up across the Southwest border, from California to Texas. The US Border Patrol reported more than 1 million apprehensions or encounters in the first nine months of fiscal 2021, compared with 260,061 during the same period in 2020.
Between July 17 and 23, there were at least 915 shootings across the US, in which at least 430 people were killed and more than 1,000 injured, according to an ABC News analysis of data from the Gun Violence Archive. Last week, someone was shot at every 10 minutes.
In 2020, there were more than 43,000 gun-related deaths, from all causes, including suicides, accidents and self-defense. So far this year, there have been 25,632 gun-related deaths as of Tuesday, according to the Gun Violence Archive.
In a CBS News study of 24 major cities, homicides rose by 24 percent in the first quarter of 2021 over 2020 and by 49 percent from that time in 2019.
Through June this year, homicides were up 22 percent in Los Angeles, nearly 14 percent in New York, and 13 percent in Washington DC.
While Democrats approve of Biden's handling of crime, immigration and the border, their approval is more muted compared with COVID-19, the economy and Afghanistan.
For example, 93 percent of Democrats approve of Biden's handling of the pandemic, compared with 63 percent who rate him positively on immigration/the border situation.
On crime, immigration and the border, just above 1 in 3 independents approve of the job Biden is doing, while he receives positive marks from around 1 in 10.
Though most Democrats (71 percent) still feel optimistic about the year to come, fewer are feeling positive than they did in late April (89 percent). Optimism among independents has declined by 26 percentage points (now 38 percent, from 64 percent).
At the same time, there is a nearly even split on whether Biden is doing a good job keeping his campaign promises (52 percent excellent/good), or not (47 percent not so good/poor).
The split contains a wide partisan gap: 85 percent of Democrats say Biden is doing an excellent or good job keeping his promises; just as many Republicans (83 percent) say he is not.
The online poll of 527 people age 18 and older was conducted July 23-24. The margin of sampling error is plus or minus five percentage points.
In another poll, by Gallup, released Friday, Biden had an approval rating of 50 percent, down from 56 percent in June and 57 percent in April. The poll was conducted July 6-21 with a sample size of 1,007 adults. The margin of error was plus or minus 4 percentage points.
The poll found 12 percent of Republicans, 90 percent of Democrats and 48 percent of independents approved of how Biden was doing, showing "extreme party polarization", Gallup researchers wrote.
"Biden's approval rating is showing the first signs of meaningful decline," the Gallup report said. "If the lower ratings persist, it could indicate his 'honeymoon' period is over. Because Republicans have been unlikely to support him from the beginning of his presidency, changes in his approval are likely to come from Democrats' and independents' evaluations of him.
"It comes at a time when US progress in fighting the coronavirus has stalled, with vaccination rates slowing and case levels now rising. The economic recovery continues, with unemployment declining and stock market values near record highs. But consumers are paying higher prices for gas and other goods," pollsters wrote.
By comparison, in the second quarter of the first year of former president Donald Trump's presidency, his approval rating was 38.8 percent, according to Gallup.
The highest number since the start of the poll? President John F. Kennedy, with 76.2 percent in the second quarter of 1961.