China's new top US envoy assumes post
By ZHANG YUNBI | chinadaily.com.cn | Updated: 2021-07-29 11:00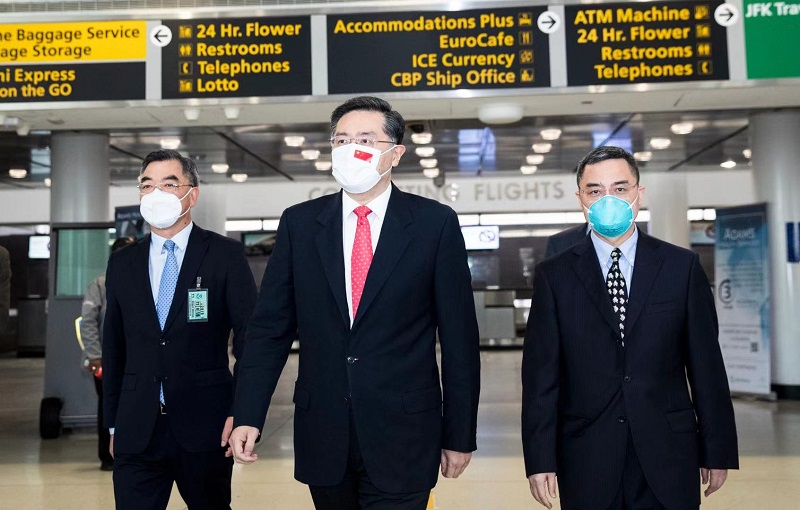 Vice-Foreign Minister Qin Gang has assumed his new post as China's ambassador to the United States, according to the website of the Chinese embassy in the US.
The 55-year-old senior diplomat and a European affairs veteran is well-known both at home and abroad as he used to work as a ministry spokesman.
His new post has attracted great attention as the world keeps close track of the interactions between the two largest economies in the globe.
Qin succeeds Cui Tiankai, who began serving as Beijing's top envoy in Washington in 2013.
Born in Tianjin in 1966, Qin started his diplomatic career in 1988 as a staff member with the Beijing Service Bureau for Diplomatic Missions.
Europe was a key point in his career path. He worked for the ministry's department of West European affairs in 1992-1995 and 1999-2002.
London witnessed his three terms based in Chinese embassy in Britain in 1995-1999, 2002-2005 and in 2010-2011, and his title evolved from Third Secretary, Second Secretary, Counselor to a Minister with the embassy.
During his tenure as vice-foreign minister starting from 2018, Qin's areas of responsibility included European affairs, information and diplomatic protocols.
Press affairs and briefing the outside world became Beijing's latest response to key diplomatic agenda for him as he served the ministry's information department as a deputy head in 2005-2010 and the head in 2011-2014. He was also a ministry spokesman during both terms.
In 2014-2018, he was seen as a key official in charge of diplomatic events as director-general of the ministry's protocol department. In 2017, he was promoted as an assistant foreign minister.
Related story: China's new US ambassador calls relationship 'vital'