A pauper to a king
By Yang Yang | China Daily | Updated: 2021-07-30 09:05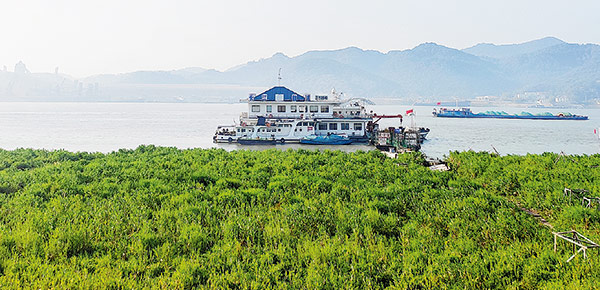 At that time, he was an editor at a publishing company, so he wrote in his spare time before and after work. At the speed of 5,000 words a day, he finished the book in 45 days. Earlier this year, the collection Yongge Yijiangshui (A River Separated Us Forever) was released.
"It is like a summary of my writing over the past decade," he says.
The book consists of seven novellas about the village called Dengwan by the Yangtze River. From spring to winter, in simple but vivid language, with a local dialect, the novellas recount the innocent days of two boys, reflecting the problems which affect families, "left-behind children", the loneliness of the elderly, preference for sons over daughters, and education in rural areas. Each story is independent and complete, but they, in a chronological order, form the bigger picture of a novel.
Like in previous books, Deng also shows his sympathy with, and love for, women in rural areas, "because I witnessed a lot of awful things happening to women, such as domestic violence or abandoned baby girls".
"It was so unfair, so I want to write about them," he says.
Now a freelancer after living in Beijing for 10 years, Deng is considering buying a home in Suzhou.
Writing has helped pull him from a mire in life. "If I had not written, what would my life have become?" he ponders.
"Honestly, I am just a very ordinary person. Everything about me is ordinary, but only writing can gradually make me outstanding, and allow me to experience more things," he says.
By writing, Deng has not only made a living, but used the royalties from his books to travel to more than 20 countries and regions around the world.
"Writing gives me a life that I like. I couldn't have imagined a life like this when I was young, but now that it has come to pass, I consider it a gift," he says.