'Roof of the world' rises to new heights
Share - WeChat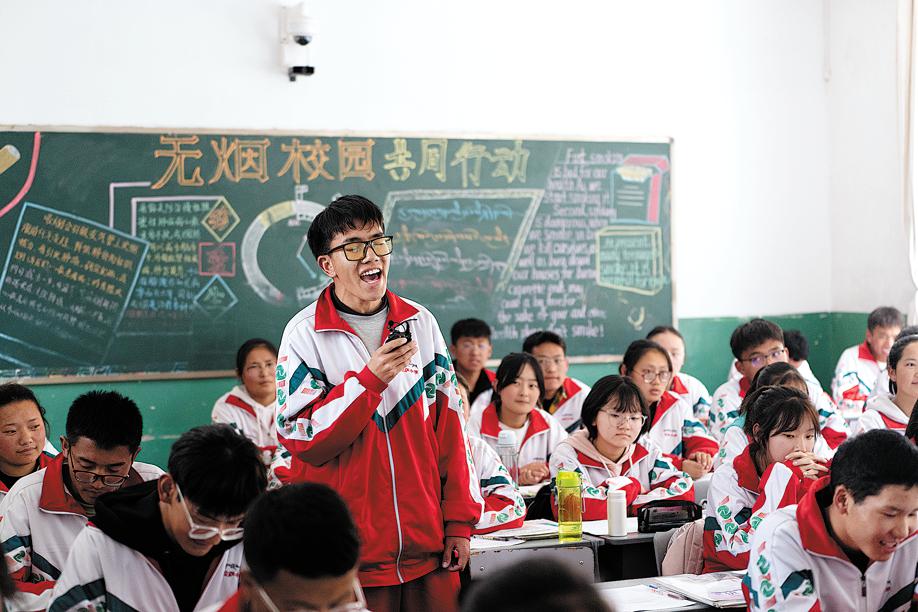 Modern school
In old Tibet, there was not a single school in the modern sense of the word. The illiteracy rate exceeded 95 percent and there was a complete lack of understanding of modern science and technology.
Founded in 1956 with only 20 to 30 students, Lhasa Middle School in the downtown area of the city is the first modern and standard school of its kind in Tibet.
Tang Yong, the school's principal, said, "At present, we have 3,018 students, with those from Tibet accounting for about 62 percent." Most of the students want to attend college, Tang added.
From 1951 to last year, the central government invested 224 billion yuan (about $35 billion) on education in Tibet. The region has established a modern educational system which includes preschool, primary and middle schools, vocational and technical schools, and higher learning and special education institutions.
Gong Xiaotang, Party secretary of Lhasa No 2 Secondary Vocational School, said Tibet has taken the lead nationally in providing students with 15 years of publicly funded compulsory education.
Students at the school have a wide variety of courses to choose from, including cookery, traditional Tibetan clothing and medicine production, thangka painting and other disciplines. It also teaches hotel management, accounting, advertisement design and drone operation.
Blair said: "I was impressed by the kids. They were learning a skill that was going to make them money, and they seem to understand that at a very young age. I was amazingly impressed by how much these kids knew, how hardworking they were, and how dedicated they are to building their futures."
He was also captivated by a center in Lunang, Nyingchi city, where primary school students are taught to use computers and 3D printers.
"They're creating a spirit of dynamism in the young kids, and that's going to pay off," Blair said, noting that these young people will grow up dreaming of being innovators, building businesses and taking advantage of economic opportunities.
Barkhor Street, which circles the Jokhang Temple, a UNESCO World Heritage site and part of the historic Potala Palace, is the best-known pilgrim circuit in Lhasa and is always packed with pilgrims from across the region. The faithful complete the circuit clockwise, spinning their prayer wheels in the same direction.
There are more than 1,700 sites for Tibetan Buddhist activities, with 46,000 monks and nuns in the region, where traditional religious activities are carried out regularly in accordance with the law.
Jorden, director of the Potala Palace administrative office, said large sums are spent annually by the government on renovating and maintaining the landmark to ensure that pilgrims have a safe environment where they can practice their religion.
Blair said, "We saw that many people still retain their religious ideals, while at the same time, they don't want to be poor because of that."
This sentiment was echoed by Rein, who found that the religious beliefs of locals in Tibet have been no obstacle to achieving economic prosperity. "I don't think there's a disconnection or conflict between the two," he said.
Last year, per capita disposable income in Tibet was double the figure in 2010. Average per capita disposable income of rural residents has seen double-digit growth over the past 18 years, while that of urban residents last year reached 41,156 yuan, a year-on-year rise of 10 percent.
Rein thought the most impressive part of the trip was seeing the rise of the middle class in Tibet, as a growing number of locals have emerged from poverty. "When you have a vibrant middle class, you have a vibrant, sustainable and successful society," he said.
Dawa, deputy general manager of The Tibet Yougecang Enterprise, an incense producer with fewer than 60 employees, said it has received a 50 million yuan line of credit from Agricultural Bank of China.
Having seen the implementation of Beijing's policy supporting small businesses and encouraging mass entrepreneurship in Tibet, Rein and Blair were optimistic about the development of the region and the Chinese economy.
However, Blair said finding a viable business model remains the greatest challenge for Tibet, so that the region can ultimately wean itself off support from the rest of the country.