'Roof of the world' rises to new heights
Share - WeChat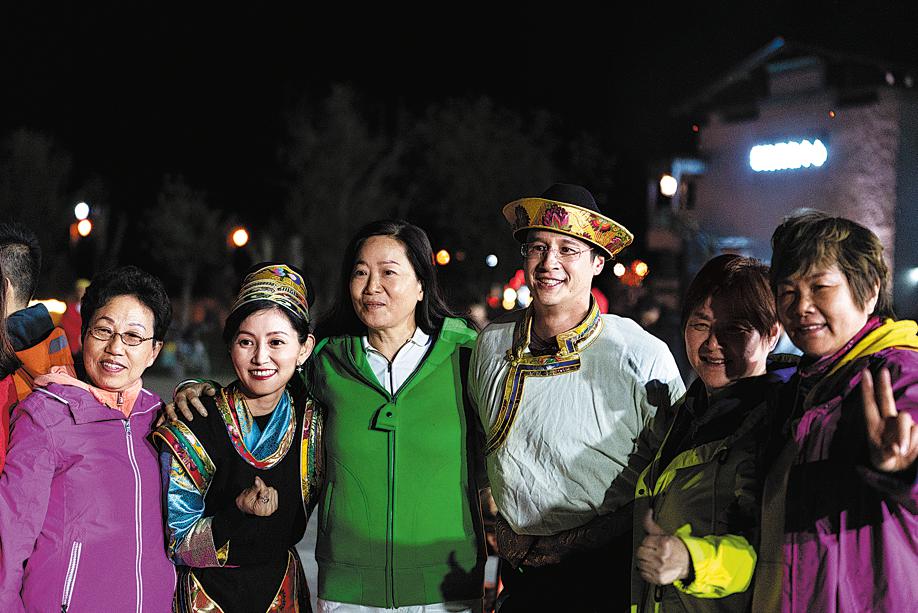 Great importance
While Epstein wrote of a rekindled enthusiasm and passion for life among ordinary Tibetans since democratic reform, Rein and Blair observed a Tibet far removed from its portrayal in Western media.
They saw the bilingual signs and software used by doctors to write out diagnoses for patients at the Tibetan Medicine Hospital of Tibet Autonomous Region, as well as students learning the Tibetan language at Lhasa Middle School.
"It was very clear that the government is doing a pretty good job at protecting Tibetan culture and the Tibetan language," Rein said.
China attaches great importance to the protection and development of traditional Tibetan culture, with the study and use of the Tibetan language protected by law. The region now has 16 periodicals and 12 newspapers in the Tibetan language, and has published more than 40 million copies of 7,185 Tibetan-language books. In addition, the language is widely used in the health, postal services, communications, transportation, finance, and science and technology sectors.
Meanwhile, the population of Tibet has risen from 1.23 million in 1959 to 3.5 million in 2019, with ethnic Tibetans accounting for more than 90 percent of the region's total. Last year, average life expectancy in Tibet reached a record high of 71.1, double the figure in 1951.
The disconnect between the region's flourishing cultural scene and its depiction in Western circles was described by Albert Ettinger, a researcher of Tibet from Luxembourg, in his 2015 book Battleground Tibet as "stories from wonderland." These "tall tales" seek to conflate unprecedented population growth with "genocide" and a cultural renaissance with "cultural genocide."
Wherever the China Chat Studio team went, young Tibetans appeared to be the most optimistic among the different segments of society, thanks to the great advances made in the quality of life for locals.
At the Zam Hydropower Station on the Yarlung Zangbo River, the largest plant of its kind in Tibet, the team witnessed the balance struck between development and environmental protection.
Liu Feng, who is in charge of operations at the hydropower plant, said it provides 30 percent to 35 percent of Tibet's energy needs, saving about 400,000 metric tons of diesel oil every year. In addition, hundreds of millions of yuan has been spent to ensure fish can safely bypass the facility and swim back upstream.
"If people's livelihoods are to be improved, the region needs to have sufficient electricity," Liu said. "People should not demonize the utilization of hydroelectric energy."
Since 1978, when China launched reform and opening-up, the Communist Party of China Central Committee has held seven national meetings on Tibet, making major decisions and plans for the region.
China began providing "pairing-up support" for Tibet in 1994. Central government departments, provinces and equivalent administrative units, along with centrally administered State-owned enterprises, offered assistance through 6,330 projects, representing total investment of 52.7 billion yuan by last year. A total of 9,682 outstanding officials were selected and sent to help the region.
Rein said these policies show that the entire country has been trying to progress and work together to build a strong China.
"You don't see in the US a wealthy state like California sending some of its tax money to poor states like West Virginia," he said. "And that's why they are falling further and further behind under the income level."
In comparison, Rein noted that China "doesn't want to leave any areas behind".
Xinhua's China Chat Studio exclusively for China Daily.