Biden to require vaccine or test for millions of federal workers
By MINLU ZHANG in New York | China Daily Global | Updated: 2021-07-30 10:21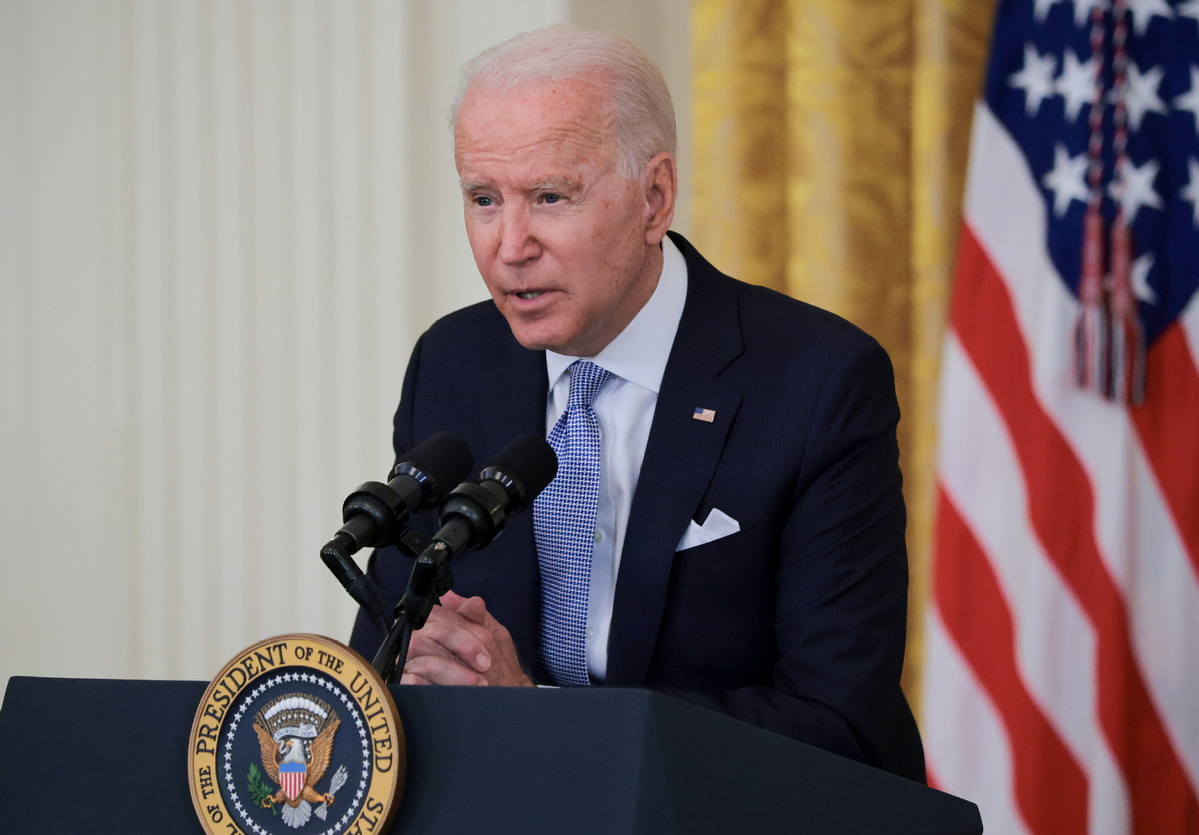 President Joe Biden on Thursday announced that millions of federal workers and on-site contractors will have to show proof of vaccination against COVID-19 or wear masks, practice social distancing and submit to regular testing under sweeping new guidelines.
Government employees who don't show they have been vaccinated will be subject to weekly or twice-weekly coronavirus tests and restrictions on official travel.
"The administration will encourage employers across the private sector to follow this strong model," the White House said in a statement ahead of remarks by Biden.
There are 2.1 million civilians employed by the federal government, not including nearly 600,000 US Postal Service staffers and more than 1.4 million uniformed military personnel. Biden directed the Pentagon to "look into how and when" it can require active-duty troops to get immunized.
Biden also detailed several other steps aimed at persuading more people to get inoculated, including calling for state and local governments to make $100 payments to every newly vaccinated American.
The payments are intended to provide "an extra incentive to boost vaccination rates, protect communities and save lives," the Treasury Department said in an announcement Thursday. They can be funded by tapping a $350 billion pot of money for state and local governments that was included in the stimulus package passed earlier this year.
Biden's latest move to increase the number of Americans who are vaccinated comes as coronavirus cases are surging due to the highly transmissible Delta variant that has become the dominant strain of the virus in the US. The seven-day average of new cases in the US approached 64,000 on Thursday, up from 11,480 on June 19.
His announcement about federal employees matches what many American companies are requiring, vaccinations for employees — and in some cases, for clients and customers.
Facebook and Google announced all employees returning to the office must be vaccinated. Facebook has roughly 60,000 workers, and Google has more than 144,000 employees globally.
Streaming giant Netflix became the first studio to mandate the vaccine. Casts of all its US productions must be vaccinated, along with the employees who come into contact with them.
The Walt Disney Co said Wednesday that it would require cast members and guests older than 2 to wear face coverings at all indoor locations at its Walt Disney World Resort and Disneyland Resort, effective July 30.
While several Republican governors are refusing to either recommend or mandate mask-wearing, two Florida mayors announced mask and vaccine mandates, defying Governor Ron DeSantis, who is firmly opposed to any pandemic restrictions.
Masks will be required at indoor county facilities in Florida's populous Miami-Dade County regardless of vaccination status in response to an "alarming rise" in local cases, said Mayor Daniella Levine Cava.
In Orange County, where the Disney World Resort is located, the mayor issued an executive order on Wednesday declaring a "state of local emergency" in response to rising COVID cases.
"I urge residents and visitors — vaccinated and unvaccinated — to wear a mask while indoors and to follow updated CDC guidelines," Mayor Jerry Demings said at a news conference Wednesday, referring to the updated mask guidance Tuesday from the Centers for Disease Control and Prevention.
He also announced that all 4,200 nonunion county employees will be required to get their first coronavirus vaccine shot by the end of August, and the second shot by the end of September.
The mayors' decisions seemingly place them in conflict with DeSantis, who has staunchly opposed stricter pandemic restrictions.
A state law signed in May gives DeSantis the power to invalidate local emergency measures in place during the pandemic, including mask mandates and limitations on business operations. It also bans any business or government entity from requiring proof of vaccination.
DeSantis was defiant Wednesday as he criticized the new CDC guidance at a Salt Lake City gathering of the American Legislative Exchange Council, a group that pushes conservative policies in Republican-controlled state legislatures.
"I think it's very important we say, unequivocally, 'No to lockdowns, no to school closures, no to restrictions, no to mandates,'" he said, according to The Associated Press.
Meanwhile, 12 of the 20 largest public school districts now are requiring masks for students when the school year begins, following the updated CDC guidance.
The remaining eight are in Florida (Miami-Dade, Duval, Broward, Hillsborough, Orange and Palm Beach) and Texas (Dallas and Houston), where the governors have banned mask mandates in schools, CNN reported.
Danny Meyer, one of New York City's most renowned restaurateurs, said Thursday he will require his staff to be vaccinated and also customers who want to dine in his full-service restaurants.