FM spokesman hits back at US allegations of 'journalist harassment'
By Mo Jingxi | chinadaily.com.cn | Updated: 2021-07-30 19:49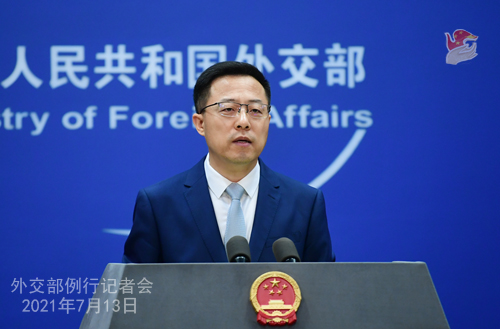 Foreign Ministry spokesman Zhao Lijian on Friday rejected false accusations made by Washington over the so-called harassment of foreign journalists in China, saying the United States is playing double standards and engaging in hegemonic bullying under the guise of media and press freedom.
He mentioned discriminatory restrictions previously imposed on US-based Chinese journalists, urging Washington to reflect on its own problems and stop groundless attacks on China.
In response to the recent remarks made by the US State Department, including Secretary of State Antony Blinken, that expressed "concern" over the treatment of journalists from overseas covering flooding in Henan province, Zhao said Washington is distorting facts and confusing right with wrong in order to pressure China with unfounded charges.
"We firmly reject and oppose the statements by the US," Zhao told reporters at a regular news briefing in Beijing.
The spokesman said Washington should not forget what it has done when speaking of censorship, harassment and intimidation of journalists.
Since 2018, the US has denied or delayed visa issuance for more than 20 Chinese journalists and expelled over 60 with no reason. Many Chinese media organizations stationed in the US were designated as "foreign missions" and the duration of journalists' stays is limited to no more than 90 days.
Some video clips also showed Chinese reporters were stopped or even attacked when they covered demonstrations over the death of George Floyd and the violence at Capitol Hill.
"If these are not accounted as direct infringement of reporters' personal safety and press freedom, then I don't know what could be," Zhao said.
He noted what the US has done is to suppress China in the name of press freedom and trying to find an excuse to practice double standards and bully China.
"Only when one manages to mind its own business, can one be respected by others," Zhao said.