GM, Ford go to court in legal battle on right to use word 'cruise'
By LI FUSHENG | China Daily | Updated: 2021-08-02 08:50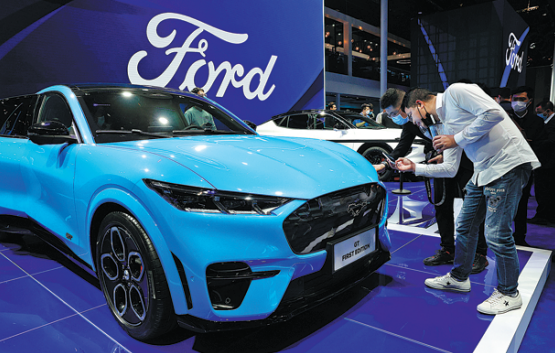 The United States' two largest carmakers, General Motors and Ford, are in a legal tussle over the right to use the word "cruise" in naming their autonomous driving technology.
GM has filed a lawsuit against Ford, saying that BlueCruise, which Ford uses to name its hands-free driving features, infringes on GM's Super Cruise trademark as well the trademark on its Cruise family of autonomous vehicles.
"Ford knew what it was doing," GM said in the lawsuit filed in California. "Ford's decision to rebrand by using a core mark used by GM and Cruise will inevitably cause confusion."
GM, the No 1 US automaker, has asked the court for an order to prohibit Ford from using the Blue-Cruise name.
Ford started using the name BlueCruise to market its technology from April this year. GM has been using the name Super Cruise for its autonomous driving features since 2017. GM's majority-owned Cruise self-driving vehicle unit has been operating since 2013.
In its lawsuit, filed earlier this month, GM said the automakers had held "protracted discussions "over the matter but failed to resolve the dispute.
"GM had hoped to resolve the trademark infringement matter with Ford amicably, but we were left with no choice but to vigorously defend our brands and protect the equity our products and technology have earned over several years in the market," GM said in a statement.
Ford called the lawsuit "meritless and frivolous". It said drivers for decades have understood what cruise control is, every automaker offers it, and "cruise" is common shorthand for the capability.
"That's why BlueCruise was chosen as the name for the Blue Oval's next evolution of Ford's Intelligent Adaptive Cruise Control, which incorporates hands-free Blue Zones and other advanced cruise-control features," said Ford in a statement.
Ford implied that GM is finding fault with it because it did not raise the issue when other companies are using the name.
"It has to be noted that GM has had zero issue with other cruise names," said Ford. Such examples include like ZF's Autocruise, Bendix's SmartCruise, BMW's Active Cruise Control and Hyundai's Smart Cruise Control.
The court has not given its verdict.
A Ford China representative said it is offering similar technology in its vehicles sold in China. But representatives at GM China and Ford China said the two companies are not in a legal dispute in the country.