BRI partners find a classic path to learning
By CHEN YINGQUN and YANG RAN | China Daily | Updated: 2021-08-04 09:33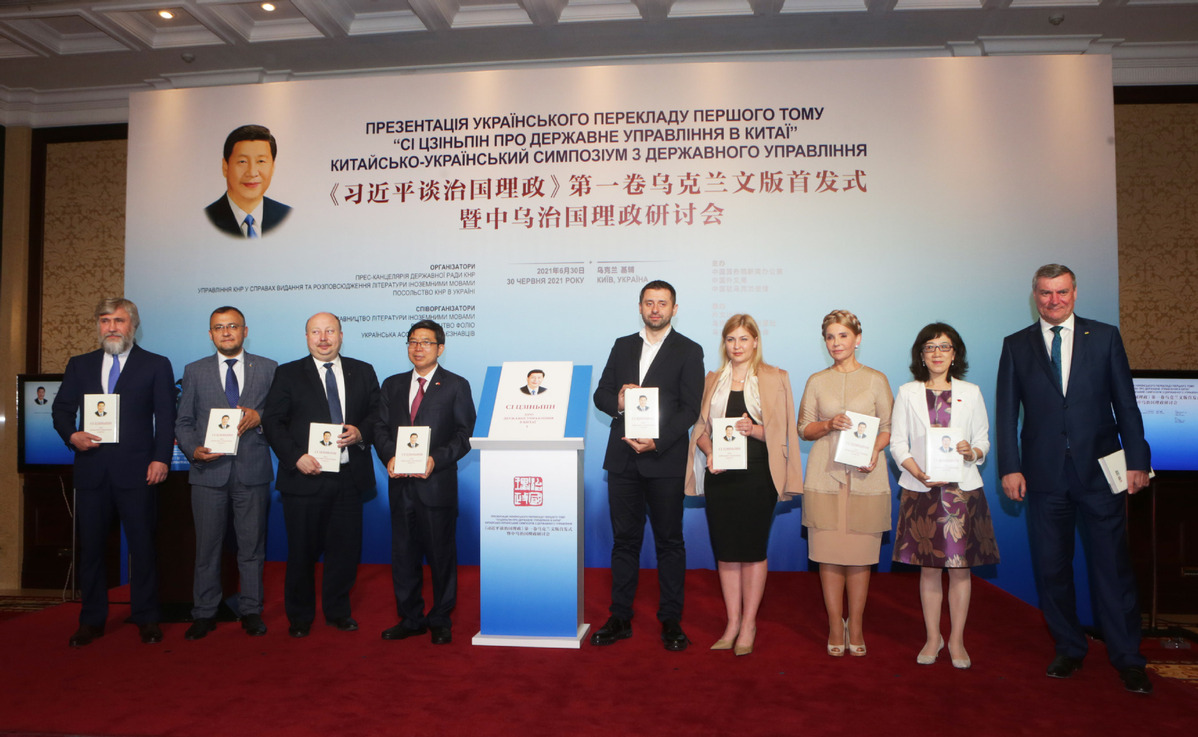 Greats of Chinese literature help to turn a new page in cultural outreach
Editor's Note: People-to-people exchanges are deepening the connections between countries participating in the Belt and Road Initiative. This column celebrates the efforts of those working toward a shared future.
For Giorgia Solazzo, an Italian devotee of Chinese literature, any notion of language differences as a barrier to understanding another culture is left behind at the door of her local library.
The 24-year-old student can dive into the works of her favorite authors among the shelves for Chinese literature at the library in her city near Milan. And she can thank an army of translators and others behind a burgeoning industry that, worldwide, is introducing Chinese literary talent to readers in local languages.
"Almost all libraries have the works of Chinese authors translated in Italian," Solazzo says.
What's more, there are lively discussions on Italian social media platforms about Chinese authors and books about China, she says.
For the Italian bookworm, Chinese literature stands out for her in the way it often draws richly on the history of China itself.
"Most of the time the novel or its setting refers to real events that happened in the past," Solazzo says. "It is pretty useful because one can gain both historical and literary insights."
Solazzo and other Italian fans of Chinese literature are the beneficiaries of increased cooperation in the publishing sphere among countries involved in the China-proposed Belt and Road Initiative, or BRI. This cooperation has borne fruit, with more and more books being imported into the markets of the participating countries since the initiative was unveiled in 2013, publishing industry insiders say. And that demand has kept the translators busier than ever.
So much for language barriers. The efforts of publishing houses and their translators are enabling people to have greater access to the cultures of often far-flung nations, in line with the ever-growing reach of the continent-hopping BRI itself.
According to the second volume of the Report on B&R Publishing Cooperation and Development issued by the Chinese Academy of Press and Publication in November 2020, 273 Chinese agencies had established ties with 79 publishing agencies in countries involved in the BRI in 2019. The number of copyright arrangements for the sale of titles between China and BRI countries soared from 3,808 in 2016 to 11,282 in 2019.
Chen Yonggang, vice-president of the China Publishing Group Corporation, or CPG, says that since the BRI was proposed almost a decade ago, the group has strengthened cooperation with overseas peers in the publication of translated works. Each year, the CPG authorizes about 1,000 Chinese books to be published in other countries under copyright provisions, and most of these agreements are with peers in BRI countries.
"The BRI has greatly broadened the scope of the CPG's international copyrights trade and helped us increase the exports of multilingual-language copyrights," he says. "The translation of classic works into multiple languages is a basic part of exchanges and mutual learning among different civilizations."
Growing interest
The growing interest among foreigners to learn Chinese is providing another opportunity for Chinese publishers.
To tap this rich seam, the CPG's Commercial Press division has, since 2017, been translating Chinese dictionaries-the Xinhua Dictionary and the Modern Chinese Dictionary-into 15 languages, with the help of partners from BRI countries.
"International publication cooperation on such a scale is rarely seen around the world," Chen says.
He says that each year, the CPG selects high-quality books for translation from among the 10,000 or so works it has published.
"The China-themed books we have selected and translated have been warmly welcomed by overseas publishers, as we not only introduce classic Chinese books to them but have also listened to their advice and the markets' demand," Chen says. "Since last year the CPG has been promoting books on China's poverty alleviation efforts, which have won an unexpectedly active response from overseas counterparts."
Aside from introducing Chinese books to overseas markets, Chinese publishers have also been bringing the classics from other countries to Chinese readers, adhering to the spirit of promoting exchanges and mutual learning among the peoples of all nations.
The CPG's People's Literature Publishing House has translated into Chinese a wide range of foreign publications with global influence. The Harry Potter series it introduced into China has gained great popularity among Chinese readers lapping up the adventures of the boy wizard.
In recent years, translated classic works from Arab countries have also started to attract the attention of Chinese readers, Chen says.
"We will continue to import classic works by outstanding authors from the BRI countries, and take on the responsibility and historical mission in absorbing the advantages of civilizations and cultures of various countries and serving China's modernization development," Chen says.
Ahmed Alsaid, chief executive of Bayt Elhekma Group for Cultural (Egypt-China-UAE) Co, says his Cairo-based company has published around 600 books about China covering a wide range of topics including literature, economics, politics, children's picture books and novels.
"When we first started publishing Chinese books, we tried to choose books that can best represent Chinese characteristics and explain what China is really like, as there were few books about China in Arab countries at that time," Alsaid says.
Accordingly, the company began with translations of a series of books on the political and economic situation of China.
With the increasing presence of China-themed books in the Arab market, Alsaid says that his company is now focusing on the translation and publication of Chinese literary works.