Beijing to protect use of guide dogs
By XIN WEN | China Daily | Updated: 2021-08-04 09:33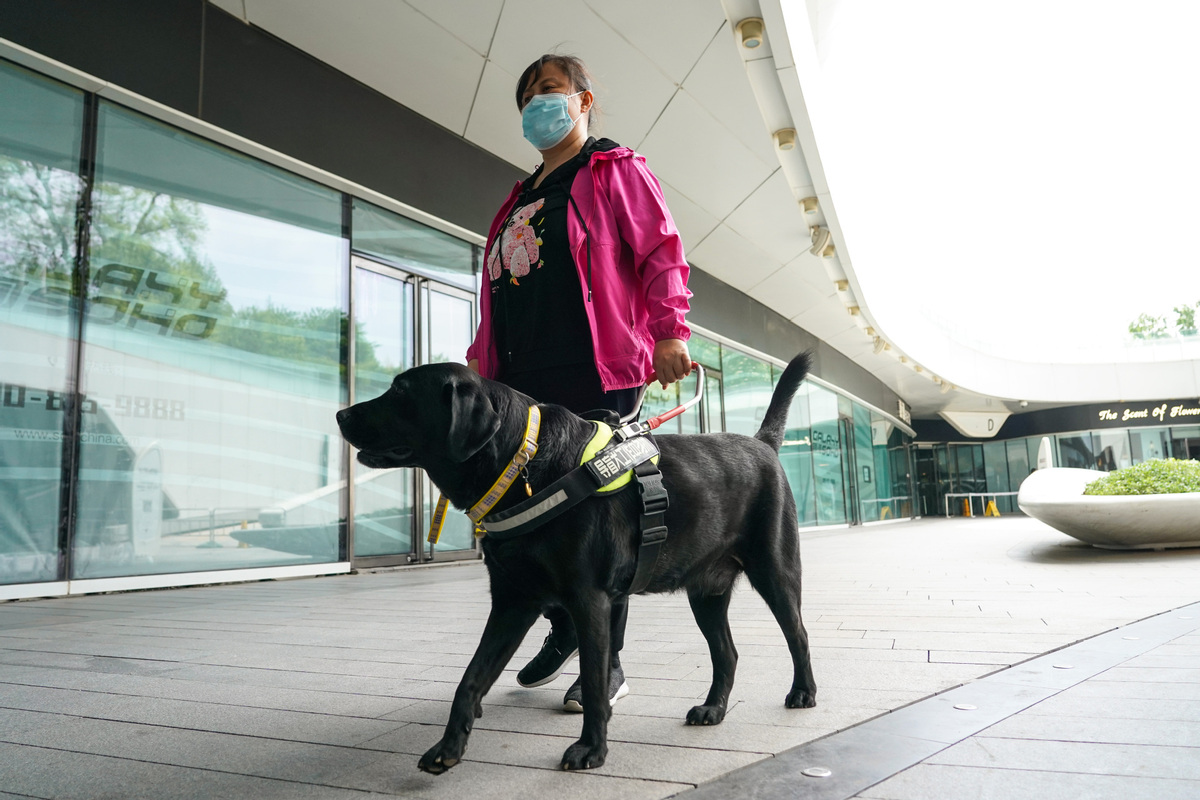 Beijing's legislature is considering punishing those who refuse to allow eligible guide dogs to enter public spaces or public transportation.
The provision is one of a number of new articles in a draft regulation designed to improve accessibility in the capital that underwent a second deliberation on July 28, with lawmakers making new proposals following a first review in May.
A warning or criticism in a circulated notice will be given to entities or individuals that deny guide dogs with work permits access to public spaces or public transportation when accompanied by visually impaired people, said Hao Zhilan, from the Urban Construction and Environmental Protection Committee of the Standing Committee of the Beijing People's Congress.
Shanghai and Chengdu, capital of Sichuan province, have passed local transportation regulations permitting visually impaired people to board subway trains with guide dogs.
The relatively large proportion of elderly people in Beijing is creating higher demand for a more accessible environment.
Statistics from the municipal government show that people over 60 years old account for 19.6 percent of Beijing's population, with people aged over 65 accounting for 13.3 percent.
There are also more than 530,000 people with disabilities in the capital.
"After thorough research, we believe it's necessary to add legal liability to the rules to ensure implementation," Hao said.
She said the current regulation on the construction and management of barrier-free facilities in Beijing, issued and implemented in 2004, was the first local regulation in China related to barrier-free construction.
"The new phase of development requires us to implement renovation and construction of accessibility in the urban road and public transportation system to provide more convenience for disabled and older people," Hao said.
The draft says handrails, wheelchair seats or special areas, ramps and other barrier-free facilities should be installed in city trams and urban rail carriages. Subtitles and devices making announcements more accessible should also be provided.
Urban rail stations should be equipped with barrier-free gates, and accessible restrooms and elevators.
Beijing will also gradually establish an accessible public transport guidance system to make it easier for the hearing and visually impaired to use the network, according to the draft regulation.
Scholars and officials in the capital have stepped up efforts this year to create an accessible environment and enhance the mobility of the disabled.
Zhou Yanmin, a professor of architecture at Tsinghua University, put forward specific plans on upgrading old urban residential communities in Beijing with accessible facilities at a seminar.
She said she had noticed many accessible restrooms in Beijing were in need of improvement.
"Either some barrier-free restrooms were taken up as living spaces or some were occupied as cleaning rooms," she said.
"Realizing the importance of accessible facilities is key to helping us create better design plans for renovating old communities."
Lyu Shiming, vice-chairman of the China Disabled Persons' Federation, said that as the 2022 Winter Olympics approach, Beijing should accelerate the pace of adding accessibility requirements in the design standards of transport facilities and adapting various localities to make them accessible by disabled persons.