Confident Hainan FTP seeks to coast on negative list
By ZHONG NAN | China Daily | Updated: 2021-08-04 09:59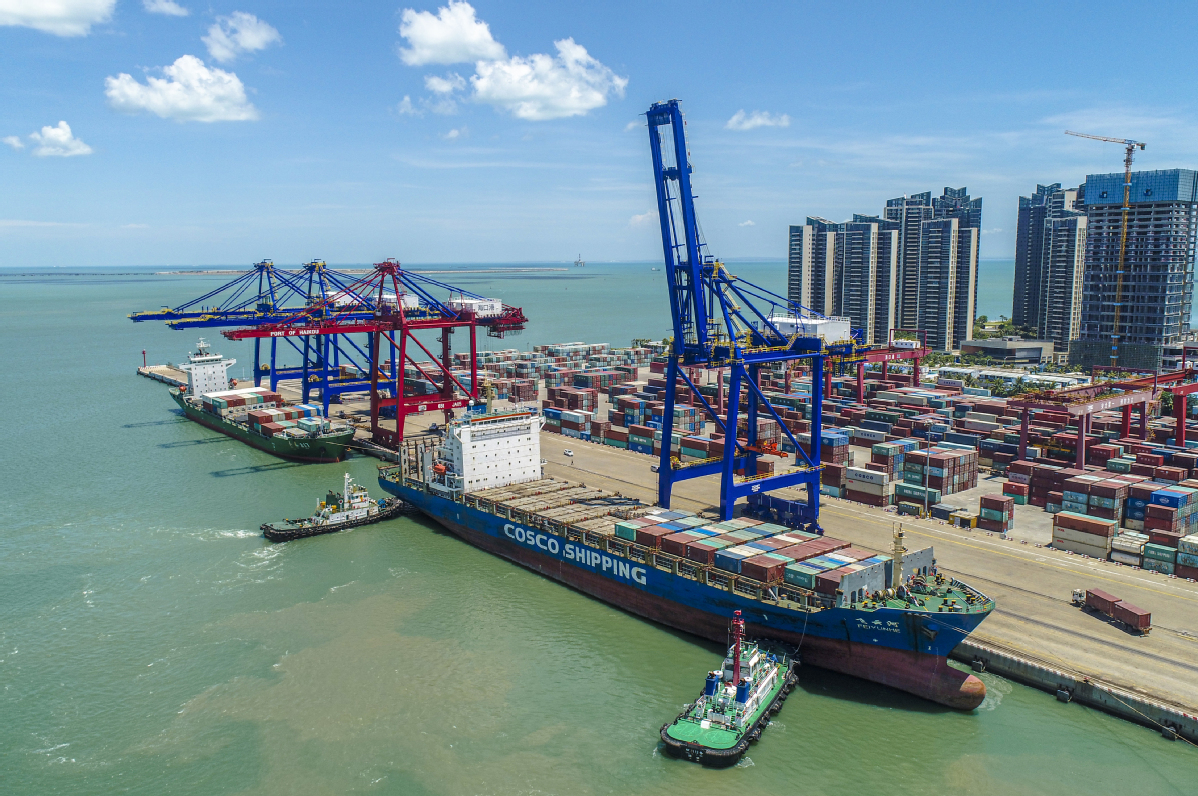 The Hainan Free Trade Port (FTP) will benefit a great deal from the exclusive negative list for its trade in services as it will create more growth opportunities in several areas, including professional services, transportation, finance and education, officials and experts said on Tuesday.
The negative list is China's first such FTP-specific document related to trade in services, and will encourage the Hainan FTP to build itself into a strong international services hub, they said.
Their remarks took stock of the Chinese government's policy document released last week specifying an institutional market-opening arrangement for the Hainan FTP.
It marks efforts to promote the country's liberalization of trade in services, and is scheduled to take effect on Aug 26.
The Hainan FTP-specific negative list specifies 70 special management measures in 11 categories, including shipping, retail, logistics, finance and education, for overseas service providers.
Typically, a negative list specifies the prohibited economic activities, thereby implying that activities not listed are deemed to be allowed.
For areas not included in the list, global and domestic service providers will have a level playing field and enjoy equal market access at the port, the Ministry of Commerce said.
"As a driver of Hainan's economy, the services sector accounts for more than 60 percent of the province's GDP. It also contributed more than 95 percent to Hainan's economic growth in 2020," said Yuan Yuan, deputy director-general of the ministry's department of pilot free trade zone and free trade port.
In addition to widening market access for trade in services and paving the way for higher-level opening-up in professional, transportation and financial services, among others, the negative list will result in more open policies for ocean shipping and air transportation, as it looks to build the free trade port into a new international air and sea transit base, she said.
"Such a comprehensive policy measure is not required by any bilateral or multilateral free trade agreements; yet, China proactively took the initiative because it's the right direction to take."
The negative list, she elaborated, removes restrictions in the areas of commercial services like legal services and market research, and will boost Hainan's appeal as an investment destination. It also lifts limits on more than 10 vocational exams for foreigners to push for greater financial opening and free flow of talent.
Cui Weijie, vice-president of the Beijing-based Chinese Academy of International Trade and Economic Cooperation, said the negative list will boost the growth content and quality of the Hainan FTP by conducting stress tests for wider opening-up in the country as well as building an open economy at a higher level.
The first list of categories that are off-limits for foreign investment was released in 2013 for the China (Shanghai) Pilot Free Trade Zone, and was later extended for use across the country.
In the context of cross-border trade in services, China's accession to the World Trade Organization and the free trade deals the country had signed all adopted a positive list.
Despite COVID-related uncertainties disrupting the world's economy and trade since 2020, China's vast and lucrative domestic market and higher-level opening-up have been boosting global businesses' confidence in its economy and complete industry chain.
Foreign direct investment in the Chinese mainland surged 28.7 percent year-on-year to a record high of 607.84 billion yuan ($94.03 billion) in the first half of this year, data from the Ministry of Commerce showed.
The government has rolled out a string of policies this year to keep foreign investment stable. It introduced financing support and tax incentives for foreign firms while expanding pilot opening-up programs, said Chen Chunjiang, director-general of the department of trade in services and commercial services at the Ministry of Commerce.
The country will also host a number of trade and investment exhibitions, including the China International Fair for Trade in Services, the China Import and Export Fair, and the China-ASEAN Expo in the third and fourth quarters of this year, to facilitate business exchanges and events that can address the concerns of foreign companies, he said.