Honor makes strong push into high-end smartphone segment
By MA SI | China Daily | Updated: 2021-08-17 09:10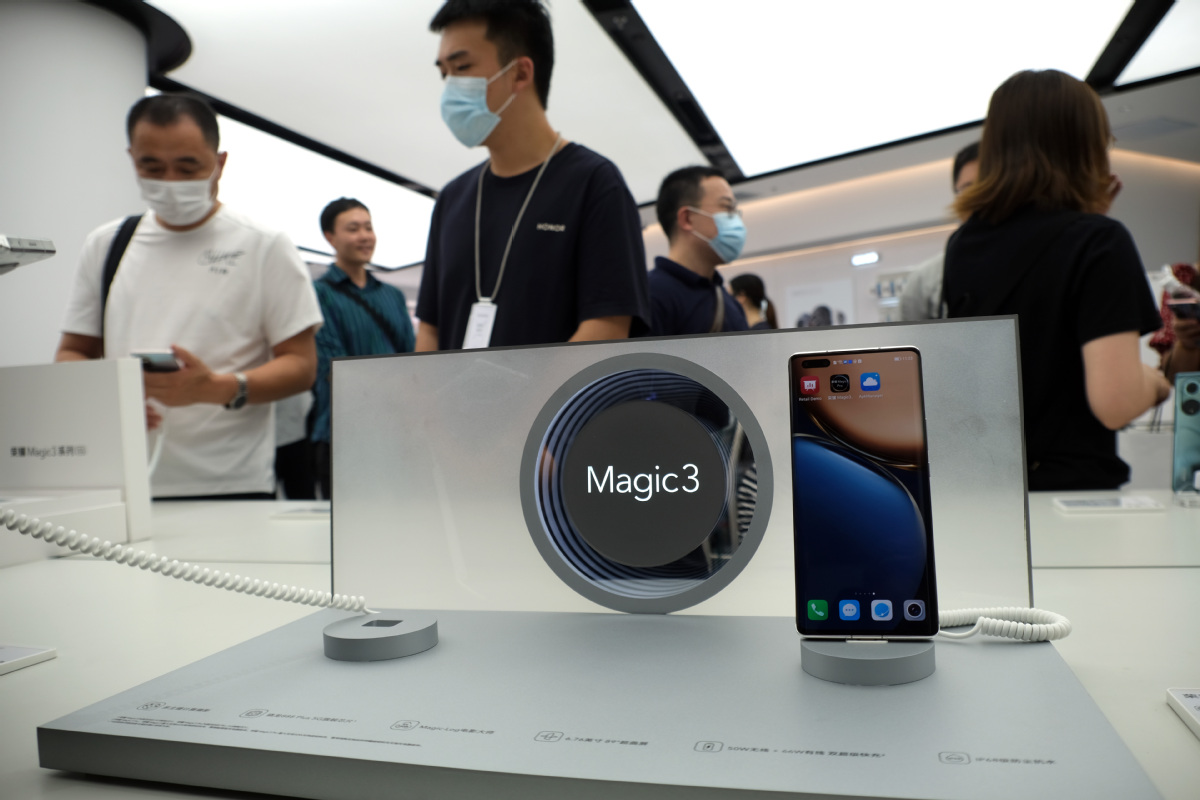 Honor Device Co Ltd is making arguably its biggest push to expand presence in the high-end smartphone segment with its Magic 3 series, as its share in the Chinese market steadily recovers.
The Chinese device maker's operations are recovering in more than 50 countries and regions around the world after it became fully independent from Huawei Technologies Co last November.
Zhao Ming, CEO of Honor, said Honor's market share increased from 3 percent to 14.6 percent in just three months in China, further fueling the brand's ambition for global success.
Priced from 4,599 yuan ($709) in China, the Magic 3 is the first flagship smartphone series launched by Honor since separating from Huawei, and they showcase the company's most innovative ideas, Zhao said.
"We are proud of the industry partnerships we've forged, which have helped in the development of this ground-breaking new smartphone as well as the continued efforts from our research and development team to reintroduce Honor to the global market, in a never-before-seen display of exceptional technology."
Honor's workforce includes some 10,000 employees. Honor said it has invested heavily in R&D, with four R&D centers and over 100 labs worldwide, filing over 5,500 new patent applications to date, and quickly reestablishing strategic partnerships with some of the world's top suppliers, including the US chip giant Qualcomm Inc. The Magic 3 series of smartphones are powered by Qualcomm's Snapdragon 888 plus 5G chips.
"In the future, more Honor products will hit the global market, and our smartphones and tablets will be equipped with GMS (Google Mobile Services) in overseas markets," Zhao said.
According to him, the focus this year is to quickly restore local operations, channels, and retail sales capabilities in overseas markets. The rebound in overseas markets is likely to be quick judging from the company's rapid recovery in the Chinese market, Zhao said.
Archie Zhang, an analyst at the market research company Counterpoint Technology, said Honor is on its way to a full recovery in China, as its sales were up 39 percent month-on-month in May and up 27 percent in June. And preliminary data show that it has maintained the growth in market share in July.
The Honor brand is still appreciated by Chinese customers. Its network of suppliers and distributors, as well as the ability to secure the supply chain, are also vital to Honor's rebound amid the general tight supply of components, Zhang said.
To be sure, challenges exist. Reuters reported earlier this month that some US lawmakers wrote a letter to US Secretary of Commerce Gina Raimondo, asking for Honor to be placed on the Entity List. If their demand is met, it would restrict Honor's access to US technologies.
Zhao sought to highlight that Honor is now an independent company with no links whatsoever to Huawei. Honor's shareholders do not include Huawei. Honor is committed to developing consumer-oriented solutions and products with global partners, he said.