China making good its vow to strengthen rule of law
By Edward Lehman | China Daily | Updated: 2021-08-20 06:53
The rule of law is a concept that is pivotal to the success of any modern society. Not only does the rule of law provide a stable economic underpinning, which in turn allows citizens to accumulate wealth, it also helps settle disputes in an efficient and effective manner without leading to unrest.
When I first came to China in the 1980s, the economy had started welcoming foreign investment as part of the reform and opening-up policy of former leader Deng Xiaoping. At that time, it was the manufacturing sector and the nascent labor market that was driving growth.
In more recent years, the service and financial sectors have expanded rapidly in China, providing a wealth of new opportunities. As the first foreign lawyer to work at a Chinese law firm as well as the managing director at our law firm, Lehman, Lee& Xu, I have seen this evolution play out on the ground firsthand.
It is obvious from China's words and actions that it truly cares about attracting skilled, experienced foreign experts and is committed to increasing the business opportunities within its borders. China is also determined to strengthen its judiciary and legal system so they can effectively resolve disputes and produce legitimate outcomes in line with similar bodies in other countries.
China has devoted extensive resources to achieve this goal while bolstering its economy and eliminating extreme poverty.
The Chinese leadership headed by President Xi Jinping has become more determined in recent years to strengthen the rule of law, and disseminated this message among the people while implementing concrete reforms that have improved the court system.
This resolve will assure businesses which seek to enter the Chinese market that their rights will be fully protected by a robust legal apparatus, putting China on par with other countries with thriving commercial hubs.
Some of this has already come to fruition, with China deepening connections with commercial entities around the globe and becoming the largest trading partner of many countries. To further this pursuit of ingraining the rule of law, China codified its statutes into an expansive Civil Code-the first such code since the founding of the People's Republic in 1949-which came into force in January.
The expansive Civil Code accumulates decades of experience and is a useful tool for legal consultation, with all materials conveniently put in one place. China has also updated its intellectual property rights protection laws, with the relevant regulations coming into effect in June. Accordingly, innovators will get stronger safeguards, and regulators will be better equipped to help them in resolving disputes.
The measures will make China an even more attractive place to file patent applications. Such reforms are quite important since intellectual property can be a powerful tool in creating wealth, and ensuring China's stable growth in the long run. China has already become one of the world's most important jurisdictions for intellectual property, and that trend will only grow. Also, China now has a legal system that is conducive to doing business in a manner that fully conforms to the rule of law, from top to bottom.
All of this fits in with the message of working to ensure the people feel every judicial case is handled fairly and justly. I look forward to seeing this great society continue to grow and advance in the years ahead.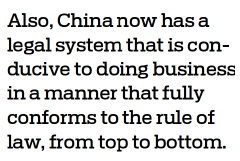 The views don't necessarily represent those of China Daily.
The author is the founder and managing director of Lehman, Lee& Xu, a law firm in China, and a legal professor.
If you have a specific expertise, or would like to share your thought about our stories, then send us your writings at opinion@chinadaily.com.cn, and comment@chinadaily.com.cn.