Student explores city's attractions by bicycle
By AKTER SAIMA | China Daily | Updated: 2021-08-20 09:00
Many overseas students in Shanxi province have gained a better understanding of the province and China. This section named Shanxi in the Eyes of Foreign Students will tell their stories from the province and share what Shanxi looks like from their perspectives, giving accounts of the local environment, customs and culture, as well as their personal experiences.
I have been in Taiyuan, the provincial capital of Shanxi, for two years since I was admitted to a PhD program in Shanxi University as an international student from Bangladesh.
Over the two years, I found myself falling in love with Shanxi and China as I got more integrated with local lives and got more familiar with the city, the province and the country.
I must admit that it's normal to feel lonely when you start a new life in a new place. You have to adapt to everything-food, language and culture. But for me, the adaptation didn't take a long period of time. I have got used to eating noodles for breakfast and using online payment via my smartphone very quickly.
My experience in Shanxi and China, I think, is an opportunity to help broaden my perspectives and life here is full of surprises.
The pleasant changes are made possible with the help of my teachers, schoolmates and friends.
My tutors at Shanxi University are excellent teachers. They highly value critical thinking among students and encourage us to conduct research in an innovative manner.
After a while at the university, I didn't feel much pressure in my study. There is still enough spare time to allow me to visit various parts of Taiyuan and Shanxi and to make friends with locals.
My favorite sport is cycling and I find China is very cyclist-friendly because it is convenient to hire bicycles in every city in the country. I like to cycle on the streets in Taiyuan and visit places I encounter randomly. The cycling tours helped to deepen my understanding of the city.
In my eyes, Taiyuan is a city with both history and modernity.
The city has a history of more than 2,500 years, among the longest among all cities in China. An abundance of well-preserved ancient structures, like the temples in Jinci, the double pagodas in Yongzuo Temple, are the material evidence to help you get a glimpse into what ancient China looked like.
Taiyuan is also a fast-growing modern city. It is ranked among the world's top 500 cities in terms of scientific research according to a recent Nature Index rating.
I hope more international students come to study in Shanxi University and to live and work in China as the country is full of opportunities.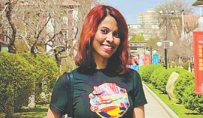 The author is a student from Bangladesh who studies at the School of International Education and Exchange at Shanxi University.