China's tutoring bans can change 'focus from profits' to pupils
By WANG MINGJIE in London | China Daily Global | Updated: 2021-08-20 15:03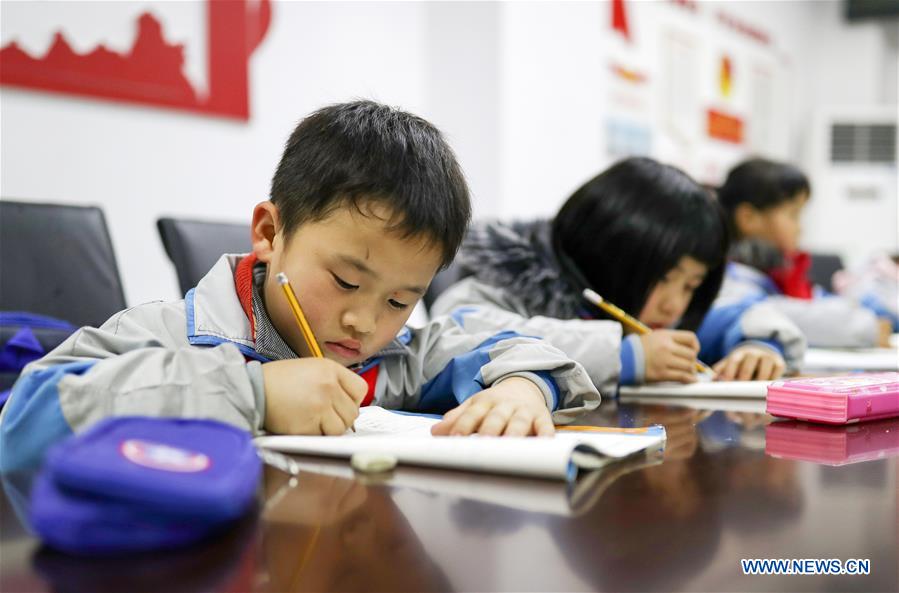 While the news that Chinese authorities will regulate off-campus tutoring for students caused some initial concerns, experts say the policy is largely a step in the right direction for the education system.
In July, China issued guidelines aimed at easing homework and reducing after-school study hours for students, a policy dubbed the "double alleviation". The policy bars any organizations, individuals or private companies from offering off-campus tutoring programs for curriculum subjects as well as tutoring on weekends and during holidays.
For decades, it has been common in China for parents to enroll their children in after-school tutoring classes, because they see the extra lessons as an opportunity for their children to gain an academic advantage over other students.
The number of Chinese students ages 5 to 16 years enrolled in after-school tutoring classes nationwide has increased from 202.6 million in 2015 to 325.3 million in 2019, according to a listing prospectus by New Oriental Education, a leading provider of private educational services in China.
David Johnson, reader in comparative and international education at Oxford University, said: "At one level, the impact of the new regulations is likely to affect drastically a booming business model. For the education system, the government is encouraging schools to offer, or increase, programs of after-school tuition that would be offered free or at very little cost to families. This is likely to result in a change of expectations of the quality of services delivered by schools and teachers."
He believes that the Chinese education system is heavily skewed by its dependence on after-school private tuition, and the burden of producing good learning outcomes is shifted from schools and parents to privately run tutorial institutions. "On the whole, the policy is a step in the right direction," Johnson said.
Experts say social pressure is a powerful driving force in Chinese society. For many Chinese parents, the reason that they send their children to off-campus classes is simply because "everyone does so".
Johnson said, "Stripping parents of the opportunity to seek and benefit from privately run classes is likely to cause distress initially, but in the long run, (it) is likely to level the playing field by suppressing competitiveness and perhaps increasing an uptake of programs in which traditional forms of parental involvement in children's education, such as paired reading and home-school activities, once more become the norm."
Hannele Niemi, professor of education at the University of Helsinki and chair of the Sino-Finnish Joint Learning Institute, said: "Extra help should be provided within the educational system, not as a parallel system in which parents have to seek and buy educational services."
Finland's comprehensive education system is well known across the world, evidenced by its pupils' top performance in the Program for International Student Assessment run by the Organization for Economic Cooperation and Development. Finnish pupils produce some of the world's highest scores in reading, math and science after taking the test.
"In Finland, we do not have a tutoring system at all. The main principle is that the school should provide all support to students and help them in time to overcome ... (any) learning difficulties," Niemi said.
China's announcement of the overhaul drew widespread international media coverage, due largely to the fact that many tutoring companies are listed on overseas stock markets.
However, Julian Fisher, a senior partner at the Beijing-based consultancy, Venture Education, said there is more to the "dual alleviation" strategy.
While the first priority is reducing tutoring and homework, the other is improving schools' provision of activities and sports. "If quality programs can be delivered in schools, supported by increased spending from the government on the public education system, then there is no doubt that the education system will be better and more equitable," he said.
The growth of the private education system in China has been too often driven by profit and influencing parents' perceptions about what is good for their child's development, he said.
Fisher said the big question is whether the government can put children first, and change the sector's focus from profits to one that attempts "to deliver consistent school offerings to hundreds of thousands of students across the country".