China Telecom flies on Shanghai float
By Ma Si | China Daily | Updated: 2021-08-21 07:41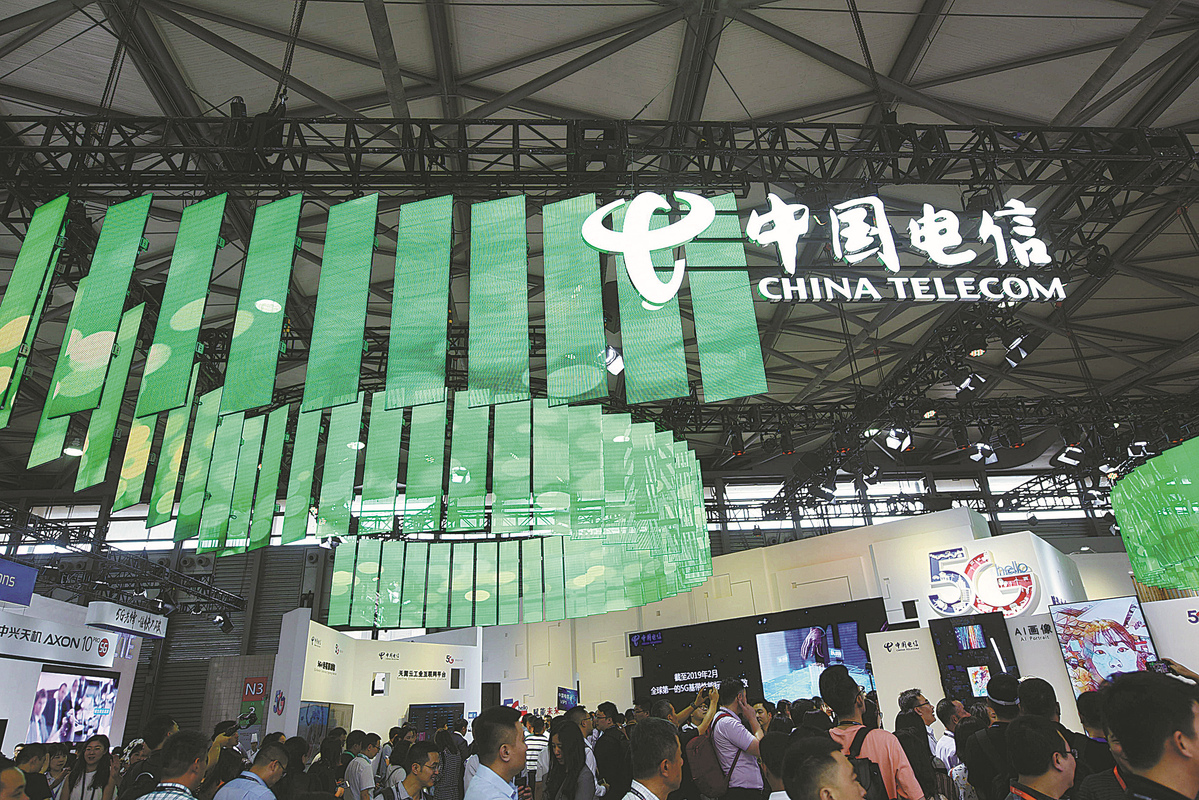 Biggest IPO in a decade nets 54b yuan, and will bolster 5G, industrial internet
Debuting shares of China Telecom, one of the country's big three telecom operators, surged by nearly 35 percent to 6.11 yuan (94 cents) in Shanghai on Friday.
The IPO netted 54.1 billion yuan ($8.3 billion), which made it the biggest float in the A-share market in a decade.
But, China Telecom, which is already listed in Hong Kong, saw its shares decline nearly 5 percent there on Friday.
China Telecom first went public on the New York Stock Exchange and the Hong Kong bourse in November 2002. After delisting from the US in May due to local investment restrictions, China Telecom announced it would list on the A-share market.
China Telecom's competitor China Mobile submitted its A-share IPO application to the market regulator this week, after delisting from the NYSE. It aims to raise 56 billion yuan, which could surpass China Telecom's IPO.
On Thursday, China Unicom, another major telecom operator which went public in Shanghai in 2002, said it is considering a spinoff or separate A-share market listing for its subsidiary China Unicom Smart Connection Technology Ltd, which specializes in technologies for internet-equipped vehicles.
Experts said A-share listings will help the telecom carriers broaden their fundraising channels, which should help them to transform their businesses well in time to exploit the commercialization of 5G services, a process that has been accelerating in China of late.
Xiang Ligang, director-general of the Information Consumption Alliance, a telecom industry association, said domestic investors are familiar with the three companies' businesses, which could help generate more funding for the telecom operators' 5G pursuits.
China Telecom Chairman Ke Ruiwen said in a briefing earlier this year that the Shanghai IPO proceeds will help the company to focus on industrial internet services provided to businesses, "new infrastructure", and 5G development, all of which are crucial for the company's growth.
In its prospectus, China Telecom said it will use the proceeds for its 5G projects, new type of infrastructure integrating cloud and internet services, and other scientific and technological innovation projects.
In the first half of this year, China Telecom's revenue was 219.2 billion yuan, up 13 percent year-on-year, which yielded a net profit of 17.7 billion yuan, up 27 percent year-on-year.
Guo Shiliang, an independent financial analyst, said China Telecom's listing on the A-share market is partly due to the risks associated with US regulators' tighter grip on market proceedings there.
Meanwhile, China Mobile said it plans to use most of its IPO proceeds for 5G construction. Currently, the application of 5G technology is in the early stage of development. The development of related industry chains, and technology research and development need to mature further, the company said.