Report: Nighttime consumption up
By ZHU WENQIAN | China Daily | Updated: 2021-08-24 09:04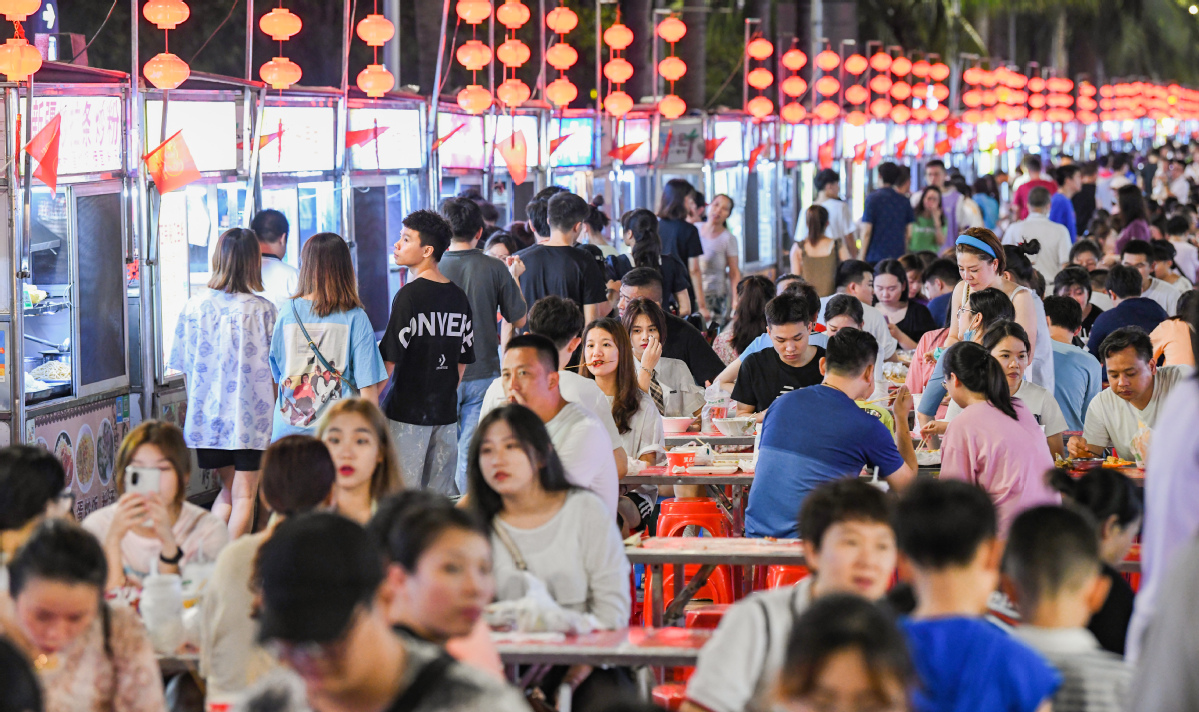 Nighttime sales of foods and beverages are recovering in China this summer, mostly thanks to the convenience of the quick deliveries offered by online platforms amid a receding COVID-19 pandemic, a market report found.
A new report released by Ele.me, a major food delivery platform in China, said nighttime orders from camping sites, resort hotels and gyms jumped 30 percent or higher this summer compared to orders in spring, and more than doubled compared to summer last year.
Particularly, late-night food orders made from recreational vehicles parked at camping sites surged nearly three times over those in spring.
At RV camping sites in Dalian, Liaoning province, and Wuyishan and Xiamen in Fujian province, many young travelers ordered barbecue foods, snacks and fruits at night, the Ele.me report stated.
"This summer, we encouraged restaurants and retailers to extend their operations late into night, and deliverymen carried a variety of food and drinks to places where consumers work and relax. With food delivery options available late at night, it can help fuel more consumption in the evenings," said Shen Yi, director of midnight food delivery business at Ele.me.
Since the pandemic, Ele.me has conducted a group of livestreaming training sessions for catering operators about food safety and epidemic prevention measures. The company also launched more self-pickup smart cabinets in downtown areas of Changsha, Hunan province, and Nanjing, Jiangsu province, to promote an additional mode of delivery. Contactless delivery is an innovation necessitated by the COVID-19 contagion and aims to reduce the spread of virus.
This summer, crawfish cooked in a variety of ways have been delivered to consumers at offices, hotels and camping sites at night, especially between 9 pm and 6 am, Ele.me said.
Nighttime consumption of iced drinks surged five times while crawfish sales doubled over the same time period in spring, the report found.
Besides, late-night orders for fruits and salads increased more than 50 percent year-on-year this summer, as young people have become more health-conscious and many orders came from gyms, sports venues and KTV lounges.
"The rise in the number of new-generation consumers relative to other groups has constantly increased the number of late-night food orders, and China's night economy is seeing a boom," said Zhu Danpeng, an independent food and beverage industry analyst.
"The late-night dine-in business at restaurants and food delivery business at night, as well as spending at bars, are expected to see a rapid growth in the next few years, as young consumers show unremitting demand for late-night consumption," Zhu said.
Beijing, Shanghai, Guangzhou in Guangdong province, and Changsha are listed as the cities with the most dynamic nightlife with consumers spending a lot at night.
Besides, this summer, coastal city Xiamen saw 85 percent of catering operators extend their business hours to times later than 9 pm, and local consumers have shown an enthusiasm for ordering food at night, Ele.me said.
Ele.me's branch in Quanzhou, another coastal city in Fujian province, said this summer, the city has seen an apparent increase in the number of food orders at night, and the company has hired more deliverymen who can work the late-night shift. Seaside city Sanya in Hainan province also saw a large number of active late-night consumers, and most food orders at night came from hotels and vacation resorts.
Based on the number of late-night food orders in summer and the density of restaurants, three hot spots emerged: Donghu Road in Quanzhou; the business district near the Grand Canal in Hangzhou, Zhejiang province; and a business district in Shenzhen. They were considered the most happening spots for late night food consumption nationwide, the report found.