Beijing hits back at Harris smearing
China Daily | Updated: 2021-08-25 07:12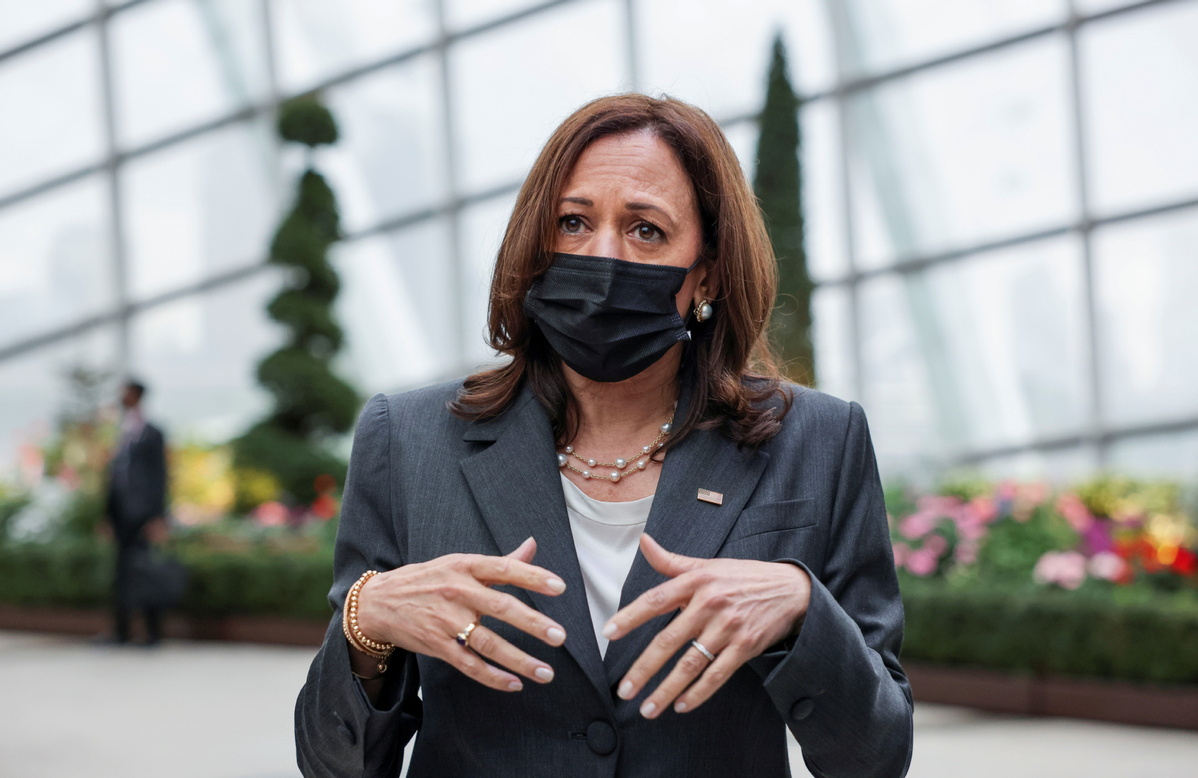 China accused the United States on Tuesday of hiding behind the rhetoric of a rules-based global order to defend its own bullying and hegemonic behavior, after US Vice-President Kamala Harris smeared Beijing over the South China Sea issue in a major foreign policy speech in Singapore.
Foreign Ministry spokesman Wang Wenbin held up the US' chaotic withdrawal from Afghanistan as an example of its "selfish" foreign policy, hitting back at Harris' accusations of "intimidation" in Asian waters.
During a trip to Singapore on Tuesday, Harris accused China of threatening the sovereignty of Southeast Asian countries as she sought to reassure regional allies of her country's commitment to the region.
Wang told a news conference in Beijing: "The current events in Afghanistan clearly tell us what the rules and order the US speaks of are. The US can wantonly conduct military intervention in a sovereign country and does not need to be responsible for the suffering of the people in that country. In order to defend 'America first', the US can arbitrarily smear, suppress, coerce and bully other countries without paying any price. This is the order the US wants, ... but who will believe them now?"
Harris' seven-day trip to Singapore and Vietnam, only her second foray internationally, is aimed at standing up to China's alleged growing security and economic influence, addressing concerns about Beijing's claims to the South China Sea and showing Washington can lead the way, Reuters reported.
In the speech in Singapore, Harris also laid out the US vision for the region built on human rights and a rules-based international order and sought to solidify Washington's pivot toward Asia.
Biden's centerpiece
Diverting attention and resources to the region has become a centerpiece of US President Joe Biden's administration, as it turns away from old security preoccupations with the withdrawal of US forces from Afghanistan, Reuters said.
Biden has repeatedly emphasized his focus on China as one of Washington's main adversaries. In recent months, his administration has ramped up outreach to the Indo-Pacific region, with Defense Secretary Lloyd Austin and Deputy Secretary of State Wendy Sherman both visiting the area in the spring and summer. Secretary of State Antony Blinken also held a number of virtual meetings with Southeast Asian officials earlier this month.
Harris met on Monday with Singapore's Prime Minister Lee Hsien Loong. On Wednesday, she was due to travel to Vietnam and meet top officials.
Zhou Jin in Beijing and agencies contributed to this story.