Take a clear-cut stand against politicizing COVID-19 origins tracing
Xinhua | Updated: 2021-08-26 08:45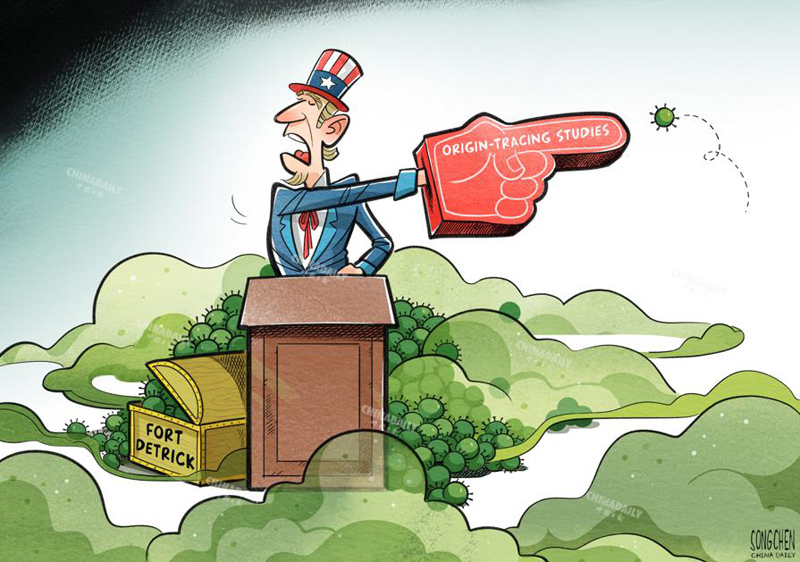 For some time, the United States has been manipulating the COVID-19 origins tracing by distorting facts and hyping up such baseless cliches as the so-called "Wuhan lab leak" theory.
The ulterior political motive behind the malicious US acts is to deflect responsibility for its incompetence in tackling the virus and at the same time smear and suppress other countries.
In this regard, the world must take a clear-cut stand against such attempts.
It is common sense that the origins tracing must and can only be a matter of science. In the face of the global health crisis, countries need to work together with a rational attitude that respects science and facts.
Meanwhile, the tracing study must be undertaken by scientists -- the only ones who are qualified to find the source of the virus and its transmission path to humans -- so as to better prevent future risks.
Since last year, scientists from many countries around the world have expressed their views that the scientific direction of origins tracing should not be changed, and opposed instrumentalizing the origins tracing work and politicizing a scientific issue.
In fact, China has always supported and will continue to participate in the science-based tracing study. Since the early stage of the pandemic, China has been actively cooperating with the World Health Organization (WHO) on the origins tracing of the virus. It shared the genetic sequence of the virus at the earliest possible date and invited WHO experts to China twice for origins studies.
The WHO-China joint study report released in March has been prepared in total compliance with the procedures of the WHO, and used a scientific approach. It has been proven to be a valuable and authoritative report that can stand the test of science and time. The report ought to act as the basis and guideline for global origins tracing efforts. Any attempt to repudiate and distort the conclusions of the joint study report is a political manipulation and disrespectful to global scientists and science.
However, the United States has been trying to kidnap the WHO and clamouring for another so-called virus tracing against China, which is not only a trampling on the scientific spirit, but also an insult to China's national dignity.
China's refusal to such kind of virus tracing is not to hide anything, but to defend its rights and dignity in accordance with the law.
China welcomes tracing efforts in a scientific and serious manner, but firmly opposes the so-called tracing work with mischievous intentions that flout science.
As a sovereign state, China will never allow certain political forces with ulterior motives to manipulate the issue as they want and scapegoat China as they wish.
From the perspective of international laws, linking state responsibility to the source of the virus is groundless and will set a perilous precedent.
Moreover, increasing fresh discoveries of early outbreaks of the virus in multiple countries, some of which were earlier than the first cases reported in China, have sparked new thinking in the academic community about the origin and spread of the coronavirus.
On origins tracing, Washington's distortion of facts is both a disregard for related international laws and a violation of the principle of presumption of innocence.
Behind America's manipulation of origins tracing lies its sinister intention to smear China for its own political gains. On one hand, some US politicians attempt to assign blame to China and stir up anti-China sentiment in America, in hope of chasing votes and distracting the public from their own failure in epidemic response; On the other, by scapegoating and demonizing China, they figure for containing China's development and securing America's global hegemony.
Kenneth Hammond, a professor at New Mexico State University specializing in Chinese history, said "American politicians, and their wealthy interests which essentially control them, are very worried about losing their role as the dominant power in global affairs as China re-emerges as a major factor in the development of the world economy and in geopolitical relations."
"These elites are anxious to stall or thwart China's development in any way they can," including adopting the relentlessly propagated narrative, he noted.
In fact, the international community has more than once said no to America's politicization of origins tracing. Earlier this year, more than 300 political parties, social societies and think tanks from over 100 countries and regions opposed politicizing the disease's origins in a joint statement sent to the WHO Secretariat.
Origins tracing requires cooperation, truth and science, instead of smear, lies or political manipulation. It is time for America to wake up to that, and understand that its evil calculation on seeking a "presumption of guilt" against China is doomed to failure.