Afghans keen to swap fear for optimism
China Daily | Updated: 2021-09-10 09:27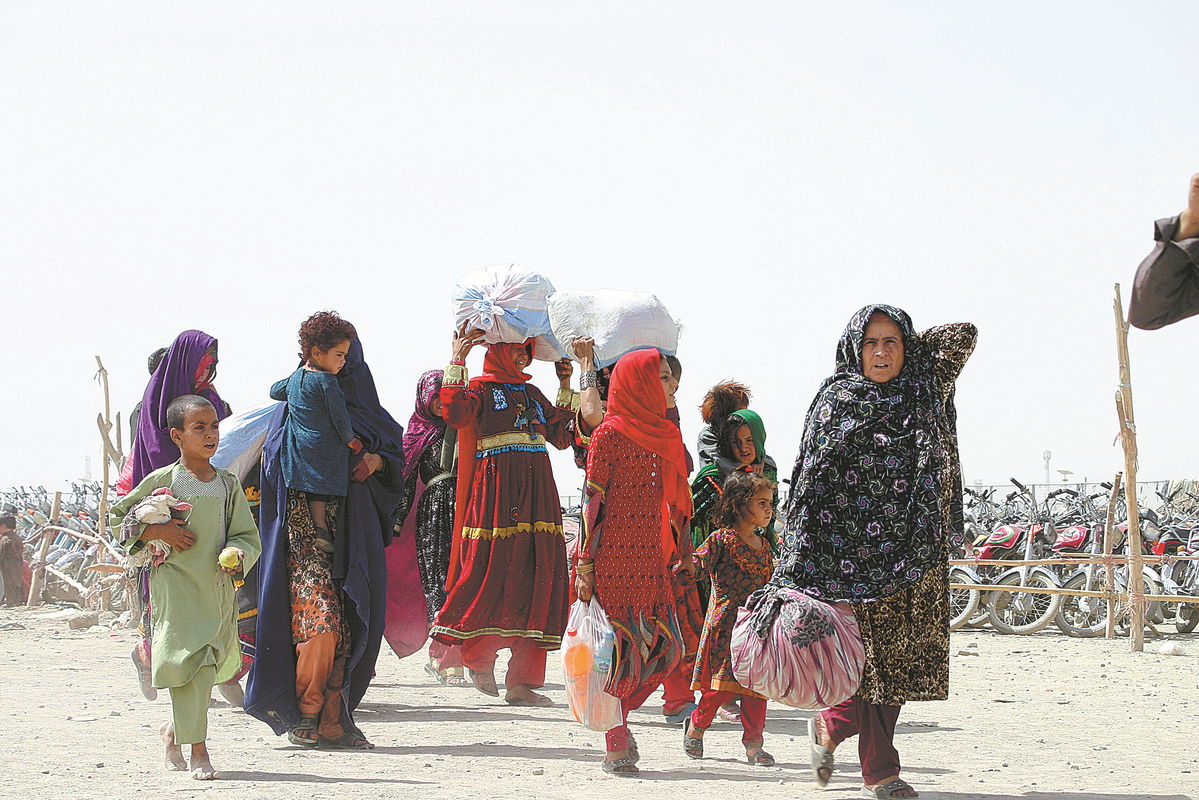 ISLAMABAD-The Torkham border point between Pakistan and Afghanistan in Pakistan's northwestern Khyber Pakhtunkhwa Province has seen many people moving in both directions since the Afghan Taliban's takeover of Kabul last month.
During a recent visit to the border, in a tribal town, Xinhua's reporters witnessed the return to normalcy in travel and trade between the two countries, with border guards on each side allowing travelers with valid documents to come and go.
People entering Pakistan and residents settled along the borderland stretch told Xinhua of their hopes that peace will prevail in Afghanistan with no foreign interference.
They also hoped that the Afghan Taliban will continue with a positive approach to lay the foundation for the building of a stable and prosperous Afghanistan.
Riaz Shah, a taxi driver in the Pakistani border town of Landi Kotal, believes that peace in Afghanistan is vital for the prosperity of both Pakistan and Afghanistan. Afghans want to see the country progress in a peaceful environment after two decades of being battered by war and terrorism, Shah said.
"I hope that things will return to normal after the Taliban's takeover, and all the promises which they have made about education and economic opportunities will be fulfilled," Shah said.
Shah, like many others who offered their views, said the United States' invasion not only led to a severe humanitarian crisis in Afghanistan but also resulted in border communities in Pakistan suffering from the increased activities of terrorists in the region.
In the years that followed the US' invasion in 2001, the country's troops had caused the deaths of more than 40,000 civilians and turned around 11 million people into refugees.
Shah said the Afghan Taliban have taken several positive steps recently. Another resident feeling encouraged is Wahid Ullah, a 38-year-old shopkeeper in Landi Kotal.
"Afghans now want a breath of fresh air. After all their suffering, they deserve to live in peace," Ullah said. "Common Afghans just want to earn their bread and butter in peace, without any threat of getting shot by a bullet or hit by a bomb."
Yaaraaz Shinwari, a resident of a Pakistani border town with friends and relatives in Afghanistan, is optimistic that the Taliban will bring a positive change to the country by adopting a progressive approach.
"From the speeches and statements of the Taliban, it seems that they are off to a positive start, and the people of Afghanistan and we who live the closest to them want it to continue," Shinwari said.
"We are very happy with the steps taken by the Taliban. They have allowed women to do business, work in a hospital, or whatever they want to do within the boundaries of Sharia law. We want them to keep the good things going."
Foreigners to leave
As Afghans and their neighbors look ahead to a brighter future for the country, 200 US citizens and other foreigners who remain in Afghanistan were set to depart on charter flights from Kabul on Thursday after the Taliban government agreed to their evacuation, a US official said.
The move will be among the first international flights to take off from Kabul airport since the Islamist militia seized the capital in mid-August, triggering the chaotic US-led evacuation of 124,000 foreigners and Afghans.
The official could not say whether the US civilians and other foreigners were among people stranded for days in the northern city of Mazar-i-Sharif because their private charters had not been allowed to depart.
The Taliban's announcement of a new government on Tuesday was seen by some as a signal they were not looking to broaden their base and present a more tolerant face to the world, as they had suggested they would do before their military takeover.
In Kuwait City at the end of a four-day tour of Persian Gulf states, US Defense Secretary Lloyd Austin said on Thursday that the al-Qaida extremist group that used Afghanistan as a staging base to attack the US 20 years ago may attempt to regenerate there.
Xinhua - Agencies