UK's Johnson to unveil COVID-19 winter plan
By EARLE GALE in London | China Daily Global | Updated: 2021-09-14 09:43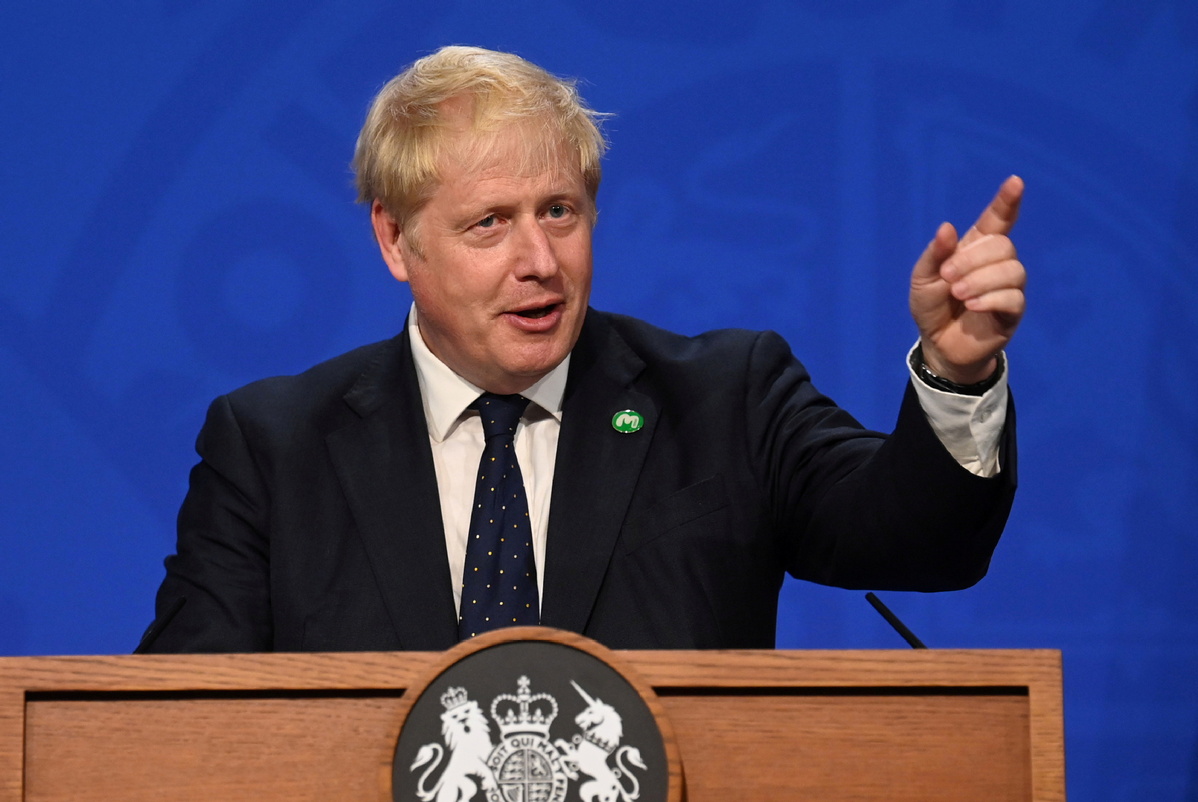 PM is reportedly adamant there will not be another nationwide lockdown
The United Kingdom must vaccinate its young teens to avoid a large, third wave of novel coronavirus infections in the coming months, the prominent epidemiologist Neil Ferguson has said ahead of Prime Minister Boris Johnson's unveiling on Tuesday of his COVID Winter Plan for England.
The Guardian newspaper reported on Monday that the UK's four chief medical officers have now made their recommendations to the prime minister on the pros and cons of the vaccination of children aged 12 to 15 and came down in favor of it.
The professor of mathematical biology at Imperial College London, who has advised the British government on virus issues, said on Radio 4's Today program on Monday the nation might have to go back into a lockdown, if it gets things wrong now.
But he added: "With this level of immunity that we have in the population, if we do need to further drive down transmission, then it may not require full lockdown."
Ferguson said Johnson's plan will likely call for other measures to be available, in addition to the extension of the vaccination program, such as more working from home, so the government can keep the rate of transmissions down without ordering a full lockdown.
"I very much hope we don't need to go into full lockdown, but I think there are intermediate measures which still may be needed at some point," he said.
The Telegraph newspaper said it understands Johnson is adamant he will not order another national lockdown but wants a range of measures to remain available to limit infections, should they start to rise quickly, including the reintroduction of mask-wearing and even vaccine passports, which would exclude people from crowded events and locations if they cannot prove they have been vaccinated.
Vaccine passports appeared to have been ruled out on Sunday when Health Secretary Sajid Javid said on The Andrew Marr Show: "We shouldn't be doing things for the sake of it."
But the UK's work and pensions secretary, Therese Coffey, said on the BBC's televised morning news program Breakfast on Monday that they have not been "ruled out forever" and could be introduced at a later date, if needed.
She said the decision to hold back on introducing vaccine passports was down to "the fact that a lot of young people have come forward and got their vaccinations over the summer". The UK's jab program currently includes people as young as 16.
The Telegraph newspaper said Johnson will say while unveiling his winter plan on Tuesday that the UK must learn to live with the novel coronavirus and the COVID-19 disease it causes.
It said he will also announce later this week the removal of some of the UK's restrictions on international travel, which critics have said were largely ineffective, with around a third of people arriving in England and Northern Ireland as the Delta variant took hold now believed to have broken quarantine rules.
The Telegraph quoted an unnamed senior government source as saying: "This is the new normal. We need to learn to live with COVID … The autumn and the winter do offer some uncertainty, but the prime minister is dead set against another lockdown."
Around 89 percent of UK adults have now had a first novel coronavirus jab and 81 percent have had both jabs and are considered fully covered.
But despite the effective vaccination program, the UK is seeing around 38,000 new COVID-19 cases a day and around 1,000 hospital admissions, which translated on Sunday to an additional 56 COVID-19 deaths.