Lebanon hopes grow on political progress
By JAN YUMUL in Hong Kong | China Daily Global | Updated: 2021-09-15 10:49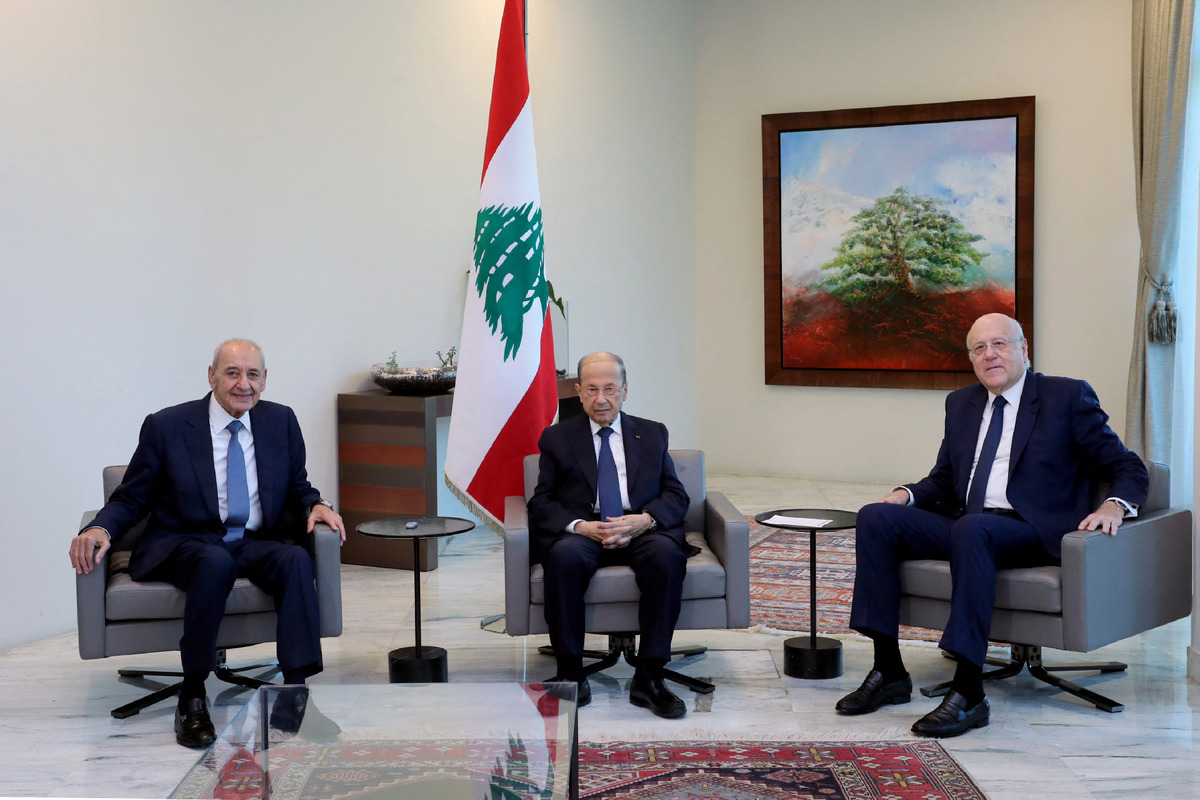 Experts express cautious optimism for recovery with new govt in place
The formation of a new government in Lebanon is prompting cautious optimism from observers on its prospects for reviving a battered economy after more than a year of political deadlock.
Lebanon went without a government after the resignation of caretaker prime minister Hassan Diab in August last year. Another caretaker premier, Saad Hariri, quit in July this year.
On Friday, Lebanese President Michel Aoun announced the country's new 24-minister government after signing a decree with businessman-turned-politician Najib Mikati.
The Mikati-led government has to deal with entrenched poverty, crippling fuel shortages and a currency that has plunged by more than 80 percent.
In a report released by the United Nations Economic and Social Commission for Western Asia on Sept 3, the agency said the increased poverty in Lebanon over the past year has affected about 74 percent of the population.
Taking into account factors such as access to healthcare, education and public utilities, the broader poverty rate rises to 82 percent, the report said.
Maroun Khater, an associate professor at Saint Joseph University of Beirut in Lebanon, said a new government is "surely a reason to feel better". However, he said his optimism is tempered by political factors and the broader process surrounding the formation of the government.
"Technically, many of the ministers have good profiles. However, nothing is more accurate than outcome for a trustful evaluation," Khater said.
International attention
Lebanon's economic crisis gained international attention when protests broke out in October 2019 over the government's failure to address the country's worsening economic woes and unpopular taxes.
On Aug 4 last year, one of the world's biggest non-nuclear explosions ripped through Beirut with the loss of about 200 lives. The twin blasts hurt at least 6,500 people and damaged an estimated 300,000 homes in the capital. The explosion was caused by a fire at a warehouse where ammonium nitrate had been stockpiled for seven years.
Diab resigned as prime minister days after the explosion. In August, the judge leading an investigation into the disaster issued a subpoena for Diab after he failed to show up for questioning, Lebanon's state news agency reported. His session with investigators has been postponed to Sept 20.
Joseph Bahout, director of the Issam Fares Institute for Public Policy and International Affairs at the American University of Beirut, said: "It has taken time (for the government) to be formed. It's the result of a lot of bargaining and bickering within the political class," Bahout said.
Following the power vacuum of some 14 months, he said the government could try to tackle a few issues that are important for people's day-to-day lives, such as easing the gas and fuel shortage by allowing imports of fuel.
"They can also work a little bit on ameliorating the electricity production and distribution without lots of cost and also probably working on certain issues of the economy," Bahout said.
"For example, they could unify some exchange rates and allow people to take more money from their banks and things like that."
Pierre El Haddad, founder of the Network of Organizational Development Experts, is concerned that more people will want to leave Lebanon.
"This is not the only drain that is happening here. Whoever is capable of leaving the country is doing so," he said. "And usually, these are the people that get things done. So they might be entrepreneurs, workers, they might be people with degrees."
El Haddad, who is also a professor at the University of Saint Joseph, said his organization is "helping anyone in their plans" and is continuing to support those who prefer to stay.
With the formation of the government, Bahout expects that day-today issues will be addressed urgently. "In the meantime, Lebanon has to stay still and survive," he said.