Boxer battles difficulties in quest to become a ring king
By DENG RUI and TAN YINGZI in Chongqing | CHINA DAILY | Updated: 2021-09-16 09:07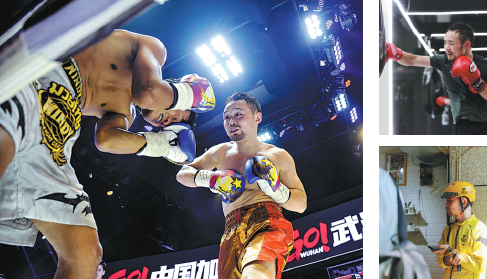 A Chinese boxer, who works as a food deliveryman to make ends meet while he pursues his dreams in the ring, was nominated this year for the Laureus World Sports Award, known in some circles as the "Oscars" of the sporting world.
While he eventually lost the online vote, Zhang Fangyong's sportsmanship and ability to roll with the punches has won him admirers around the globe.
He was nominated on April 16 for the Laureus Sporting Moment of the Year award, along with five other candidates.
Following online voting, Chris Nikic, a 21-year-old candidate from the United States and the first person with Down syndrome to complete an Ironman triathalon, was announced the winner at an online awards ceremony in Seville on May 6.
Since its inception in 2000, Laureus-a charitable organization registered in the United Kingdom-has helped improve the lives of more than 6 million children and young adults by supporting 250 sports-based community programs around the world, fulfilling the vision of its patron, Nelson Mandela, that "sports has the power to change the world".
Born into a poor family in Yunyang county in Chongqing in 1993, Zhang dropped out of school early to work at his family's noodle processing shop.
When he was 15, he enrolled at a sports school to pursue wrestling.
"I was strong enough to carry rice and flour bags weighing 50 kilograms when I was 12," Zhang said. "So I was admitted even though I was a bit old to start wrestling."
He became frustrated with the sport, in which he had difficulty standing out.
As he watched the 2008 Beijing Olympics, however, he heard the rags-to-riches story of Filipino boxing icon Manny Pacquiao, which inspired him to pursue a new dream. He left the wrestling team at age 17 to pursue a career in boxing.
For more than 10 years since then, Zhang has lived a double life doing menial jobs-everything from kitchen porter, security guard and street vendor to food deliveryman-in different parts of the country to keep his boxing ambitions alive.
In 2010, he began working at his uncle's diner in Xi'an, in the northwestern province of Shaanxi, to pay for training at a boxing club. For more than a year, he lived on a monthly salary of 1,800 yuan, sleeping in a cubicle at the diner, waking up at 4 am, working until 2 pm and then training.
Craving more professional training, he transferred to the Zovi Boxing Club in Kunming, capital of Yunnan province, in 2012.
Zhang was welcomed by its coach, Liu Gang, a former professional boxer who represented China at the 1992 Olympics and was the first to introduce professional boxing to the country in 2007.
Zhang worked hard to pay the club's 2,000 yuan annual tuition fee and make a living. The 163-centimeter-tall man found a job as a security guard but was fired a few days later.
"They thought I was too short and too shy," he said.
Then he tried jobs as a kitchen porter, a street vendor and a construction worker. In 2016, he began to deliver food. Every day after training, he took off his boxing gloves and got on an electric scooter.
He began to shine in 2017 when he won the WBA Youth China Bantamweight Championship, becoming China's first WBA champion in this weight category.
In 2019, he joined the M23 Boxing Club in Beijing, home to WBA featherweight world champion Xu Can. Since then, he has continued to work part-time as a food deliveryman.
Zhang said he sometimes suffers from aches caused by so much exposure to wind and rain while delivering food. Last year, he started to work as a part-time boxing coach. "The coaching job is not stable, so I'll have to do deliveries as a supplement," he said. "I normally take long-distance orders that pay higher fees."
Now he earns about 10,000 yuan ($1,550) a month, which barely covers his rent, sports equipment and food costs.
"As a niche sport, professional boxing has a rather short history in China, and its commercialization will take time," Liu said.
In fact, few professionals are able to earn a living in the ring. Unlike more popular sports, professional boxing needs promotion, business branding and timing.
"Zhang has been persistent, despite difficult living conditions, and fought his way into M23, the dream team," Liu added.
Zhang said that it was a great honor for him to be nominated for the Laureus award. "I have no regrets or dissatisfaction," he said. "I'll keep working hard at sports."
According to Boxrec.com, a website listing professional and amateur boxers from around the world, the 27-year-old bantamweight has a 15-4-1 record.
Eager to win an Asian or world championship, Zhang has been at a loss this past year. There have been no big international boxing matches due to the pandemic, though he is in his prime at the moment.
"But I'll keep training everyday to stay in shape and wait for the day when I can compete again," he said.
Liu said: "There are multiple factors that could hinder Zhang's career. We have no way of telling how far he might get."
Last year, Chinese climber Xia Boyu, the world's second double amputee to reach the summit of Mount Qomolangma, also known as Mount Everest, and the first to reach it from the Nepalese side, won the Laureus Sporting Moment of the Year award at the age of 69.