Guochao, hanfu attracting attention from market-savvy labels
By HE WEI in Shanghai | China Daily | Updated: 2021-09-16 09:58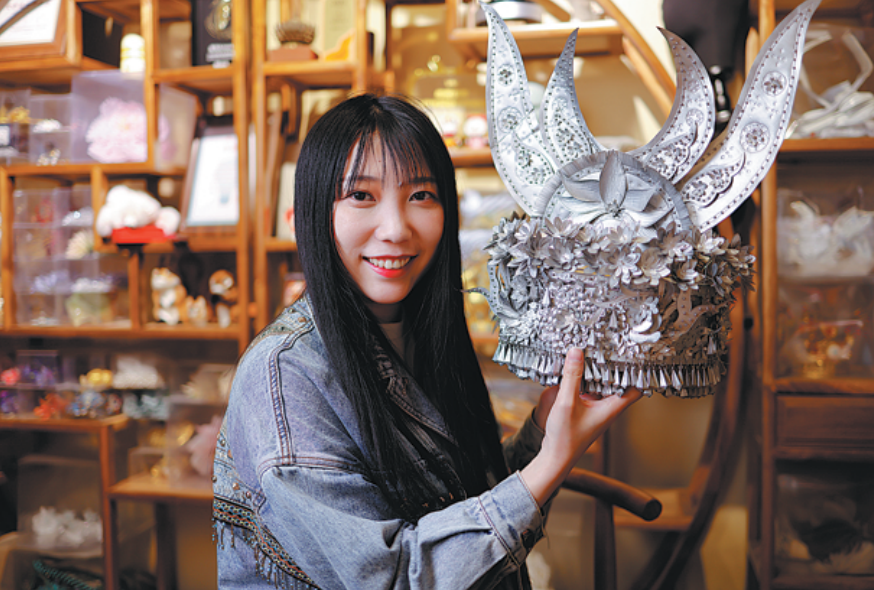 Taking a similar approach is He Yanhong, another content curator on Bilibili, who uploaded content about her handcraft to various social media platforms.
Previously a wedding makeup artist, she would occasionally devise exquisite Chinese styles for brides and post videos featuring traditional headwear on the platform, thus garnering increasing acclamation and subscriptions over time.
Her most visited video overseas thus far is one in which she crafted a Peking Opera-style tiara using cans as tian-tsui-items normally made of feathers that add gloss to headwear.
"I hope our Chinese culture is able to reach more people and that more foreign friends can watch my videos to gain a thorough understanding," she added.
Brands are tapping into guochao influencers to win the hearts of the younger generation of consumers.
"I would favor brands whose brand-positioning aligns with my online persona, namely an advocate of Chinese culture," Peng said of her rationale in choosing merchants to collaborate with.
For instance, highflying snacking brand Three Squirrels and Synear Foods are among the labels that insert their commercials into Peng's videos.
But these attempts are not confined to Chinese labels. For instance, He has worked with upscale international brands such as La Mer and Estee Lauder.
Guochao is a trend to be taken seriously, as it concerns a segment with high spending potential; also, it has spread to other industries besides fashion, according to Matthieu David-Experton, an analyst at China Strategic Market Research and Management Consulting.
"The trend has not dethroned Western brands from their leading position in the Chinese consumer market. However, it is important for future foreign prospects to give good consideration to Chinese cultural pride as it is gaining in popularity; also, cultural faux-pas can have disastrous consequences for a brand image in an increasingly patriotic society," David-Experton said.