Raab replaced in British govt revamp
By JULIAN SHEA in London | China Daily Global | Updated: 2021-09-17 09:14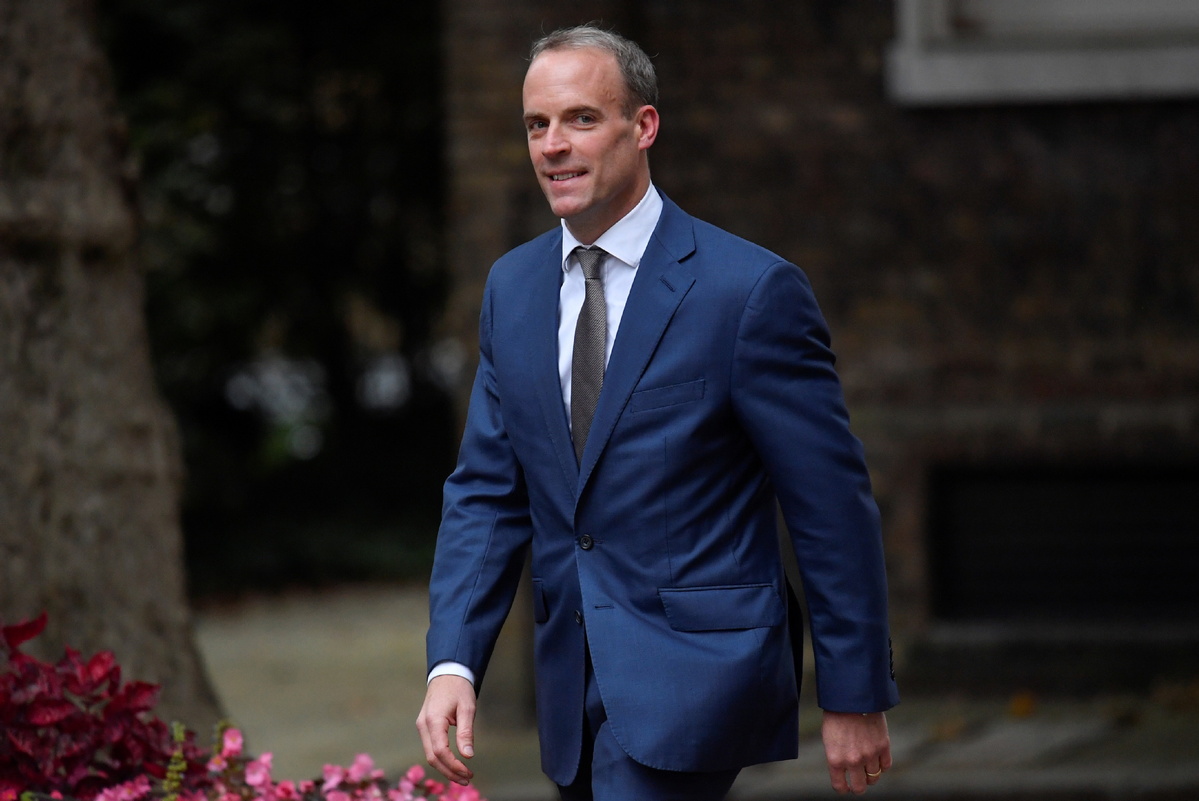 British Foreign Secretary Dominic Raab was the most high-profile victim after Prime Minister Boris Johnson made significant changes to his cabinet.
Raab, who was heavily criticized for the slowness of the United Kingdom's response as the Taliban took over Afghanistan, has been replaced by former international trade secretary Liz Truss, and has now become lord chancellor and justice secretary, as well as being given the title of deputy prime minister, the first time the title has been used since the coalition government of 2010-15.
The Times reports that Raab initially refused to go, feeling he was being unfairly blamed over Afghanistan, before agreeing to accept the title of deputy prime minister.
Education Secretary Gavin Williamson, whose handling of schooling and exams during the pandemic provoked an angry response from many parents and teachers, has also been axed, with vaccines minister Nadim Zahawi as his replacement.
Former justice secretary Robert Buckland and housing secretary Robert Jenrick have also lost their posts.
Chancellor Rishi Sunak and Home Secretary Priti Patel retain their positions, while Michael Gove, who was a major rival of Johnson's in the power vacuum following the 2016 Brexit referendum, becomes housing minister.
While the reshuffle had been expected for some time, more surprising news came in its aftermath, with the Daily Telegraph reporting that Conservative Party members have been put on alert for an early election.
Johnson's government won power at the last one in December 2019 and the next must take place before the end of 2024, but the Telegraph reports that former Culture Secretary Oliver Dowden, who was moved to Conservative Party vice-chairman in the reshuffle, has told party staff to get ready, with dates as early as spring or summer 2023 being considered.
"You can't fatten a pig on market day," he reportedly said.
"It's time to go to our offices and prepare for the next election."
The Guardian newspaper quoted an unnamed government insider as saying all ministers "would know they are dispensable" after the shakeup, with another adding "Boris has shown people he's in charge … people won't mess around now. Anyone can get chopped."
Sky News political correspondent Joe Pike said Johnson had made his decisions based on performance, rather than loyalty, with Raab and Williamson, two long-time supporters, being prime examples of people who had paid for mistakes.
"The prime minister is doing something slightly different rather than rewarding loyalty, with rewarding talent part of the thinking," he said, adding that a further reshuffle of more junior appointments could see Johnson thinking and appointing for the longer term, which ties in with the suggestion of an earlier election.
"(The reshuffle) is all about new talent and rising stars, with people who could be cabinet ministers in the future," he said.
"One thing to look out for will be appointments from the 2019 intake of MPs-as there are very ambitious parliamentarians there."