Departures, container loads increase at northern land ports near Russia
By ZHOU HUIYING in Harbin | China Daily | Updated: 2021-09-17 10:34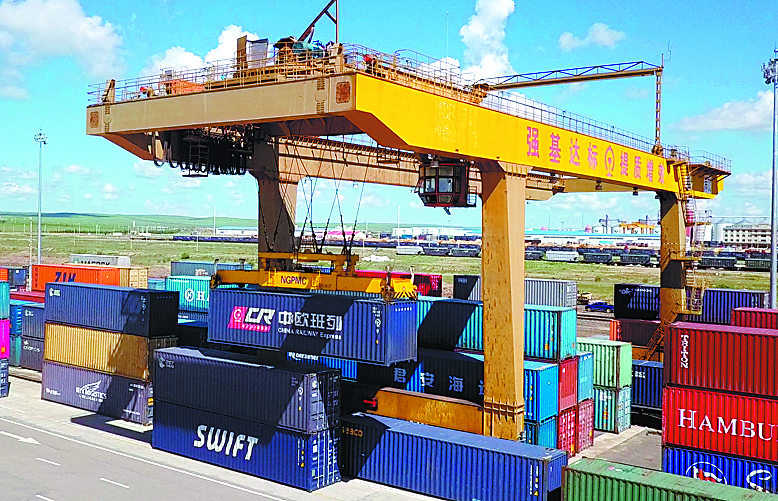 In the first eight months of this year, the largest land ports on the China-Russia border, Manzhouli in the Inner Mongolia autonomous region and Suifenhe Port, Heilongjiang province's largest land port, recorded 3,037 trips of inbound and outbound China-Europe freight trains, a year-on-year increase of 35.5 percent, according to the China Railway Harbin Group.
The trains carried 291,186 standard-sized shipping containers, up 44.6 percent year-on-year.
There are currently 52 routes for China-Europe freight trains via the two ports, which help promote trade between 60 Chinese cities and 28 cities in 13 European countries including Russia, Germany, Poland and Belgium.
Outbound trains mainly transport daily necessities, general merchandise and mechanical equipment, while return trains usually import auto parts, building materials and food, according to the group.
Moreover, the full-load rate of the return trains now stands at 100 percent.
To ensure the smooth delivery of imports and exports, the Harbin Group has promoted proactive measures, such as special transportation plans for different enterprises and has enhanced port clearance efficiency.
With the help of online services offered by the e-commerce website 95306.cn, the time from declaration to customs clearance has been shortened from half a day to less than 30 minutes at Suifenhe Port, the group said.
The Manzhouli station, which administers freight services at the port in Inner Mongolia, has optimized the transportation and customs clearance process in cooperation with customs and other departments, ensuring that clearance times for China-Europe freight trains do not exceed three hours.
A 61-carriage freight train departed from Manzhouli on April 13, marking the port's 10,000th China-Europe service since a regular railway freight transport line connecting Suzhou in Jiangsu province with Poland via Manzhouli port began operations in 2013.
Over the past few years, more and more international railway freight trains between the two continents has transited through the port. "In its first six years, Manzhouli recorded around 5,000 departures, but it only took 18 months to raise that number to 10,000," said Liu Hongliang, deputy director of Manzhouli station. "In spite of the pandemic, the number of new trains had exceeded the total number between 2013 and 2018."
In the first eight months of this year, Suifenhe Port had 323 China-Europe freight train departures carrying 29,176 containers of cargo, a surge of 207.6 percent and 218.7 percent, respectively.
Fifty-eight of the trains started in Heilongjiang, a year-on-year increase of 61 percent, the Harbin Group said.
Goods valued at $188 million have been transported to European countries, over 50 percent of which were produced in the province.
The group added that it will make full use of the advantages of the dual-port channel, further strengthen transportation organization and strive to promote the high-quality and sustainable development of the China-Europe freight service.