The orphans behind virus statistics
By MINLU ZHANG in New York | China Daily | Updated: 2021-09-18 09:52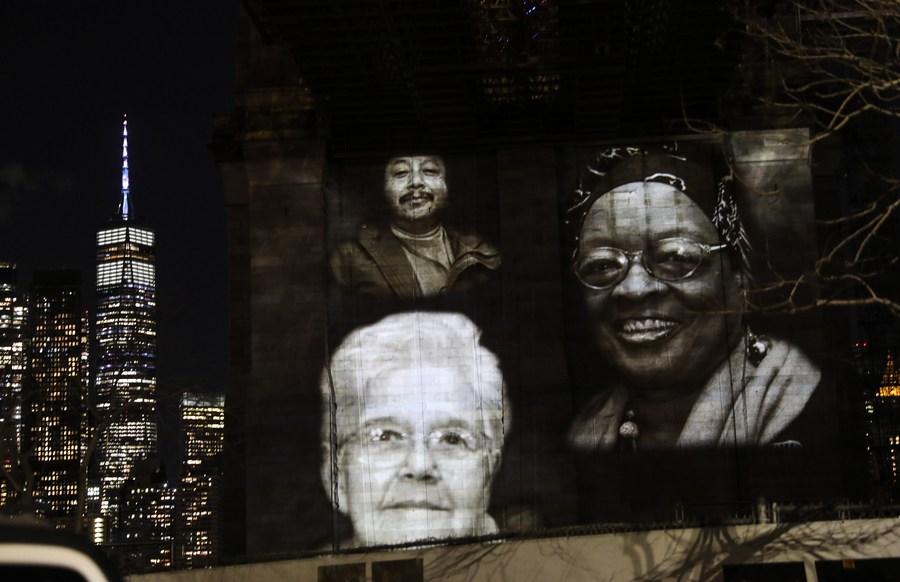 She became an orphan once she was born. Delivered prematurely by cesarean section, the infant first lost her mother, Davy Macias, 37, who succumbed to COVID-19 complications while intubated-never to see her daughter.
The girl's father went next. Daniel Macias, 39, would get only a brief glimpse of her because he was being treated in the same hospital after contracting the virus. Less than two weeks later, he also died from complications relating to COVID-19. The girl was left without parents and a name.
Many children will grow up in the US with a similar story. Nearly 114,000 of them have lost their parents, grandparents or caregivers during the country's COVID-19 outbreak, according to a paper published in The Lancet in July.
Aside from the now 3-week-old girl, the Californian couple had four other children, aged 7, 5, 3 and 2. The Macias children are now being cared for by their grandparents.
Terry Macias, Daniel's mother, told the CNN network that she isn't sure if the children understand that their parents are not coming home.
Terry Macias also told The Washington Post that the children "spend a lot of time at night looking for mom and dad".
The couple are among the more than 660,000 people in the US who have died of the disease caused by the coronavirus. Davy Macias was unvaccinated because she was pregnant. Her husband also was not vaccinated, according to USA Today.
Their deaths echo the story of Lydia and Lawrence Rodriguez, a Texas couple who last month died weeks apart, leaving behind four children, according to The Wall Street Journal.
According to the study in The Lancet, the US ranks fourth in a list of countries with the most children orphaned by COVID-19 deaths, behind Mexico, Brazil and India.
"Our study establishes minimum estimates-lower bounds-for the numbers of children who lost parents and/or grandparents,"Juliette Unwin, the study's colead author, said in a statement. "Many demographic, epidemiological, and healthcare factors suggest that the true numbers affected could be orders of magnitude larger."
'Millions more'
Low vaccination rates, she said, will result "in millions of more children experiencing orphanhood".
That toll is expected to worsen as the pandemic, now driven by the highly contagious Delta variant, increasingly infects unvaccinated people under age 50 who are most likely to have dependent children.
"Out of control COVID-19 epidemics abruptly and permanently alter the lives of the children who are left behind," Seth Flaxman, one of The Lancet study's authors, said in a statement. These children, he said, "will grow up profoundly damaged by the experience".
There are also racial disparities involved. In April, researchers reported in the JAMA Pediatrics journal that while black children constitute about 14 percent of this nation's population under 18, they make up 20 percent of all children who've lost a parent to COVID-19.
"Children losing primary caregivers have higher risks of experiencing mental health problems; physical, emotional, and sexual violence; and family poverty," says the research team at The Lancet. "These adverse experiences raise risks of suicide, adolescent pregnancy, infectious diseases including HIV/AIDS, and chronic diseases."
"There is an urgent need to prioritize these children and support them for many years into the future," said Susan Hillis of the Centers for Disease Control and Prevention, or CDC, who led the study.
Support for a grieving child can take several forms, including individual counseling and camps or group programs. The National Alliance for Grieving Children provides resources and a regional directory for helping children deal with loss.
"Public health responses to the pandemic, such as stay-at-home orders and the constraints of conducting child protection evaluations remotely, have severely reduced the capacity of established child protection systems and services to provide much-needed child safety interventions and support," the study says.
The timing of providing the aid is crucial, according to psychologist Kathryn Cullen, who wrote in a 2018 editorial in The American Journal of Psychiatry that "the first two years after losing a parent is a period of critical risk for developing depression", according to Forbes.
The CDC in early August urged all pregnant women to get a COVID-19 vaccine, as hospitals in US hot spots saw a rise in the number of unvaccinated mothers-to-be seriously ill with the virus.