Rally shows Capitol passions still strong
By YIFAN XU in Washington | CHINA DAILY | Updated: 2021-09-20 15:19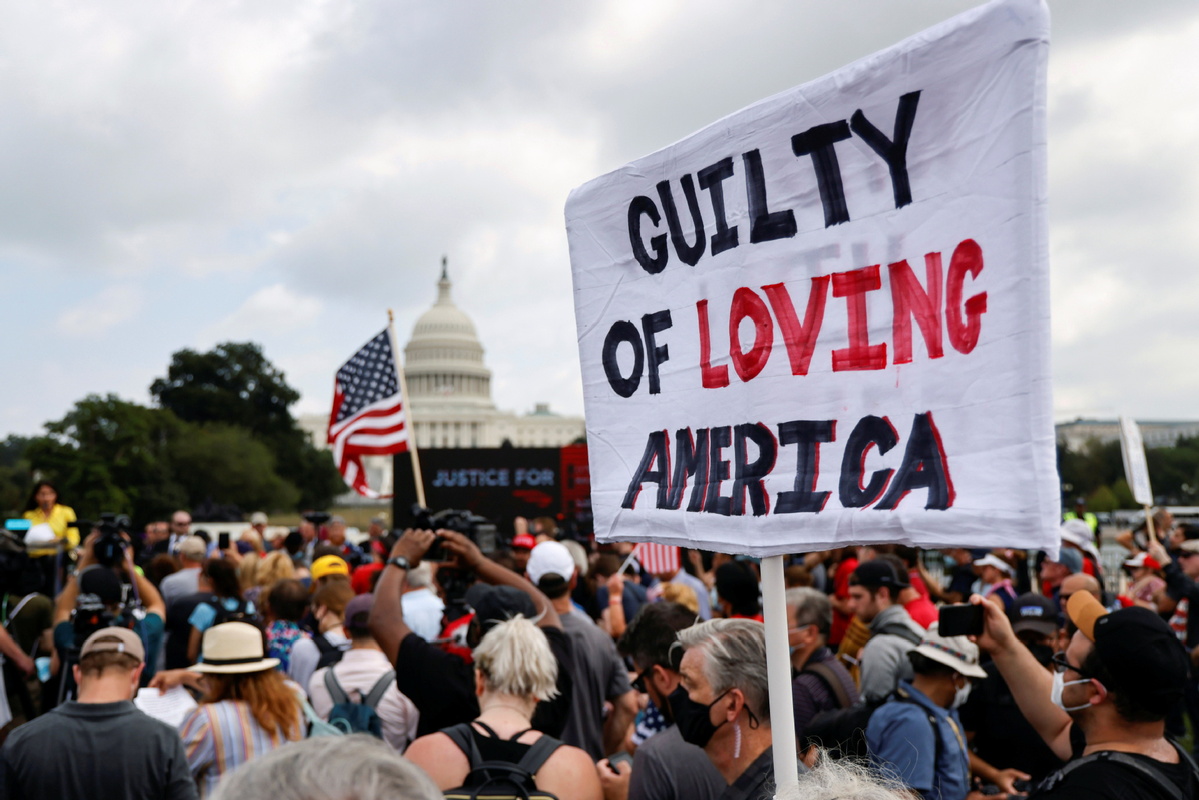 Hundreds of people rallied in Washington, DC, on Saturday in support of those arrested over the Jan 6 attack on the US Capitol, with police keeping them a safe distance from the symbol of government in the US.
Dump trucks and fencing put up around buildings helped officers maintain order in the immediate area of the Capitol, which houses the Congress.
A permit for the rally indicated 700 people would attend; intelligence suggested police would face numbers in the range of 300 to 500. On the day, just 100 to 200 protesters showed up for an event that passed largely without violence.
Small groups of counterprotesters yelled at the demonstrators while police intervened to avoid a confrontation. Capitol police arrested a man with a knife for a weapons violation and detained another with a handgun.
Police officers in riot gear with shields stood alongside a platform put up for the rally's speakers, one block from the Capitol. If anything, police appeared to have been over-prepared for the rally.
The Jan 6 riots were so destructive that authorities were on high alert to avoid a similar disturbance. Last week, the Department of Homeland Security said it had expected some protesters from the January uprising to attend.
Protective fencing
On Friday, the Pentagon said that Defense Secretary Lloyd Austin placed 100 National Guard troops on standby to help police protect the Capitol.
Protective fencing had also been placed around the Supreme Court building ahead of the rally. Visitors could be seen inserting smartphones and cameras through spaces in the fencing to take photos.
Rallies were also held that day in North Carolina and Washington state. According to the news site Axios, far-right groups like the Proud Boys and Oath Keepers are planning rallies under the banner "Justice for J6" in 18 regions of the US on Saturday.
About 600 people have been charged with crimes in connection with January's violence, and 63 of them are awaiting trial.
The protesters on Saturday marched around Union Square Plaza and the West Lawn of the US Capitol, expressing their support for the rioting at the Capitol building. Many chanted "Guilty for Loving America".
George Rapley, 72, holding a sign that read "Is Democracy Still An American Value?", told China Daily that he wanted to remind people that something is wrong with US democracy. It's time to talk about fixing it rather than resorting to violence, he said.
On Friday, a police officer giving only her surname Kaine, told China Daily outside Capitol Hill:"They started installing the fences about two days ago."
She was one of the responders to the Jan 6 riots and was one of the guards protecting the building at Saturday's rally.
In the lead-up to Jan 6, then-president Donald Trump called thousands of his supporters to gather in Washington, to support his false claim that the 2020 presidential election had been "stolen by emboldened radical-left Democrats".
With Trump in the final days of his presidency, his hard-core supporters urged then-vice president Mike Pence and Congress to reject president-elect Joe Biden's victory.
Supporters violently stormed Capitol Hill, disrupting the joint session of Congress convened to count the Electoral College votes that would formalize Biden's victory.