US returns Haitian migrants
By MAY ZHOU in Houston | China Daily | Updated: 2021-09-21 07:59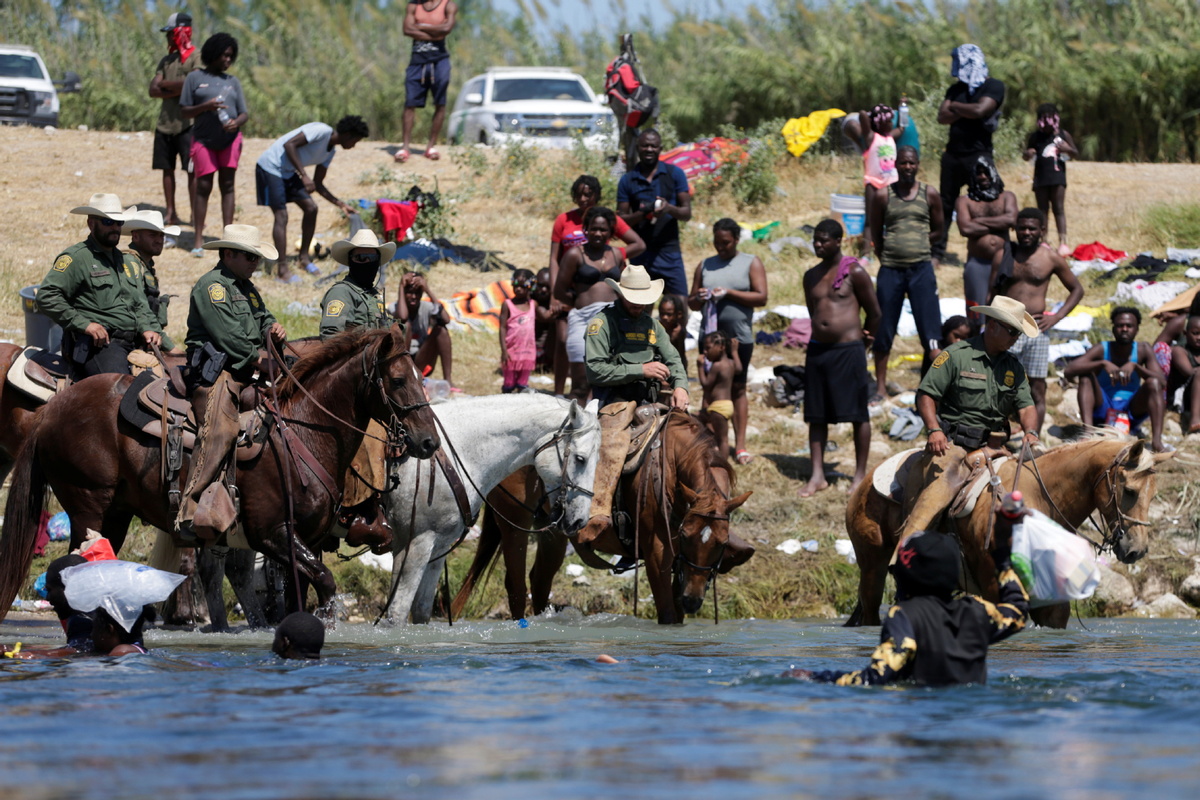 Thousands make long trek to escape chaos, violence in Caribbean country
The administration of US President Joe Biden has sent in 400 additional border agents over the weekend to the Texas border town of Del Rio to help process and send back thousands of migrants-most of them Haitians-who have congregated under a border bridge to seek asylum.
At a news conference on Saturday, Del Rio Mayor Bruno Lozano put the number of migrants waiting to be processed at more than 14,000. A crisis in Haiti has triggered a mass exodus of Haitians fleeing the country. In July, Haiti's president Jovenel Moise was assassinated in his home. Then in August, a major earthquake and powerful storm devastated the Caribbean country. To escape the chaos and violence in their country, thousands of Haitians made the journey to the US border and gathered under the Del Rio international bridge to be processed by the United States Customs and Border Protection, or CBP. Thousands more are expected to join them.
On Friday, Mayor Lozano declared a local state of disaster and decided to close the toll booths on the international bridge connecting the town to Ciudad Acuna city in Mexico to stop traffic across the bridge as a security measure.
Later, the CBP announced that the port of entry at Del Rio border bridge is temporarily closed.
"This temporary closure and shift is necessary in order for CBP to respond to urgent safety and security needs presented by an influx of migrants into Del Rio and is effective immediately," the agency said in a statement on Friday.
The border traffic has been rerouted from Del Rio to Eagle Pass, which is about 90 kilometers away to ensure uninterrupted flow of trade and travel.
The Department of Homeland Security said in a statement on Saturday that the 400 border agents would be deployed within 24 to 48 hours. If additional staff is needed, more will be sent.
Haitian Prime Minister Ariel Henry wrote on Twitter on Saturday that "arrangements have already been made to offer them a better welcome on their return to the country and that they will not be left behind".
"I share their suffering, while saying welcome to them. Home is home," Henry continued.
National Public Radio reported that some Haitian migrants remain undeterred to seek asylum after being told of the US' plan to send them back, saying they were afraid to return to a country that seems more unstable than when they left.
"In Haiti, there is no security," said Fabricio Jean, a 38-year-old Haitian who came with his wife and two daughters, to NPR. "The country is in a political crisis."
More than 320 migrants arrived in Port-au-Prince on three flights on Sunday, and Haiti said six flights were expected on Tuesday.
Inhumane treatment
"Biden knows well what is happening, but he doesn't care," said one woman with tears streaming down her face as she described her time at a US migrant detention facility in Texas.
"He treated us, us and our children, worse than animals," she said.
Fellow returnee Garry Momplaisir, who spent five days at the same facility, said that those held there had been forced to sleep on a concrete floor under thin plastic tarps.
"We weren't able to shower. There were toilets, but no space to bathe ourselves," the 26-year-old added, who was deported with his wife and their five-year-old daughter.
As they waited for Haitian authorities to complete their reentry paperwork, many of the returned migrants took the opportunity to give their children a basic wash.
According to flight manifests seen by Agence France-Presse, nearly half of the 327 Haitians deported by the US on Sunday are under 5 years old and were born abroad.
The majority of migrants will be expelled under a public health order known as Title 42 issued by the administration of former president Donald Trump, which allows most migrants to be quickly expelled without a chance of claiming asylum. DHS intends to remove those who cannot be expelled under Title 42 but have no legal basis to remain through expedited removal proceedings.
The Biden administration has kept Title 42 intact with the exception applied to minors only. A federal judge in Washington ruled last Thursday that the policy could not be applied to families.
Agencies contributed to this story.