Southeast Asian nations view AUKUS with caution
By PRIME SARMIENTO in Hong Kong | CHINA DAILY | Updated: 2021-09-22 07:11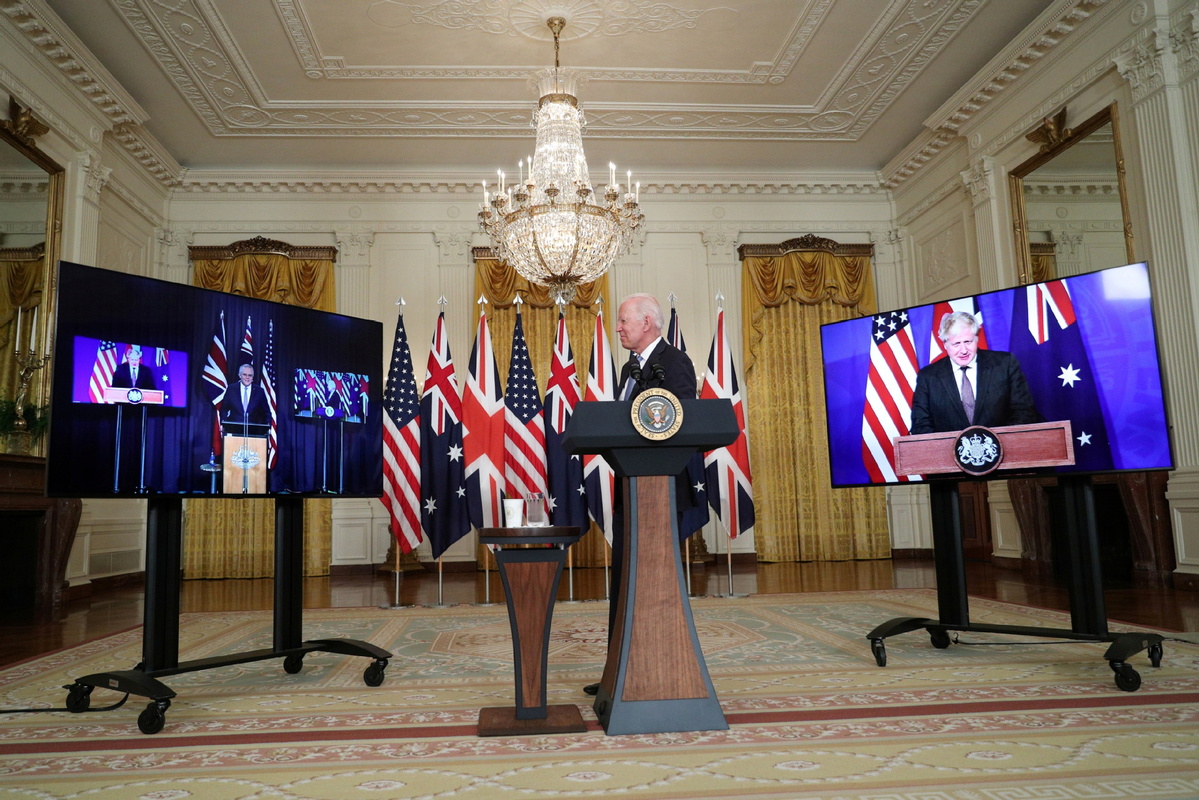 Southeast Asian governments remain cautious of the newly established security partnership among Australia, the United Kingdom and the United States, as the trilateral pact could spark tension and undermine the region's stance on maintaining a nuclear-free zone, analysts said.
While the Association of Southeast Asian Nations has yet to release an official statement on the pact, some individual members of the 10-nation bloc have expressed concerns about the AUKUS alliance's first initiative of delivering a nuclear-powered submarine fleet to Australia and possibly other "defensive capabilities".
Malaysian Prime Minister Ismail Sabri Yaakob said the new trilateral alliance might lead to an arms race in the Indo-Pacific region, and he asked all parties to avoid provocation and arms competition.
Indonesia's Foreign Ministry said in a statement on Friday that Indonesia "takes note cautiously" of Australia's decision to acquire nuclear-powered submarines and is "deeply concerned with the continuing arms race and power projection in the region".
The ministry emphasized the importance of Australia's commitment to continue meeting all of its nuclear nonproliferation obligations and encouraged Australia and other parties concerned to use dialogue in peacefully settling any differences.
"In this regard, Indonesia underscores respect for international law, including UNCLOS 1982, in maintaining peace and security in the region," the ministry said, referring to the United Nations Convention on the Law of the Sea, which both Indonesia and Australia have ratified.
Singaporean Prime Minister Lee Hsien Loong said he hoped that AUKUS would contribute constructively to the peace and stability of the region and complement the regional architecture.
James Chin, a professor of Asian Studies at the University of Tasmania in Australia, said Indonesia's and Malaysia's concerns are valid, noting that "ASEAN will be the big loser here".
He said that allowing Australia, one of ASEAN's nearest neighbors, to obtain nuclear-powered submarines is a "very dangerous thing "and might lead to the acquisition of nuclear weapons and increase tension in the South China Sea.
Australia has not joined the Treaty on the Prohibition of Nuclear Weapons, which requires parties to agree not to develop, test, produce, acquire, possess, stockpile or threaten to use nuclear weapons. However, it ratified the Treaty on the Non-Proliferation of Nuclear Weapons in 1973, and the Comprehensive Nuclear-Test-Ban Treaty in 1998.
Chin said that Australia, the UK and the US did not inform ASEAN beforehand that they would be launching a new security agreement that could affect the region.
"They always say that they support ASEAN centrality, that ASEAN(as an organization) is supposed to decide what happens to the (Southeast Asian) region," he said.
Mustafa Izzuddin, a senior international affairs analyst at Solaris Strategies Singapore, said Indonesia's and Malaysia's statements are crucial, as the two nations are among the five founding members of ASEAN. As such, "their views carry weight" in the regional bloc, he said.
He added that AUKUS is "antithetical and detrimental" to ASEAN's efforts to maintain a nuclear-free zone and threatens Southeast Asia's peace, stability and security within the broader context of the Indo-Pacific region.
Australian Prime Minister Scott Morrison has said that Australia is not seeking to acquire nuclear weapons, but such assurances failed to assuage concerns among Asian governments.
Two days after AUKUS was launched, Malaysia's prime minister expressed his concerns in a phone call with Morrison, stressing the need for ASEAN to remain a zone of peace, freedom and neutrality.
Although Morrison was reported by Australian media to have had a phone talk with Indonesian President Joko Widodo, Indonesia canceled a visit by Morrison to Jakarta scheduled for this week. However, local media reported that Indonesian government officials do not believe that the cancellation was related to Indonesia's uneasiness over the AUKUS plan.
Peter Ngeow Chow Bing, deputy director of the Institute of China Studies at the University of Malaya in Malaysia, noted Indonesia's and Malaysia's concerns, saying that these countries have a "continuous attachment" to the principle of preserving the Southeast Asian region as a zone of peace, freedom and neutrality.
"They are concerned about the South China Sea and the Southeast Asian (region) in general becoming a battlefield. This is something they would not like to see," Ngeow said.
Mustafa, the Solaris analyst, said Australia, the UK and the US need to clarify that AUKUS will enhance and not destabilize the "regional architecture of the Indo-Pacific".