Mega green projects give China lead in clean power generation
By ZHENG XIN | China Daily | Updated: 2021-09-23 10:08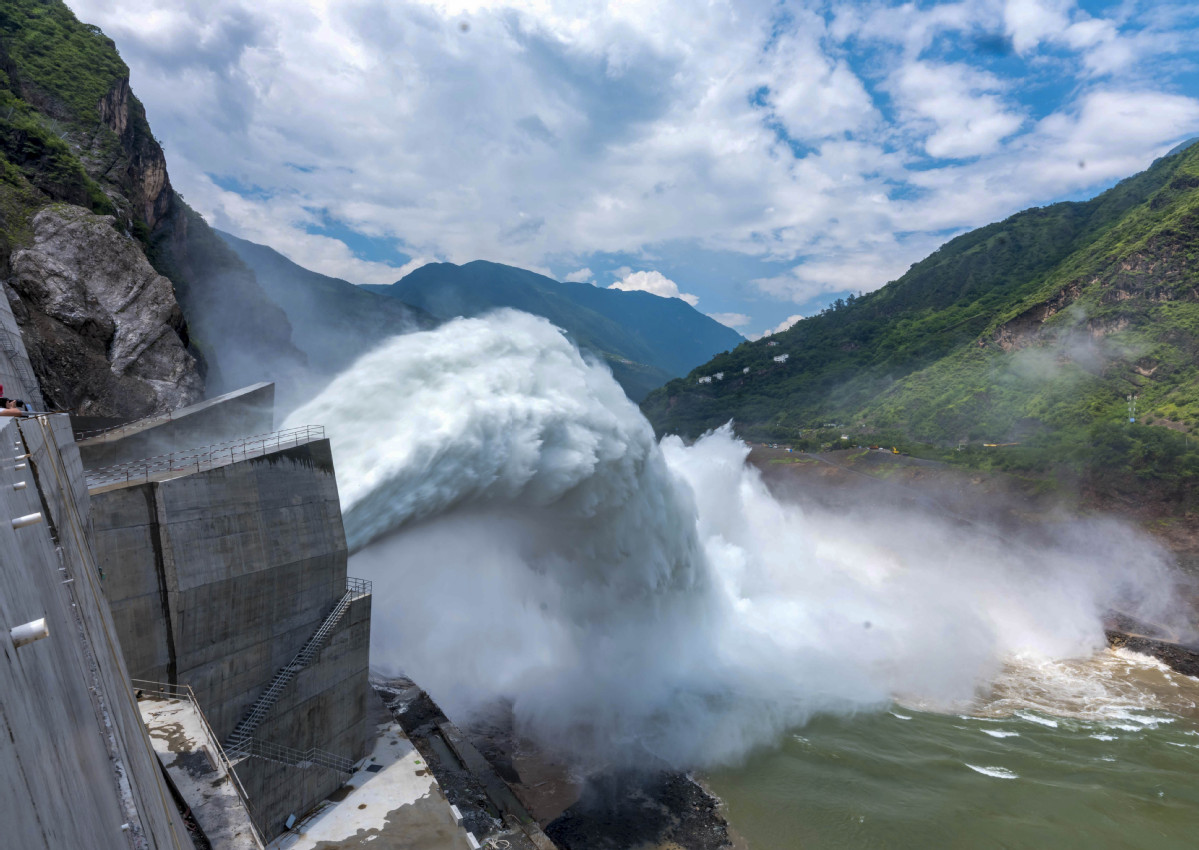 Renewable energy to play 'central role' in newly built capacity in coming years
China's power generation reported double-digit growth in the first seven months, making the nation the world's largest in clean power generation.
China's clean and low-carbon energy process has been accelerating with power generated by clean energy, including hydropower, wind power, solar power and nuclear power, growing rapidly this year, the Ministry of Ecology and Environment said.
With a batch of mega new energy projects put into operation this year, the government vowed to accelerate the pace of coal reduction and strictly control coal power projects while accelerating the development of non-fossil fuel energy power generation such as wind and solar power.
Several of those mega projects went into operation in 2021, including the commercial operation of Hualong No 1 nuclear power unit, the Wudongde hydropower station and the first batch of units at the Baihetan hydropower station. An analyst believes wind and solar power are to become the main force of clean energy growth during the 14th Five-Year Plan period (2021-25).
"Renewable energy, especially wind and solar, will play a central role in capacity expansion in China's power system in the coming years," said Wei Hanyang, a power market analyst at research firm BloombergNEF. "They will very likely hit, if not far exceed, the nation's goal of 1,200-gigawatt installation by 2030."
The China Renewable Energy Development Report 2020 released by the China Renewable Energy Engineering Institute said renewable power generation capacity in China is expected to continue climbing in the next decade, with installed renewable energy, including wind, solar and hydropower, to account for more than half of the country's total generation capacity by 2025.
Renewable energy is expected to become a major part of capacity expansion for China's energy and power consumption by 2025 while an increase in renewable energy consumption will account for around half of the increments in primary energy consumption by the end of 2025 in the country, the institute said.
By the end of July, the national installed capacity of non-fossil fuel energy power generation reached 1.03 billion kilowatts, a year-on-year increase of 18 percent, accounting for 45.5 percent of the country's total installed power generation capacity and an increase of 3.3 percentage points year-on-year, according to the ministry.
Supply capacity of clean energy in China also continued to expand, with the installed hydropower capacity in China reaching 380 million kWs, a year-on-year increase of 4.9 percent. Nuclear power installed capacity was 53.26 million kWs, a year-on-year rise of 9.2 percent, followed by wind power installed capacity of 290 million kWs, a year-on-year jump of 34.4 percent and solar power installed capacity of 270 million kWs, a year-on-year increase of 23.6 percent.
While the cumulative power generation of hydropower, nuclear power, wind power and solar power rose by 10.2 percent year-on-year, total investment in clean energy such as hydropower, nuclear power and wind power accounted for 91.7 percent of the country's completed investment in power during the first seven months, the ministry said.
The level of clean energy utilization also continues to rise. The national average wind power utilization rate was 96.4 percent during the first six months of this year and the rate for solar power generation utilization was 97.9 percent.
The layout of wind power and photovoltaic installations has been optimized, with development and construction promoted from resource-concentrated areas to load-concentrated areas.
The ministry said the clean and efficient utilization of coal power has been vigorously promoted. The proportion of coal-fired power installed capacity has fallen below 50 percent for the first time by the end of last year and coal-fired power generating units with ultra-low emissions reached 950 million kWs.
The China Electric Power Planning and Engineering Institute estimates coal consumption in China will be reduced to 51 percent by 2025. It also suggests the government continue regulating China's total energy consumption and intensity while stepping up domestic oil and gas exploration and exploitation to ensure national energy security.
China's power generation in August rose 0.2 percent year-on-year to 738.3 billion kilowatt-hours, the National Bureau of Statistics said, while wind and nuclear power generation, respectively, surged 7 percent and 10.2 percent year-on-year in the same month.