Farmers and fishermen in celebratory mood
Share - WeChat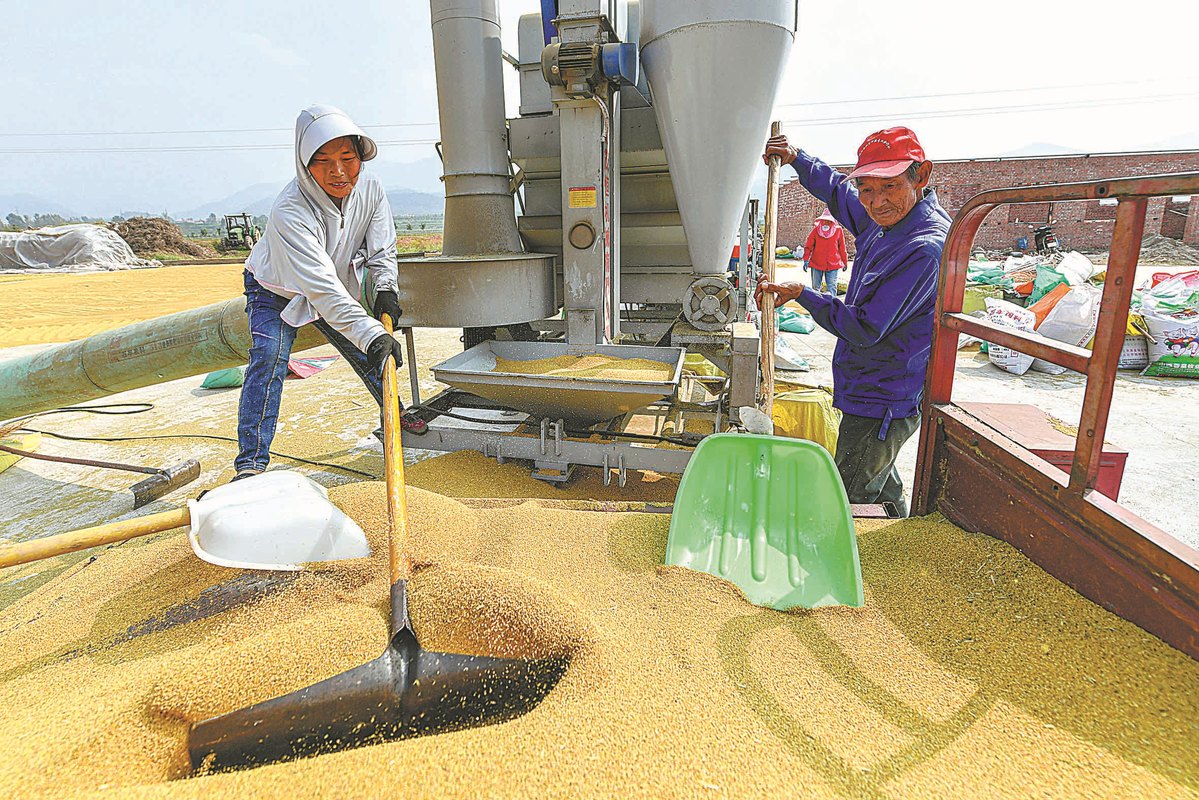 Farming show
Sichuan, a province with many ethnic groups, is rich in various forms of national culture. On Thursday, a show highlighting the farming culture of the Tibetan, Miao and Yi people through song and dance depicted harvest time on the upper reaches of the Yangtze.
Ding Zhen, who works for a travel company in Garze Tibetan autonomous prefecture, Sichuan, and who has gone viral on the internet for his good looks and personality, performed ethnic songs at the festival.
A stage play featuring the origins of farming 4,500 years ago on the Chengdu Plain was inspired by carbonized rice seeds discovered at the Sanxingdui Ruins in Guanghan, Sichuan, in March.
Archaeologists spoke of the ancient Shu culture via video link to the main site for the ceremony. They said the discovery of the seeds proved that peasants in the area started to plant rice thousands of years ago.
Huang Bangli, a 40-year-old resident of Chaoyang village, Guanghan city, Sichuan, was happy to see his idol Li Ziqi at the festival.
A livestreaming star, Li has nearly 28 million followers and promotes traditional Chinese lifestyles on overseas social media platforms.
For example, she gives advice on planting beans, harvesting them, grinding them into powder and fermenting this to make bean sauce.
"I feel close to Li Ziqi and happy to have seen her because she is also from the countryside and introduces China's farming culture online to the outside world," Huang said.
With a family of three, Huang is pleased to have finished harvesting 6.7 hectares of rice. He also recently planted vegetables such as radishes on 4 hectares of land.
Farmers in Guanghan sang in fields and on country roads. Four generations of farmers told how they had witnessed agricultural development over the past 40 years under the leadership of the Party.
Moreover, 100 talented women in villages across Sichuan were announced at the festival, including craftswomen, a chef, homestay owners and grassroots officials.
Hu Xiuqin, vice-chairman of the provincial women's federation, said their stories will be highlighted to encourage more women in rural areas to get jobs or start businesses and contribute to rural vitalization.
This year, the Farmers' Harvest Festival gala was held for the first time outside a studio at a museum located between the mountains and bay in Shantou, Guangdong province.
Using virtual reality and drones, the gala featured farmers' celebrations nationwide, as well as various agricultural produce and aspects of rural life.
Breeding experts, rural entrepreneurs and Olympic champions also took part in the gala and shared their views on the countryside.