The rise of China with vision, diplomacy and economic might presents a great real-time drama of the 21st century
By SYED ALI NAWAZ GILANI | chinadaily.com.cn | Updated: 2021-10-01 22:36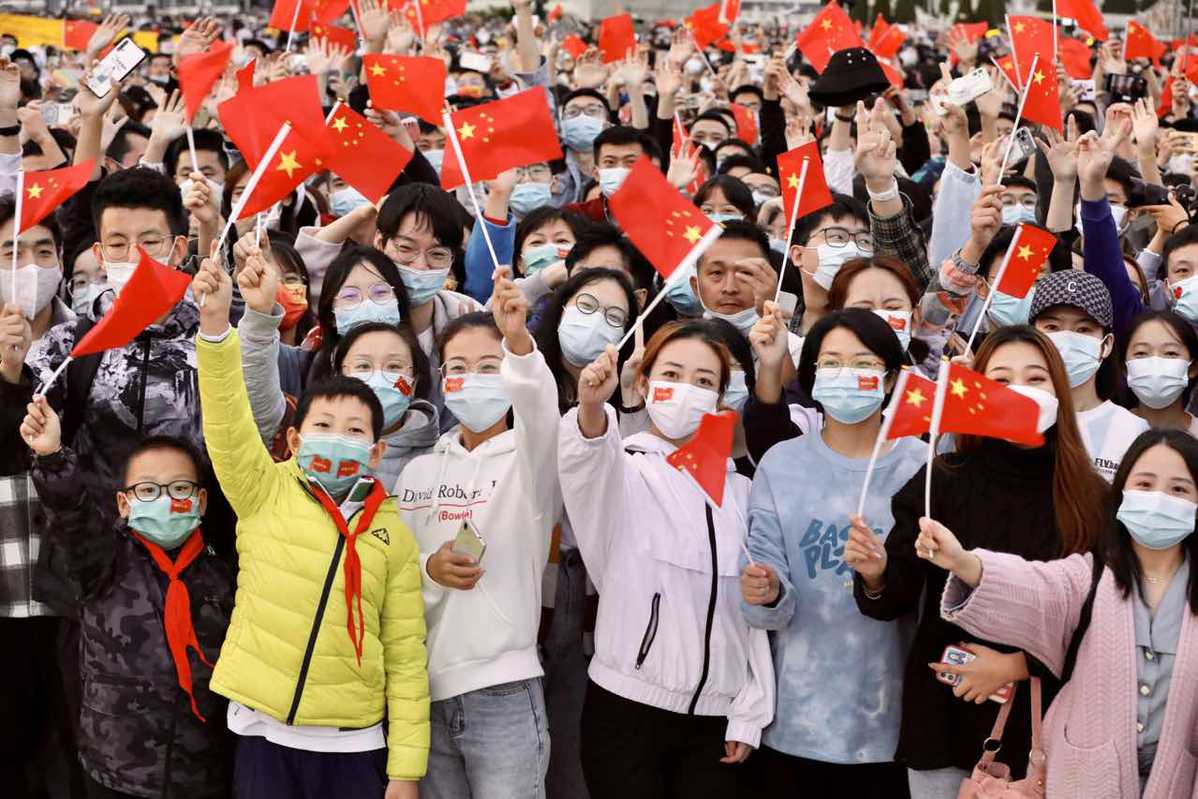 As the People's Republic of China celebrates the 72nd birthday on Oct 1, its rise in recent decades has reshaped the landscape of global politics.
After joining the World Trade Organization about two decades ago, China rapidly transformed its economy from a low-cost "factory to the world" to a global leader in advanced technologies, and also successfully transformed supply chains around the globe.
Meanwhile, it also reshaped international diplomacy, leveraging its success to become the primary trading and development partner for emerging economies across Asia, Africa and Latin America while promoting a human community with a shared future.
Words of President Xi Jinping are drawing increasing attention at world platforms. In 2019, at an event marking China's 70th National Day, Xi said that with a proud civilization spanning over five millennia … China will write a more brilliant chapter in our new journey toward the realization of the two centenary goals and the Chinese Dream of great national rejuvenation.
On July 1 this year when as the Communist Party of China marked the 100th anniversary of its founding, Xi announced that China has realized the first centenary goal of building a moderately prosperous society in all respects. Now the Chinese people are marching in confident strides toward the second centenary goal of building China into a great modern socialist country in all respects by 2049, when China celebrates its 100th birthday.
Xi has reason to sound confident. China's $14 trillion economy is second only to that of the US. Standard Chartered reckons that on the basis of purchasing power parity, China will take the number one slot as early as next year. The Chinese economy is expected to surpass the US at some point in the 2030s, and in some key areas even earlier.
China's emergence as a global power has created tensions within the ranks of the Western bloc. That comes as the "quiet rise" of the Asian giant has given way to more vocal expressions for the sake of developing world and for fair and better global governance. Now even the global spread of the COVID-19 pandemic has let the world realize the resilience and capability of China in meeting challenges.
Added to this is the Chinese military modernization, while the United States and some other Asian countries have noticed that China's economic power will have geopolitical implications. This modernization not only enhances its professional capabilities to fight at ground, air and in sea. It also makes the Chinese defense industry a global player with confidence.
Think tanks around the world are examining China regularly in detail, and continue to raise key questions about what will happen next: Can China sustain its economic miracle in the face of demographic and environmental challenges? Will China's military modernization program change the balance of power in Asia and beyond? Is China seeking to reshape the rules-based international system to better reflect its interests?
In review, it is noteworthy that China has a long history of aid and investment in the developing world. Since 2013, President Xi's Belt and Road Initiative of global infrastructure investment and people-to-people exchanges has seen fruits not only in Asia and Africa, but also in Europe. The BRI at present has grown into one of the most attractive platforms for international cooperation, a new pathway enabling China to successfully attract more than 126 countries and 29 International organizations, which clearly shows its influence.
China is the world's largest trading nation in goods. And Chinese companies have improved their ranking every year on the Global Fortune 500 list. China ranks in the world's top countries for receiving and giving foreign direct investment and is the second biggest spender on research and development, at some $300 billion. China now rivals the US in technology, which is arguably at the center of the changing relationship between China and the world.
China's economic success is largely guided by its strategic planning. The Chinese leadership has in the recent past made economic planning a top priority through a number of high-profile initiatives. The year 2021 is important as China has adopted the 14th Five-Year Plan, setting the agenda for achieving the nation's ambition to become more economically independent and for taking the next steps to modernize its industries.
Innovation strategies — not least in fields like climate protection and environmental technology — will be at the forefront. At the same time, spending on "national security" and investments in digital surveillance systems are likely to rise significantly.
China has made an extraordinary leap toward modernity and progress, which would surely be considered as the great historical achievement of humanity led by the Communist Party of China. The journey of consistency and commitment enabled China to transform itself from a highly centralized planned economy into a socialist market economy full of vitality, and from a largely closed country to one that is open to the world on all fronts.
Learning from the adverse experience of others, the Chinese leadership resolved to build a moderately prosperous society. Sound planning and astute implementation of the strategy succeeded in a country that is nearly the size of a continent and has challenging physical geographies ranging from arid deserts to towering mountains, ravines and inclement weather.
Although the Chinese economy suffered a major blow because of the pandemic, the nation continued to support its citizens and also reached out to other countries in need and continued the quest of developing a potent vaccine against COVID-19. Amid these Herculean tasks, it is creditable that the Chinese leadership managed to achieve its aim of eradicating absolute poverty ahead of the set target.
As China's success came a decade ahead of the poverty reduction goal set by the United Nations' 2030 Agenda for Sustainable Development, UN Secretary-General Antonio Guterres has declared that China's poverty reduction experiences "can provide valuable lessons to other developing countries".
In solving the mystery of China's eradication of poverty, a number of foreign scholars have summarized the solution as "5Ds" — Determined Leadership, Detailed Blueprint, Development Oriented, Data-based Governance, and Decentralized Delivery. Yet, as Xinhua News Agency noted in a report, first and foremost, China's struggle for poverty alleviation epitomizes the people-centered philosophy of the Chinese government.
China's strenuous poverty eradication efforts are aimed, in essence, at ironing out social inequality step by step, so as to ensure stability and build a fairer and more inclusive society.
A closer look at China's increasing political influence that has accompanied its extraordinary economic growth reveals that global policy was not a key element of Deng Xiaoping's economic reform launched in the late 1970s. But increasing political influence has accompanied the extraordinary economic growth which followed. There is no denying that China has developed into a political heavyweight, redefining its relations with other world powers and regions. Needless to say, China is the best beneficiary of the open market economy that has enveloped the global arena in leaps and bounds.
China's role in world affairs is bound to increase, given its growing weight and relevance due to its population size, its economic size, its military capabilities, its technological advances as well as its status as a permanent member of the UN Security Council.
China keeps reiterating that it, too, is a developing state, but it will continue to assist other developing countries in building a human community of development with a shared future. China is also playing a growing role in the development of the African continent. Initiatives like the Forum on China-Africa Cooperation have helped foster relations and boost cooperation. Beijing has been able to bring African leaders into a dialogue and in the process to further help in Africa's development.
The rise of China will undoubtedly be one of the great real-time dramas of the twenty-first century. China's extraordinary economic growth and active diplomacy are already transforming East Asia, and future decades will see even greater increases in Chinese power and influence. Some observers believe that the era of the world dominated by one superpower is coming to an end.
China undeniably plays a greater role in international affairs, and as this continues it is important to understand some grand overarching themes. China is a major catalyst for changes in the global political, social and economic environment. It is certain that China will be a leading player in the international arena in terms of technological and economic advancement.
The writer is the secretary-general of the Pakistan China Friendship Association's Khyber chapter and a senior media consultant. The views do not necessarily represent those of China Daily.