Museum freezes East Africa's railway history
By OTIATO OPALI in Nairobi, Kenya | China Daily | Updated: 2021-10-05 10:19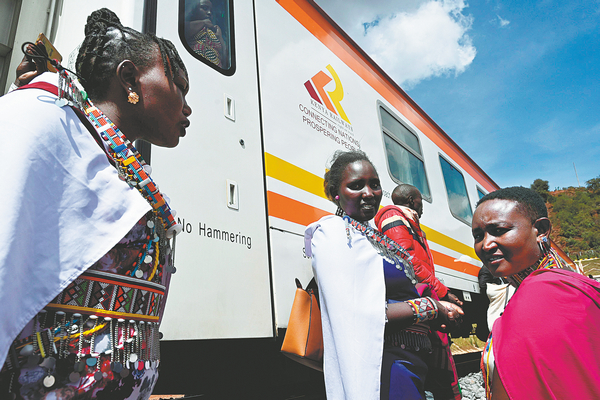 Sitting at the heart of Nairobi's central business district, the Nairobi Railway Museum could be considered as one of Kenya's best gems hidden in plain sight. Tucked away on Station Road at Nairobi Railway Station's northwest end, the little known museum is a repository of past events in the region.
One can hardly talk about the history of East Africa without talking about the development of the railway in the region. In as far as this is true, the Nairobi Railway Museum stands as one of the best documentations of East Africa's history.
The museum contains exhibits from the now defunct East African Railways and was opened in 1971 by East African Railways and Harbours Corporation.
Located at the heart of the city and currently being operated by Kenya Railways Corporation, the museum preserves the relics of the railways of East Africa and serves as a center of learning on the rail travel history in this vast region.
Elias Randiga, the museum's curator, says that the museum receives around 7,000 visitors annually, mostly foreigners. However, the COVID-19 outbreak and resultant restrictions have reduced the numbers significantly.
Despite the slowdown in the number of visitors, the museum remains a fascinating introduction to an important piece of the colonial history of East Africa. It narrates the tale of the railway's construction through the whole stretch of the period from the annexation of the region in the 1800s as a British protectorate, to the struggles for freedom and independence.
The museum has two sections that display items that seem to have been frozen in time. The main gallery contains an array of well-preserved relics from over a century ago including numerous records and artifacts of the railway's construction and operation.
On display are also items such as lampposts, station benches and oddities from the East African Railways stations from both Kenya and Uganda.
One such item is a bicycle that was introduced by the administration in the 1950s to inspect the line. The peculiar bicycle was a revolutionary invention by East Africa Railways that replaced the inspection push trolley that was manual and involved up to four operators.