Fresh deaths during farmers' protest fuel more woes on India's farming laws
By APARAJIT CHAKRABORTY in New Delhi | chinadaily.com.cn | Updated: 2021-10-05 14:56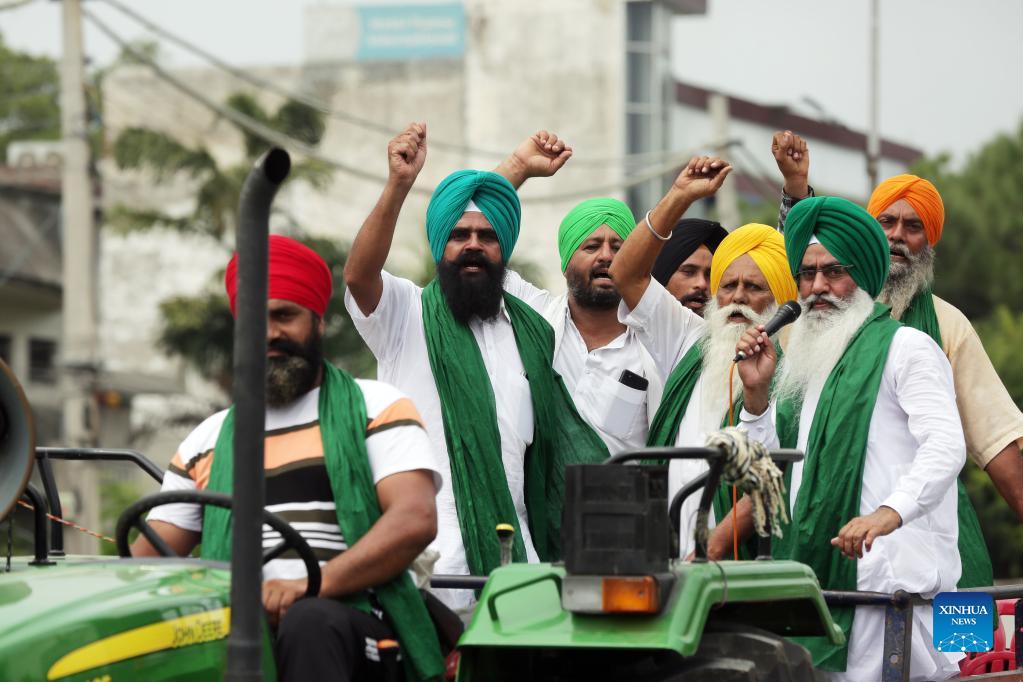 Instead of calming down the year-long protest of Indian farmers, the deaths of eight people, including four farmers, in the most recent clash are fueling up irritation among protesters and their distrust on the federal government which adopted three contentious farm laws last September.
Farmers had gathered for a demonstration on Oct 3 in Uttar Pradesh state's Lakhimpur Kheri district, where a car ran over four farmers and caused their deaths. Farmers alleged the car was owned by the son of Ajay Mishra, India's deputy home minister.
The tragedy was confirmed later in a media briefing. "Eight persons died in Lakhimpur incident on Sunday. Out of the eight, four were farmers and the remaining four were others who were in the vehicles," Uttar Pradesh's director general of police, Mukul Goel said.
Since Nov 26, 2020, tens of thousands of farmers have camped out on major highways around the Indian capital with a demand that the Farmers' Produce Trade and Commerce (Promotion and Facilitation) Act, 2020, the Farmers' (Empowerment and Protection) Agreement on Price Assurance and Farm Services Act, 2020, and the Essential Commodities (Amendment) Act, 2020 be rolled back, and that a new law be made to guarantee minimum support price for crops.
Since Sunday morning the protest against the laws turned violent in Tikunia area of the district where farmers were opposing the visit of Ajay Mishra and deputy chief Minister of UP Keshav Maurya. Ajay Mishra reportedly had organized an event in a village nearby the protest site.
Farmers claimed that Mishra's son had been in a car in the minister's convoy, or was driving it, when the vehicle ran over four protesters, killing them.
Refuting the allegations, Ajay Mishra said that his son was not driving the vehicle that hit the protesting farmers. Mishra said his son was not even present at the spot when the incident took place. Terming the incident as a part of conspiracy, Mishra claimed demonstrators had attacked the convoy and killed three workers from the Bharatiya Janata party – the ruling party at the national level and in Uttar Pradesh – and one driver.
Photos and videos on social media that went viral showed jeeps set on fire as people lay covered in blood.
The UP government on Monday has announced to give $60,800 compensation to the families of the four farmers killed in the incident. The government will also give around $13,500 to those injured in the violence, said additional chief secretary of UP, Awanish Awasthi.
On Monday a First Information Report has been registered against Ajay Mishra's son and several other persons in connection with the Lakhimpur violence, Awasthi said.
India's Supreme Court on Monday lashed out at farmers' organizations for continuing with the protests against the federal government's agricultural laws, stating when the agitation snowballed into violence as in UP's Lakhimpur Kheri, "nobody takes responsibility".
"When such incidents happen, causing deaths, loss to property and damage, nobody takes responsibility," Justice A.M. Khanwilkar said.
The incident has injected fresh political bitterness between the opposition and federal government.
Several opposition leaders, including Priyanka Gandhi, a leader of India's main opposition Congress party have started hunger strike after they were detained this morning from visiting the families of farmers who died in the violence as tension prevailing in the area.
Among prominent farm leaders reaching the violence-hit district on Monday morning was Rakesh Tikait. He told the media that farmers will hold discussions with the villagers before deciding their future course of action.
The incident came ahead of crucial elections next year in Uttar Pradesh, India's most populous state where farmers are a major chunk of voters and a key source of votes for ruling BJP.
Political experts believe that the incident will give new fillip to the protest movement which the Prime Minister Narendra Modi's government will find increasingly difficult to ignore in coming days.
Distrust between the protesting farmers and federal government will be bigger following the incident, said R Ramakumar, National Bank for Agriculture and Rural Development professor and economist at the Tata Institute of Social Science.
Fresh trouble may flare up around the outskirts of New Delhi, India's capital, where many farmers are camping since late November, according to Delhi police.
On Sept 27 thousands of farmers blocked major highways and squatted on railway tracks in many states, including Punjab, Haryana and Delhi, during the nationwide strike called by Joint Farmers' Forum, an umbrella body of forty farm unions, to renew protest one year since the federal government's contentious agricultural laws were passed.
Irate farmers blocked major roads and national highways, bringing traffic to a halt, and squatted on railway tracks, disrupting rail services across north India. The strike's effects were most felt around Delhi, Punjab, Haryana and western Uttar Pradesh, and in large pockets of Kerala, Bihar, Jharkhand, West Bengal and Odisha. Thousands of farmers staged demonstrations in over 350 places in Punjab and Haryana, the country's two biggest agricultural producers.
Farmers confronted police in Noida, a New Delhi satellite town, in late September. No injuries or arrests were reported.
Mohini Kaur, a 64-year-old New Delhi resident, traveled to Ghazipur in support for the farmers.
"These brave farmers are here today under the hot sun. They have been exposed to rain, scorching heat and the severe cold," she said.
Some protesters brought mattresses with them, camping out at Ghazipur as the day went on to express their determination.
"The enthusiasm we had on the first day, it is much stronger and bigger now," said Manjit Singh, a 45-year-old farmer and protester.
The latest strike has been largely peaceful compared to when, in January, demonstrators broke through police barricades to storm the historic Red Fort in the capital's center. Violent clashes erupted near the Red Fort on Jan 26, India's Republic Day, between demonstrators and police that left two protesters dead and hundreds injured.
However, the federal government has defended the legislation, claiming it is necessary to modernize agriculture and that the laws will boost production through private investment. The farm unions have claimed that the new legislation will devastate their earnings, do away with farmers' minimum support price and force them to sell their crops to private corporations at cheaper prices.
An overwhelming number of opposition parties, including Congress and several state governments not under the BJP, have expressed support for the strike.
The Congress also said that instead of redressing their grievances, the government is trying to paint farmers as enemies of the country, hence the protests.
Farming sustains almost half of India's population of more than 1.3 billion people and accounts for about 15 per cent of its $2.7 trillion economy.
R. Ramakumar, National Bank for Agriculture and Rural Development professor and economist at the Tata Institute of Social Science, said the movement is one of the biggest challenges faced by the Modi government since coming to power in 2014, the political and social repercussions of which will be felt more than ever if the issue is not resolved at the earliest.
The writer is a freelance journalist for China Daily.